To play Bubble blast on Android Device is a real fun. Bubble Blast is a free gaming app on Android. This is a puzzle game where you have to break each and every ball present on the screen. The interface of this app is pretty cool and attractive. Even the background of this game changes once you start another game which makes this game even more enticing. This game is based on chain reaction where if one ball is blasted, it will turn into four and travels perpendicular to each other striking other balls and making them prone to blast.
The important thing about this one of the top game is that you would never be bored as it requires intelligence and there is always chance of improving upon that rather than just doing time pass and hoping on luck to be in favor of you as in Candy Crush. This game comprises of 22 levels. The first level is unlocked whereas the remaining levels are locked. Each next level would be unlocked once you clear the previous stage.
You may like to read:
How to Play Google Maps Smarty Pins Online Game
How To Play Cut the Rope Game on Your Android Device
You can have this app from Google Play Store by just typing Bubble Blast. It is a very lightweight game of merely 1.5 MB.
How to Play Bubble Blast Game on Android
When you open this gaming app on your device, a window like the below shown screenshot will appear on your screen.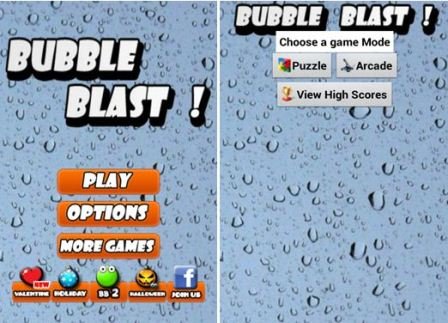 To begin to Play Bubble Blast Game on Android Click on play in the first slide. This will open a new window shown in the second slide. Here, you can three options. While the first two are different gaming modes of this app, last one is used to see High Scores made by you in the respective mode.
The first mode i.e. Puzzle consists of various Stages named Puzzle Pack each consisting of 100 levels. The levels of initial packs are very easy and you can easily complete an entire Pack in few minutes. As you reach higher packs, the complexity increases. There is one good thing about this mode is that it provides you a Hint option (Shown in the third slide below) which could be used once in 24 hours (with net connectivity). The number of touches, combos etc. all of them are mentioned at the bottom of this interface.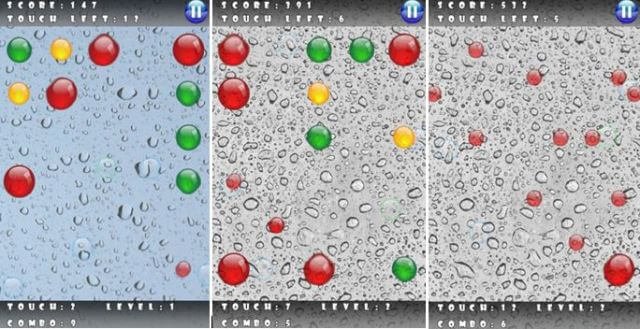 The Second mode i.e. Arcade mode doesn't consist of any packs or levels. All you have to do here is to click on it and start playing. For each ball you blast, you will be awarded one extra touch. This is the beauty of this game. The moment you lose even one game, your whole progress would be gone and a report will be generated like the second slide of above shown screenshot.
How to blast balls effectively in each Mode
When you Play Bubble Blast Game on Android various balls are out there on screen with varying sizes and colors. This game is basically based on chain reaction where Red could blast in one touch whereas green will take 2 and so on. Each blasted ball turn into four smaller droplets and move in four directions. As soon as the smaller droplet touches another ball out there on screen, its color would be advanced to next stage i.e. Blue –> Yellow –>Green –>Red –>Blast.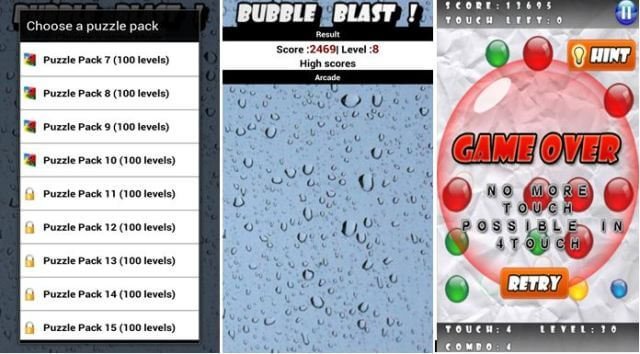 The number of touches left, Combo selected is always mentioned at the bottom. Depending on the number of touches left, you could plan your strategy and try to blast them all in least number of touches. This will not only increase your High Score but could also help you if you are stuck with single ball at the last which happens very often.
Conclusion
Bubble Blast is a very nice gaming app of Android. It helps you in thinking of your consequences ahead of your future. This is a mind boggling game with its very unique chain reaction to set the all Bubbles on a path to blast. Install this app and play endless series of this game for at least few months.  Do mention your views after you Play Bubble Blast Game on Android about this app in the comment Box.