Narendra Modi Mobile App MyGov is a new app recently launched on Android. The aim of this app is to provide a chance to the people of India to interact with their Prime Minister, share ideas and suggestions. The theme of this app is "Come, let's stay connected on the Mobile! ". This app consists of several innovative features. Through this app, you could also interact with Mr. Narendra Modi through "Mann Ki baat".
Narendra Modi Mobile App MyGov has been launched on 17th June 2015 (Wednesday). This app has been designed to step up the digital presence of the Prime Minister of India. This app will be used to provide instant updates and an opportunity for people to receive messages and emails directly from Narendra Modi. It provides one a chance to earn badges through to do tasks.
You may like to read:
The description of this app is "Download the app and get the latest updates anywhere, anytime!" is beautifully quoted. You can have this app from Google Play Store just by typing "MYGov" there.
How to Use Narendra Modi Mobile App MyGov
Let's see what is there inside Narendra Modi Mobile App MyGov to provide to its users. Once you have installed this app for the first time on your device, it will start with the first slide of below shown screenshot. In few seconds, the main menu will appear before you. There is an option of login/ Register. Click register if you have not used Narendra Modi Mobile App MyGov before.
During registration, you need to put down your name, email id and mobile number in the respective field. Clicking on Submit button will send OTP to your mobile as well as email id so that you can verify them. Put down the OTP received in your mobile where it demands and you are done. This will send a login password to your Mobile Number. Use the Login id and password received on the mobile to open your personal account.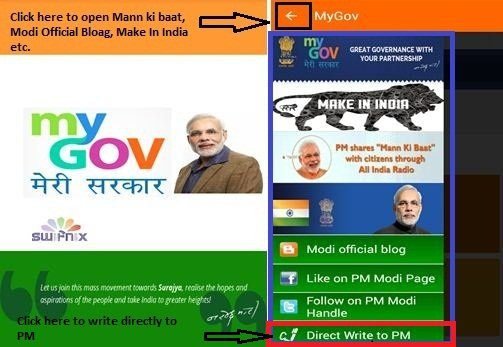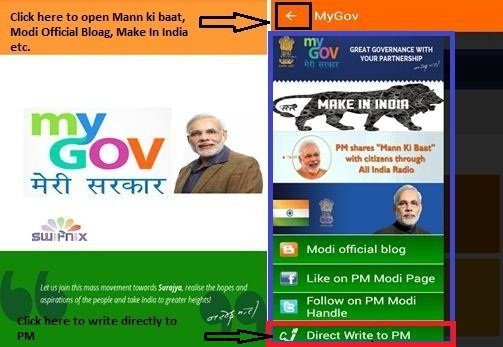 Note:- There are various things which you could read or listen to on Narendra Modi Mobile App MyGov. Click on the left arrow shown in the second slide above. This will open the entire second slide encircles in Blue colored rectangle. Here, you can look out for Modi official Blog, Mann Ki Baat, Make In India. There is one special feature of Narendra Modi Mobile App MyGov and that is you could write directly to PM by clicking on "Direct Write to PM" shown at the bottom.
The below shown screenshot is your Home page. On the Home Page itself you can see various researches, discussions going on. All you have to do is to keep on scrolling down and finding different topics. There is a three lined option shown in the first slide. Clicking on this will open a new window which consists of different topics arranged in a systematic way. You could look at the second slide where Tasks to do, Discussion, Polls, Talks and Podcast  etc. are available. Just open any of the links here and start discovering what they are and what are their benefits yourself.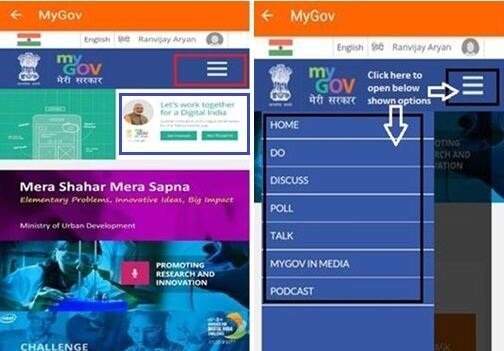 In the above screenshot, you can see a name "Ranvijay Aryan" at the top. This is your profile page. Clicking on it will open a new window like the below shown screenshot. There are so many things which could be improved upon in your Profile like: – updating your profile picture, writing a new post, doing some tasks etc. You could also add your Skills and Interests here. Scrolling down will open the activities which you can perform. Some of the activities are shown below.
You can opt for Online and On ground Tasks. This will opens up a list of to do tasks which you could do to get recognition. There are so many topics out there like: – Trending, In focus etc. Just choose the one which really suits you the most and bring a change you want to see in Your world.
Conclusion
Narendra Modi Mobile App also named My Gov is a very nice app. The direct Interaction with Narendra Modi is a very cool thing about this app. Feedback is always welcome on this app. Install this app on your smartphone and get yourself interact with him today itself. Do write your views about Narendra Modi Mobile App MyGov in the comment box below.