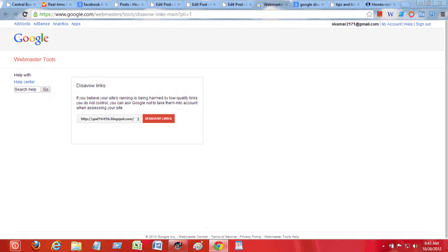 Recently, Google has developed a valuable tool called 'Google Disavow Links Tool'. This tool allows webmasters to clean bad backlinks. Therefore, webmasters did excessive Backlink to go forward fast in blogging field.
But Google uses to change its strategies time.  So, now backlinking acts badly affect Google Search engine rankings and even may be penalized. Now, when Google has announced that low grade back-links will harm website rank and can lose ranking, webmasters have started to search a tool which helps in cleaning backlinks.
Google Recognized webmasters problems very well. and therefore comes with 'Disavow Link Tool' . The Google disavow link tools allows webmaster to inform Google to ignore these backlinks and reassess their website rankings.
The tool might be useful for those, who get unnatural backlink and have engaged in link exchanges and link buying activities after warning. It is a power tool and using in wrong way could also decrease search engine site rankings. Now, I am pointing out method 'how to Disavow BackLinks' in below para.
To get started, you need to visit 'Google Disavow Link Tool' location after then simply add and verify your site, and you will start to see information. Step-wise method could pave the way to remove backlinks from your existing websites.
Access location of 'Google Disavow Link Tool'. You may easily access exact location of  this tool after Clicking Disavow  Link Tool.

Then Sign in to your Gmail account. It will leads you to new windows. 

Now, put the url address of your websites, which backlinks have to remove.
In next few weeks Google will remove those bad links and update search engine ranking of your websites according to post uniqueness. It should be noted that once the link is disavowed and later you decide to remove the link from files manually, it may be difficult and may take  long time to get those back links on your site. Thus now it is felt that definition of Search Engine Optimization (SEO) is changing now.