When you install a program or software in Windows 10 and 11, a few entries take place in the hierarchical database of Registry editor but the same doesn't move back or away when you uninstall. These traces bring forth adverse impacts on the performance of a system.
There is a very easy method that lets you Remove Traces of Uninstalled Programs in Registry wiping out the entries completely. Let's see –
Remove Traces of Uninstalled Programs in Registry on Windows 11 or 10
Strict precautions must be followed while cleaning entries as any silly mistake may cause serious damage to the proper functioning of the computer. We recommend taking a full backup of Registry editor before you will get involved in the procedure. You can take assistance from the methods here – How to Import and Export Registry Editor on Windows 11 or 10.
Step-1: Access registry editor. For this work, press Windows logo key on the keyboard, type regedit and select the same under Best match.
Step-2: – Copy Computer\HKEY_CURRENT_USER\Software, paste in the address bar of the registry editor, and press Enter.
Step-3: You will see a long list of various programs under Software. Locate the one that you want to remove.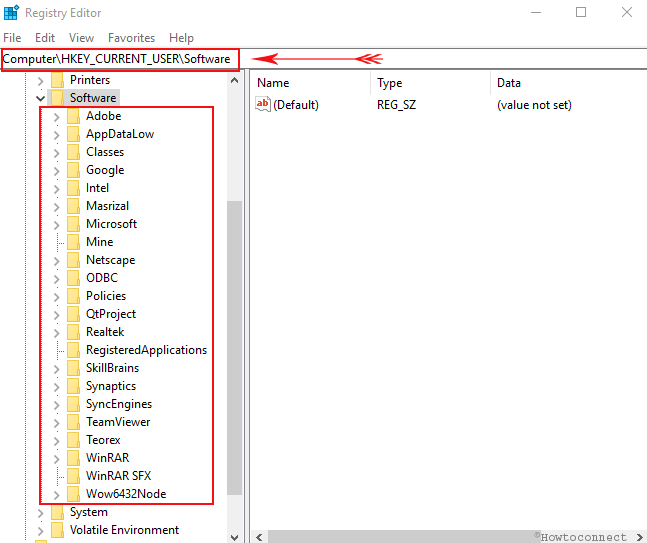 Step-4: Right click on the entry and select Delete from the context menu.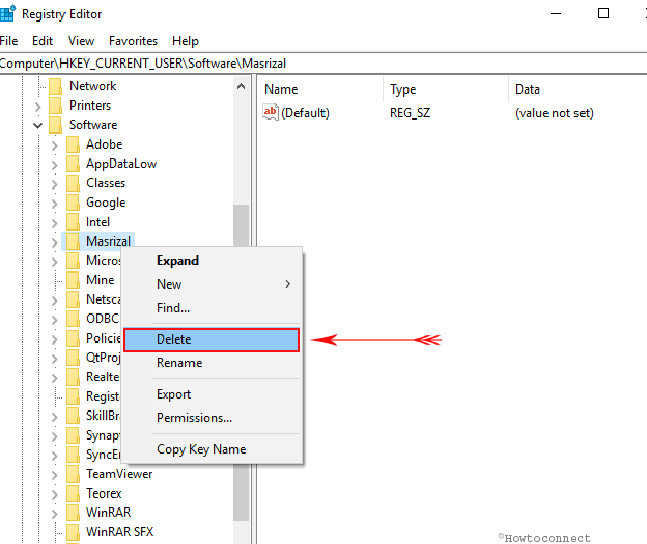 Step-5: A pop-up Confirm Key Delete will prompt on the Editor. Select Yes.

Step-6: Now copy Computer\HKEY_LOCAL_MACHINE\SOFTWARE, paste again into the registry editor address bar. Depress the Enter key.
Step-8: Trace out the item you want to eliminate and follow Step 3 for deletion.
Step 9: – Repeat the same process for Computer\HKEY_USERS\.DEFAULT\Software string.
Additional methods
After uninstalling a program, the traces of the old program also remain in hard drive. They are not actually a threat to the computer but cleaning them is a need in order to clean up junk jamming.
We suggest you learn the uninstallation procedure first of all –
If you are not good at the proper removal process then follow – How to Completely Uninstall Software From Window 10 – Beginners.
After the creators update and evolution of Settings app, the method is quite a bit changed. So if you have taken up the latest version you can read – How to Uninstall Software From Windows 10 After Creators Update.
Once you are aware of removal methods see the steps –
From Temp and Recent folders
Uninstalling a program leaves some data and files in the folder. With an intention to Remove Traces of Uninstalled Programs in Registry, you need to remove them too.
Step-1: Right click on Start icon and select Run from the menu. Type the below-written command one after another and press Enter or choose OK each time.
temp
%temp%
recent

Step-2: Select all items in each folder by turn and then press Delete on the keyboard. Either you can do the same by right clicking and selecting Delete option.
Furthermore, you can follow 4 Ways to Delete Temp Files in Windows 10 or How to Delete Temp Files at Every Startup in Windows 10
Remove from System Files
Step-1: Go to the search option beside Start menu from your computer and type the following texts one at a time. Hit Enter button on every action.
%programfiles%
%appdata%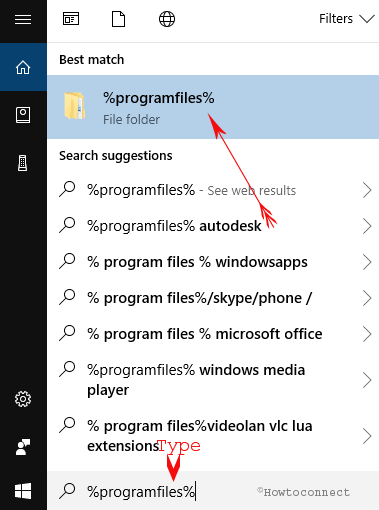 Step-2: Look for the program name you have uninstalled and delete it from the concerned folders.
Conclusion
Handling software is a regular job if you are dealing with a device. No matter whether you are a pro or beginner, you need to install as well as remove them if not functional or any other inconvenience. Removing only using Uninstall option leaves traces and that's quite unexpected. However, we have discussed an effective way about how to remove Traces of Uninstalled Programs in Registry. We have divided the further process into 2 successive parts also for making your work easy. Follow the guideline properly to remove an unwanted program completely from the PC and eventually can reduce the extra burden on our machines.