Google Glass has lots of features as Bluetooth, WiFi, Video Calling, Messaging is one of them. By using Messaging feature you could send and receive your messages and emails.  Google glass is very helpful for the users because it surpasses Phone and PC in sending emails and SMS. On PC or Phones, you have to type message to send but there is no need of typing means you will speak those messages in Google Glass and send it to the desired person. You can see and hear the received messages using this Glass. Here we are presenting to how you could you send and receive messages through this glass.
Before Using this Google Glass Features Firstly Ensure That you have connected it to Internet through WiFi. You will have to add contact before starting messaging through Google Glass.
How to Add Contact in Google glass to Send Message
1.Firstly you have to go through website My Glass at the uppermost part of the page or MyGlass app in drop down menu.
2. Tap the Add a contact card
3.Type the Contact Name to add.
4. However, if you want to add the person from Google contact then you can easily find it after writing your contact name. In this situation, you will be made easy by the suggestions given by Google contact.
5. Otherwise, click +create contact to add.
6.Contacts must have an account on Google+ or Gmail. They must be in your circle to start video call with them. You have to select your circle to make a video call.
7. Contacts have own card on MyGlass, The Email address or phone number and their name is displayed with photo in your glass.
How Can You Send Message on Google Glass
As you know that there is no keyboard to type in Google Glass but don't mind. You have to speak the message as you want to send. After then it is transcribed into text and a preview of your message will appear on the display. Google Glass will wait for you until you finish speaking. Lastly, you can send it by tapping the touchpad. If your message is wrong by mistake then you can cancel the by swiping down on the touchpad before the message is sent.
After Saying all the message you have to say" OK Glass, Send a message to……." and give the contact name. If Message is sent to the contact then you will see "sent" on your display screen.  You can swipe over to your history on your timeline to see the transcription of your sent message.
You may Send free SMS as well as Mails using this Google Glass. There is need of Either Contact No. or Emails in your MyGlass App.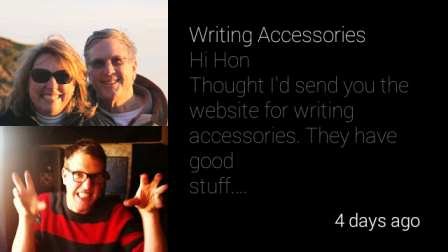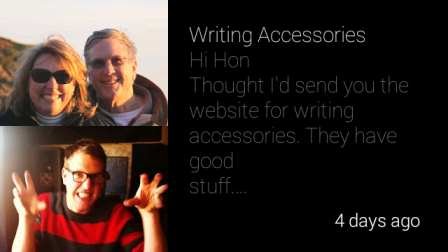 How Can You Send or Receive SMS on Google glass
You can send or receive SMS by using Glass. there is need of Bluetooth, a data connection and My Glass app with your Android phone. If you have contacts phone number on your card of MyGlass then Glass will send him message automatically. To receive SMS message on Glass, Ensure that your MyGlass app indicates Glass is connected. The SMS is found in Google Glass Menu and after then opening by selecting your device menu option.
How Can you Send And Receive Email through Google glass
If your contact has only email address means no contact number then you can send emails using this Glass. If your Google Glass is not connected with MyGlass App then your voice message is sent through Email. To Receive email message on glass, you have to turn on Gmail Glassware from My Glass site or My Glass App.If you get email message then you will hear an audio notification. To read the message, you have to tap the touch pad or use Head Wake.
If you want to reply the message then you will have to hit touchpad to open card actions and speak aloud to be transcribed the email.