During a power failure, we can put turn on a laptop for a long time through laptop battery backup. As we know latest laptops provide battery backup around 3-5 hours. But battery back up depends on our computer working activity.
Some Computer activities need minimum power consumption from our laptop battery for example – internet browsing, view or type document files. But if we play games or videos that support high-resolution graphics, then our laptops reduce battery backup.
Sometimes our laptop battery becomes old and it provides backup only a few moments. As soon as laptop old battery disconnect from AC power, it turns off in short while. We face a lot of problems such as – missing current data, chances of operating system loss. Follow a solution for something similar issue – Fix: Shut down Instead Hibernate on Critical Battery Level Windows 10.
For this, a software Hibernateonpowerfail is launched to get rid of laptop critical situations in case of not sufficient battery backup. This software works automatically to Send Laptop Into Hibernate Mode on Power Failure.
Although Hibernate service is available already in every Windows OS, it needs administrator right account to manage and run on the computer. But don't worry, if we have no admin account, this software can be run through any local account directly.
Send Laptop Into Hibernate Mode on Power Failure
At first download software (Hibernateonpowerfail) in computer from below link.
Now install it on the computer.  If this software is installed successfully, you will receive a confirmation message in desktop about hibernate software is ready to run. Click on OK button.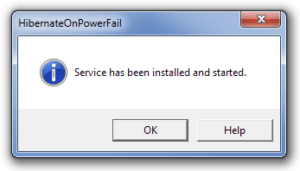 A software icon displays on the desktop. Right-click on it and choose the option – Run as Administrator from drop-down tab.
 Now, this software will manage running background profiles like brightness. As soon as the power goes off, our laptop will turn in hibernate mode automatically.
Remarks –
Our laptop battery must have some battery backup to enable hibernate.
If our laptop battery backup is fully dead then this software is unable to run hibernate services.
When we turn on the laptop again, a pop-up message tab display on desktop often like – hibernate was done due to power outage.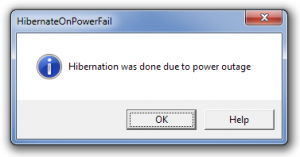 Supporting operating system for running Hibernateonpowerfail software.
All version products (32 bit and 64 bit) – Windows 8, Windows 7, Vista, XP.