Speed Post / Express Parcel, the quickest postal delivery. It is well Known fact neither of any quick postal means could take the consolidated position of Speed Post or Express Parcel.
After applying services of Speed Post or Express Parcel in the postal department in India delivering of Postal timing reduce dramatically. The indispensable postal means links more than 1200 Indian Towns. Providing service with sheer pace, Indian Post has more than 290 centers in National Network and around 1000 centres in State Network.
EMS Speed Post and Express Parcel of India Post has maintained the status of better postal delivering since inception. A Rare instance of failing or delaying postal service of Speed Post and Express Parcel comes into the public domain. So, users have much more affection to these hi-tech services. Have you ever imagine about system functioning and tracing the moment of Speed Post. As mentioned earlier that a full pledge postal network is behind of functioning and as far as the concern of Tracing moment delivery system of Speed Post or Express Parcel; it could be done after following India Post website. By taking successive steps as mentioned below you will be able to Track Speed Post and Express Parcel online.
Another Useful Posts:
How to Track Speed Post / Express Parcel Online
1. What to do to track delivery status of Speed Post / Express Mail online
Moving status of Speed Post / Express Parcel would be traced after log on to web address of India Post, whichever provided below.
As soon as we log on to the above website a web page of Article Tracking displays. Users have to put 13 digits Item No. and after then click on to Track button.
All action related to tracking article could be done easily by following step by step graphical representation: –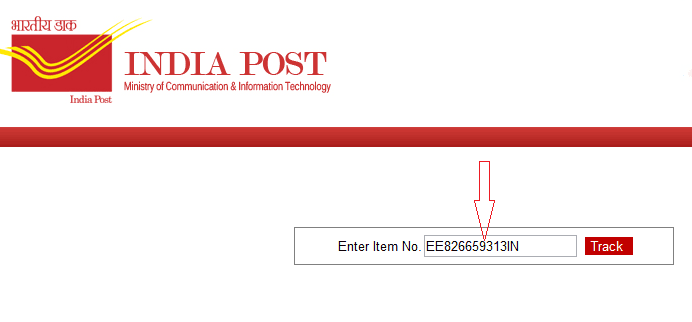 Now Tracking details of particular Speed Post or Express Parcel will be displayed on the screen. Hoping you will be benefited immensely after following this web page. A lot of tricky notes are awaiting your comments.
2. Track any Consignment
Besides you Track Speed post now you can get the updated information for the consignments whether it is Express Parcel, Packets and several more things anytime when you are online. See the list what you can track:
You can track the following items 
a. Speed Post
b. Registered Letter
c. Insured Letter
d. Value Payable Letter
e. Insured Value Payable Letter
f. Registered Packets
g. Registered Periodicals
h. Registered Parcel
i. Insured Parcel
j. Value Payable Parcel
k. Insured Value Payable Parcel
l. Business Parcel
m. Business Parcel COD
n. Express Parcel
o. Express Parcel COD
p. Electronic Money Order (e-MO)
To track these consignments click the link – Indiapost
You will see a page like the image below. Write your consignment number type the verification code and click Go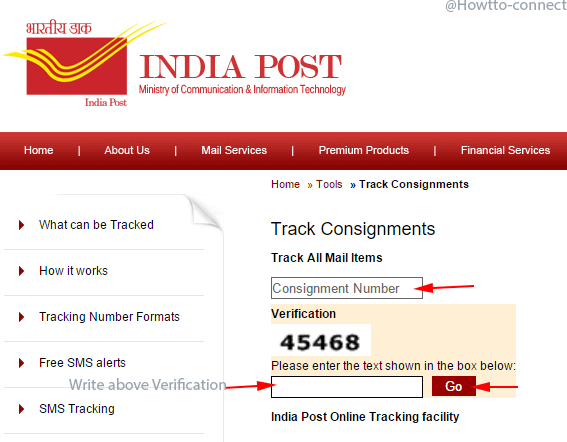 3. Register Complaints Problems regarding Speed post
If you face any issue regarding the items sent via postal department you can lodge complaints.
Click this link to complaints: Indiapost 2
Write the details of the issues and click Submit.