How to Transfer Money from SBI ATM / Debit Card – Financial activity depends much more on Transferring or Exchanging money through convenient sources. Before the arrival of Online Banking and Debit / Credit Card facility, the exercise of money transaction took more time and common men were needed to approach their account holding Banks for this cause. But the older exercises are now part of history.
I want to mention that earlier I have written on SBI Mobile Banking and SBI Internet Banking as well as and it may be useful stuff for you.
Facilities of Online Banking and ATM Card or Debit Card / Credit Card are making life easier than ever before. All Nationalized Banking Unit and Private Banking Unit offer these facilities to their customers.
You may like to read:
ATM Card / Debit Card are known as plastic money. Trends of keeping money in pocket change into keeping ATM Card / Debit Card into the pocket. Whenever money requires people visit nearest ATM Centre and withdraw money as per their need. Users of Debit Card don't know to properly use it. Often they use it for withdrawing money and checking their balance inquiry. They don't know how to transfer money through their ATM Card to another Card. Now, I am going to discuss how to make instant Transfer through SBI ATM Card.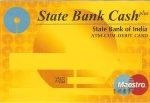 What to do to Transfer Money from SBI ATM Debit Card
State Bank of India (SBI) provides the facility of fund transfer only through their ATM cum Debit Card.  A Transfer could not be made to another bank ATM or Debit Card. Just follow successive steps and make the way to Transfer Money from SBI ATM / Debit Card.
Swipe your SBI Debit Card / ATM Card at any ATM Centre.
Choose Transfer option from the drop down list, which is seen usually at the right bottom side of ATM Screen.
Enter your PIN.
Choose Card to Card Transfer.
Enter Debit Card Number of Beneficiary, which has usually 19 digits.
Enter twice Beneficiary Debit Card Number.
Now, enter Amount to Transfer
Select Account type as per existed nature of Saving / Current.
Finally, the act of Transaction completed message shown at the screen of ATM. The same amount would be deducted, and it be seen through Credit from your accounts.
Note: By this process, you will be able to Transfer Rs. 15000/- per transaction. But in the whole day, the maximum limit of the Transferred amount should not be exceeded Rs. 30000/- to another SBI ATM / Debit Card.