Quidd is an app that offers Stickers on Android to make your chat interesting with friends and family. We will discuss how to use Quidd Stickers on Android Phones such as Explore Feed, make friends, and earn coins here. In addition, the ways to manage restriction for Kids, Share, use keyboard shortcuts to run the app, will also bide.
How to Use Quidd Stickers on Android Phone
More than stickers providing app Quidd also lets you enjoy social interactions. The application gives a platform to meet, negotiate and trade the rare stuff as quickly and easily as sending a message. Yet you can make favorite stickers, Chat and trade with buddies, and colleagues, fans in real-time.
The application includes a huge database having a collection of comic book heroes, adorable yellow creatures, malfunctioning animatronic animals, wisecracking pizza-obsessed turtles, and professional ghost-catchers and a lot more.
Stickers are the representation of moments, feelings, modes expressed with memes and characters.  While using different messengers like Whatsapp, Facebook, Snapchat and others you try to make your expression impressive. Quidd is brand new sticker app with an excellent chatting feature to lift your sharing experience. Coming back to the main topic let's see How to Use Quidd Stickers on Android Phones.
Download Quidd
You are able to download Quidd app from Google Play store free in an easy way. To get the app, you have to:
Launch the Play store app from phone and type quidd in the search box.
Open the app from the search result and from the app page, tap Install button.
Start with Quidd
Before exploring the app, you need to Log into Quidd. If you are using the application for the first time, you have to sign up the account using existing email or Facebook API.
1. Tap any preferred method in order to sign up and select Accept from T&C dialog box. In case of signing up with Email, you have to provide a valid email id and password as to continue.
2. Loading Circle will appear and guide you to the page where you need to put your birthday details.
Note: Quidd has a fair child restriction policy that doesn't allow users less than 15 years to use this app. Therefore, you should be equal or over the age limit to access this one.
3. Swap four introduction screens forward, touch the Arrow to select any channel you want to start and finally hit Done from the middle of the screen.
4. You will be awarded 4000 free coins which are usable for buying stickers. Press Claim coins now and you are into the business on Quidd.
How to Share Sticker using  Quidd
Tap on a sticker you like to highlight it on your Android phone screen and tap Share button from the uppermost right corner.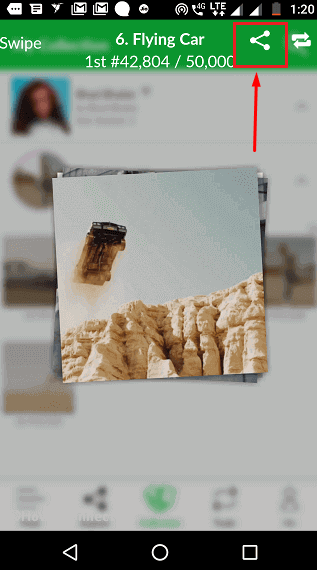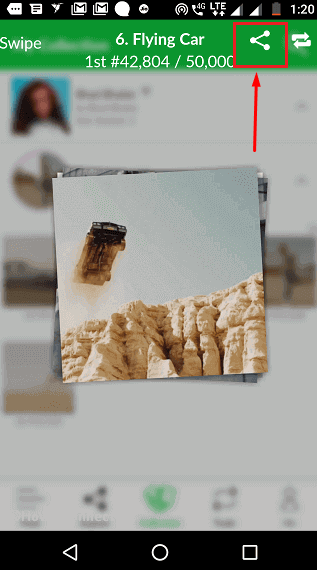 You will see 3 choices at the bottom – Share to feed, Share Twitter and More options. If you want to Share with other clients like Whatsapp then click on More options.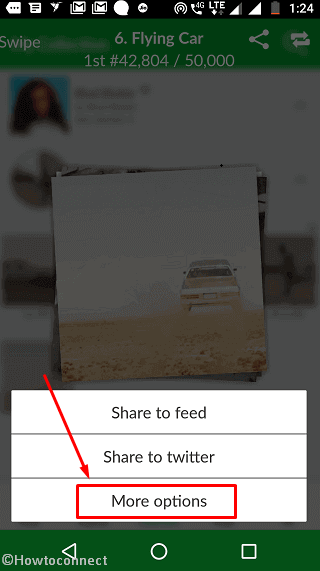 Choose your client screen will appear, tap on the preferable one and enjoy.
Way to Use Quidd Stickers on Android
When you start exploring this app, the first thing you need to decorate your appearance. Action starts with entering the feature tapping avatar sign entitled with "Me"
Touch Round frame and you will see options to browse photos. You can choose from gallery either way from quid library.
Type username by which people will know you on Quidd. If the name is available, you will see green arrow requiring only a touch.
Explore Feed and make friends
On the Quidd app home page, you will find news feed posted by others. You can comment using stickers. Just beside the Feed tab, there is another tab for Friends. You can make friends easily by sending an invitation. For this,
1. Tap "Find Friends" and you have options to connect your Facebook friends as well as others from the contact list.
2. Touch Facebook to share this invitation on your facebook.
3. Once you tap Contacts option, the system will seek your permission for accessing the contact list. Select Agree to continue. Later on, you can share the invitation using messaging option.
4. Share your quid link over other social Media and search others by username.
This is how you can make friends and chat with them on Quidd.
How to Make Coins on Quidd
Users need coins for the sake of buying stickers from the store but don't worry you can earn enough with few activities. Few ways to earn coins easily are:
Way-1: Tap "Me" option from homepage and you can get free 29000 coins every after 3 hours.
Way-2: Watch Videos to earn coins touching "Watch a Video for Free Coins!"
Way-3: Downloading additional games will rebound with free coins. Follow the "Free coins Offer Wall" to avail.
How to Buy Stickers on Quidd
New stickers are available in the Explore tab and sometimes these are free. However, following tips will guide you acquiring:
Launch Explore tab and select any item by tapping it.
Hit the button dedicated to coin and the stickers will be yours.
These stickers are feasible in Collection tab along with other bought ones.
How to Manage Restriction for Kids
Since this app is for the adults having more or equal to 15 years, it might contain explicit contents in some items. As a result, if you have children at home accessing your phone, you can customize the settings to prevent them. Here are the steps to do so:
Step-1: Open "Me" tab and touch the Setting icon located at the top right corner.
Step-2: Reach out to Restriction and tap it to open.
Step-3: Answer a question that proves you are a guardian.
Step-4: Select Content rating Option and set the age of your child.
Step-5: Quickly proceed on to "ACCOUNT DETAILS" and toggle setting of the items listed here as you need.
How to use Quidd Keyboard to run Quidd App on Android Phone
Apart from Stickers, trading, Chatting, Quidd comes up with a built-in keyboard. Follow the below guidelines to set this as default:
Open Settings following guidelines as mentioned in the previous method.
Tap Quidd Keyboard option and system will guide you to Manage keyboards option.
Toggle the activating switch On located beside Quidd Keyboard.
Warning dialog box appears while you need to select Ok in order to continue.
These are all about the ways to Use Quidd Stickers on Android. Besides, we can use plenty others options which are in the pipeline to added in next update.
Wrapping Up
Social media applications have blessed us with numerous ways to get connected with family and friends. Chatting is an important mean to share view and news with others and Stickers replace typing long texts. Besides, what we cannot express in words can easily be expressed with stickers. Therefore we have talked about the detailed ways to Use Quidd Stickers on Android. So, why waiting folks! Get the app now and grab the stickers to share.