Are you tired of getting Sdbus.sys Error during Blue Screen of Death in Windows 10 and fighting to resolve? Sdbus.sys is said to be an essential SYS file and at the same time, one of the major components of the system. Any corruption in the system file makes it unusable hence; it generates Blue Screen of Death. However, fixing hardware issues like RAM, updating outdated drivers, scanning for malicious invaders may work efficiently. Besides, fixing registry issues as well as reinstalling operating system will provide same aid. We will discuss the ways to put these into action in order to fix Sdbus.sys Error BSOD in Windows 10 here today.
Sdbus.sys Error Blue Screen of Death in Windows 10 Solutions
Let's proceed now towards the methods to settle Sdbus.sys Error Blue Screen of Death in Windows 10 one by one carefully.
Solution-1: Scanning For corruption in RAM
Corruption in the Random Access Memory (in short RAM) makes the operating system unstable and thus generates Sdbus.sys Error Blue Screen of Death in Windows 10. So if you add a new RAM stick, remove it and check if that is causing the error. If not, then you need to follow these given steps to check its condition.
Step-1: Press Win + R hotkeys combinedly to launch Run dialog. Type mdsched.exe command in the box and press Ok button.
Step-2: Make a click on "Restart now and check for problems (recommended)" from Windows Memory Diagnostic popup.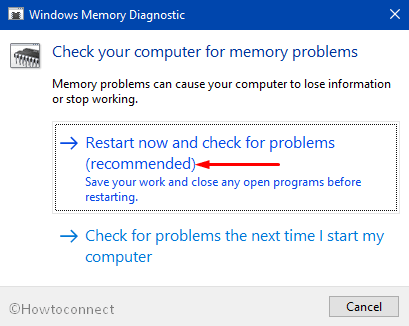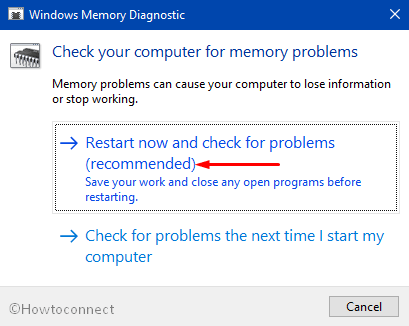 Windows will initiate checking for the abnormalities in RAM. If it finds any, you need to replace the affected RAM.
You may like to go through our full tutorial on How to Detect RAM Issues with Windows Memory Diagnostic Tool.
Solution-2: Scan for Malware infection
BSOD error is quite likely to happen due to the presence of malware on the system. Viruses enter into the PC and cause corruption in the system files. As a result, scanning as well as fixing those should be put at the top of priority list. Below steps will guide you in doing so
1. Restart the system and get into Safe Mode first.
Note – Read to Enter Safe mode During Boot Failure on Windows 10.
2. Go to the search box in the taskbar and type Defender. So, launch the "Windows Defender Security Center" by pressing Enter button.
3. Click Advanced Scan and from the following page, select Full Scan.
4. Perform a click on Scan now button with a view to initiate scanning for viruses in the whole system.
This process might take longer to an extent up to an hour. Wait until scanning ends. Windows Defender is a default malware protection for Windows 10 operating system. Upon finishing the scan, it will automatically resolve the threats if found.
Solution-3: Updating outdated drivers
Outdated drivers are the most probable reason for Sdbus.sys Error. Not only to fix this Sdbus.sys Error Blue Screen of Death in Windows 10, keeping drivers up to date always can enhance the performance of your Windows. You can do this manually using Device Manager and here are the steps you need to pursue.
a. Make a click on the Search box beside Start Menu and type devmgmt.msc and Enter.
b. Expand each of the driver categories and select one at a time. Right-click on the device and conduct a click on Update driver option.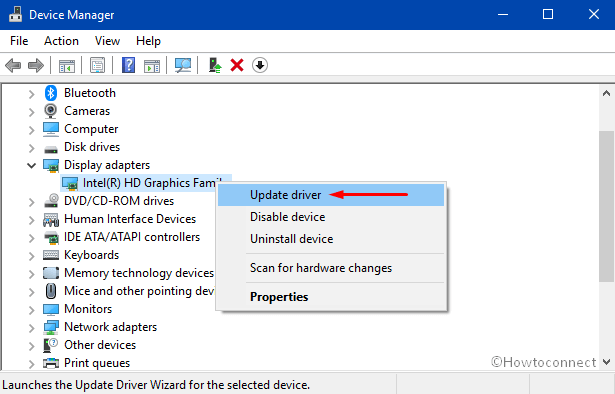 c. Select the option namely Search automatically for updated driver software from the dialog that pops up.
d. With an active internet connection, Windows will search for suitable driver software online. Once found, Downloading will start all by itself.
e. The confirmation text will appear on screen once the updated driver is successfully installed on windows.
Solution-4: Run Commands to check for Hard Drive corruption
Hard drive corruption is one of the prime reasons for occurring BSOD error in particular Windows. Corruption can take place due to a variety of events like unusual shutdown, incomplete software installation, or hard closing sometimes. However, you can easily sort out hard drive error by executing commands. To do so:
i. Type Cmd in Cortana search bar. Once Command Prompt appears in search result, put a right click on it and select "Run as Administrator".
ii. Type the following command at the blinking cursor of the black panel and press Enter –
chkdsk /f
Scanning for Hard Drive corruption will start in a moment. It might take a bit longer and you need to be patient till it ends. Upon checking, the system will bypass the problems automatically and this Sdbus.sys Error Blue Screen of Death in Windows 10 should resolve. If not, proceed to the following workaround.
Solution-5: Repairing Registry issues
Software installation, uninstalling few of them, running malware scan as well as installing third-party applications affect the values in the registry. In the process, MSDN Disc 4455.01 registry entries become invalid and evolve Stop error. Hence, the only possible solution is you need to resolve these registry issues manually to fix the error. Before proceeding, don't forget to save a back up of MSDN Disc 4455.01 in an appropriate place. In case, if something goes wrong badly, you can retrieve from this saved file. See the below instruction for this:
I. Press Win+S hotkeys to launch Cortana, type in the command regedit and hit Enter.
II. Look for keys associated with Sdbus.sys such as MSDN Disc 4455.01and select it with a click.
III. Click File from the top left corner of this window and choose Export from the list that shows up.
IV. Head to Save in section and select the destination folder. Store the copy of the file in the location of your choice.
V. Finally, hit the Save button to save this one as .reg extension file.
VI. Once you do so, use any third-party Registry Cleaner utility and repair all the issues of the registry instantly.
For reference, you can Use Black Bird Registry Cleaner on Windows in this concern.
Solution-6: Update latest Windows if available
People having Sdbus.sys Error Blue Screen of Death Windows 10 on their systems claimed to resolve after installing the latest update. You can give a try for this too. Follow the given guidelines for updating Windows.
• Open Start Menu as well as click on gear icon with an intention to launch the Setting app.
• Move the cursor to Update & Security icon and perform a click once highlighted.
• From the left pane select Windows Update and jump aside to corresponding right side. Here, click "Check for updates" button to find out the new updates.
• If updates are available, download it and select Install Now from the bottom. Restart is preferable and so, click on Restart now from the following screen.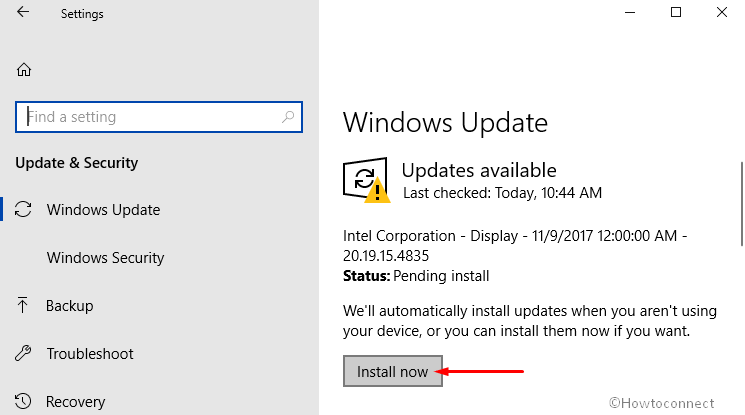 • Now execute a hit on View update history to check all the available updates are installed successfully.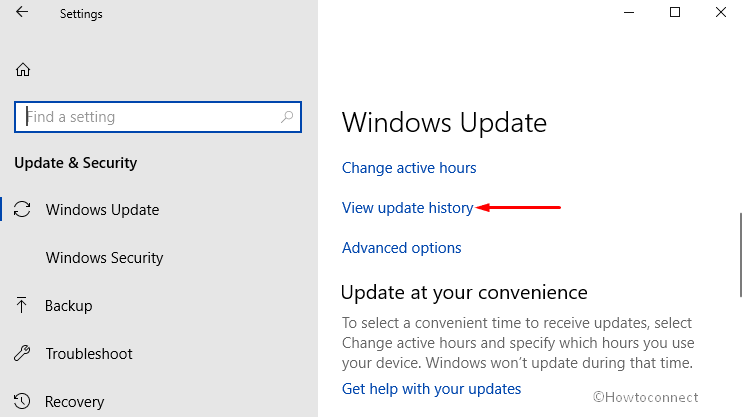 Solution -7: Run System file Scanner
We have talked about fixing hard drive issues beforehand. Similarly, corruption in system files may result in the same. So, fixing the faulty system files upon proper scanning can resolve the error eventually. Let's look at the guidelines below:
A. Access an elevated Command Prompt window following the same process as discussed in Workaround-4.
B. Type in or copy/paste the following command and henceforth hit Enter key.
sfc /scannow
The operating system will run a thorough scan for detecting the corrupted and broken files. Wait patiently till the scan ends completely. Automatic fixing will start after scanning and this should settle the error in this way. If negative, follow the next one.
Solution-8: Reinstall Program causing error:
Sdbus.sys Error Blue Screen of Death in Windows 10 can be caused by defective programs sometimes. In that case, it is advisable to reinstall the same. For doing so:
#1. First of all, hit Win+I shortcut keys to launch the built-in Settings program. Moving ahead, perform a click on Apps category.
#2. On the following page, reach out to the application causing the error from the list and make a click on it.
#3. Choose Uninstall from detailed pane and follow on-screen instructions to finish uninstallation process.
#4. Head to the official website of the uninstalled application and download the latest edition of that specific program.
#5. Reinstall the program by following the instructions shown by its setup. If this resolution goes in vain for the sake of fixing the error, give a shot to the last method.
Solution-9: Fresh installing of Windows 10
Last option available in hand is a fresh install of the operating system in case you have failed to resolve after all efforts. This resolution will affect all the data from hard drive to start everything afresh. In that case, before proceeding, save the necessary files to avoid inconveniences.
About Sdbus.sys Error Blue Screen of Death
Being a vital part of operating system, Sdbus.sys file possesses certain necessary coding required to configure Windows. Additionally, they are also provided with instructions to let the OS work smoothly with hardware system. If this file goes missing from your system, Windows 10 faces difficulty to run on and end up showing error messages. We have already covered few of the related issues and some are listed below.
"STOP 0x0000000A: IRQL_NOT_LESS_EQUAL – sdbus.sys".
"PAGE_FAULT_IN_NONPAGED_AREA STOP 0×00000050 sdbus.sys"
"DRIVER_IRQL_NOT_LESS_OR_EQUAL STOP 0×000000D1 sdbus.sys"
"STOP 0x0000001E: KMODE_EXCEPTION_NOT_HANDLED – sdbus.sys"
"A problem has been detected and Windows has been shut down to prevent damage to your computer. The problem seems to be caused by the following file: Sdbus.sys."
"NTFS_FILE_SYSTEM STOP 0×00000024 sdbus.sy
"SYSTEM_SERVICE_EXCEPTION STOP 0×0000003B sdbus.sys"
":( Your PC ran into a problem and needs to restart. We're just collecting some info, and then we'll restart for you. If you would like to know more, you can search online later for this error: sdbus.sys."
Closing words
Sdbus.sys Error Blue Screen of Death in Windows 10 is one of the most annoying problems that users confront with. The operating system needs to run smoothly and this error restricts from doing so. However, we have discussed all possible workarounds to fix Sdbus.sys Error Blue Screen of Death Windows 10. Hope these will be thoroughly on your side resolving the issue. Once you bypass the trouble, you can happily use the system. If some other workaround helped to settle the issue, do write them to us in the comments section below.
Utility tools to solve this BSOD:
Repair any Windows problems such as Blue/Black Screen, DLL, Exe, application, Regisrty error and quickly recover system from issues using
Reimage
.