If you are a Windows user then you could have known the CCleaner software tool. With CCleaner, you can compress the disk space by removing just unwanted files or folders and even manage the Windows Registry as well. We have discussed the CCleaner tool in our previous article. But here, we will elaborate to disable the CCleaner Alert which disturbs you while you are working on your Windows computer. Due to the active monitoring system running by default, CCleaner Alerts pop up as a notification Click here to open CCleaner on your desktop. When you click on it then it may increase your disk space more than by default up to 2 to 5 GB. But this option to increase the limit is found only for the Pro and Pro Plus editions of CCleaner. Otherwise, you need to Inactive CCleaner Alert Popup if you are using the free versions.
You can disable it when you first disable the active monitoring system. Next, you will need to run CCleaner manually if you want ever. Let's see how you can Inactive CCleaner Alert Popup on your Windows including Windows 10.
You may like to Read:
Delete the history of PC and Browser on schedule with Internet Eraser
How to Inactive CCleaner Alert Popup on Windows 10
Step 1: Run to open the CCleaner tool on your window.
Step 2: Here, you need to go to the Options section in the left pane and hit the Monitoring tab.
Step 3: In the right side, unmark the checkbox under title Enable system monitoring and Enable active monitoring.
Note: If you want to turn off Active monitoring then you need to first unmark the box Enable system monitoring option.
Step 4: Finally, you will find a dialog box with the title Disable Active Monitoring. For the confirmation, tap Yes button.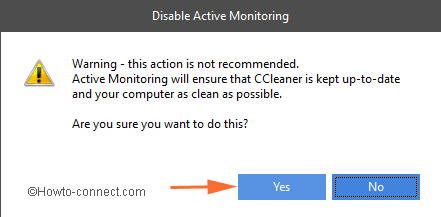 That's all.
Now you can close the CCleaner tool and you need not turn off your PC. When you complete the above steps carefully then you will no longer face the attack of the CCleaner Alert popup.