It is the Music that entertains us for fair bit of time. When Music turns louder or quieter, it hurts us in greater intent. Both are not ideal conditions for enjoying Music. Now, I am about to show the way of fixing Low Volume Audible Music, which becomes reality of Audio or Video files, nowadays.
At present, there are numerous applications available for claiming to sort out low volume of Audio or Video files permanently. Observing closely many of these applications, I find Audio Amplifier Free is the best freeware tool for this purpose. The Audio Amplifier is absolutely free to use tool. It can increase volume of audio or video file at nice audible level. More importantly, Audio Amplifier tool supports most of the popular audio/video format.
Once you download / install Audio Amplifier Free application, it lets you to adjust Audio or Video volume level at audible level. You may download Audio Amplifier application easily, using below link. After successful installation, you may run this after double-click on desktop Audio Amplifier Free application.
Then application prompts to browse Audio or Video files, which volume has to increase. Select such Audio / Video files and click on Amplify button.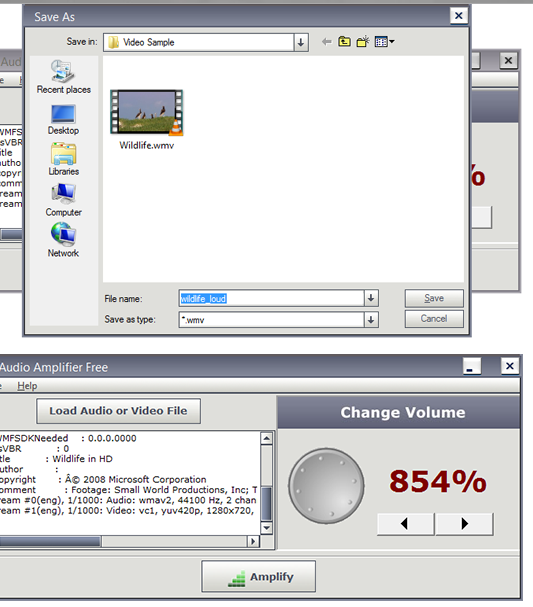 At the same time application asks you to browse and select location to save modified files. As soon as you press Save button process of amplification begins. After completion, you get 'conversion is finished' message on screen.