Methods and Steps to Increase Store App download Speed in Windows 10. – When you like any application in Windows Store you try to grab it as soon as possible. But many users complain that the momentum of apps downloading is very low and sometimes they need to wait for hours. The big size applications and games are headaches for them because they apprehend about the time period as it is very long. So we are presenting here a guide which could help you to boost Windows Store apps download speed.
Before starting to download Windows Store applications, we would advise you to keep a fast speed network. However, if you haven't the resources for this you can also increase the rapidness. But in that case, you can boost the momentum within a limit. See the guide
Increase Store App download Speed in Windows 10
This guide includes 2 sections – One the Store App download speed is normal but your intention is to boost and another – it is sluggish due to a certain error.
Windows Store App download speed is normal
If the applications are downloading with an average speed then you will need to be careful about few things.
Ensure that another Download is not in process
Check your browser whether another download is not processing at the same time. If it is, then let the download complete or pause it then download store apps.
Confirm that Windows Update is Not Downloading
Windows 10 nowadays sends updates very frequently. So if Windows store app download speed is slow then it is possible that Updates are in progress on your Windows 10. In this condition, either permit the updates to complete the download or follow the tips – How to Stop Windows 10 Update in Progress.
Stop if Other Windows Store Apps are Being Updated
If other applications are being updated then they will consume the Internet data and rouse the slow speed of download.
Step 1 – Press the Store icon the taskbar and allow the store to open.

Step 2 – Click on the account picture on the top menu bar and once the drop-down comes out select Downloads and updates. See the application's list and check if either of them is updating.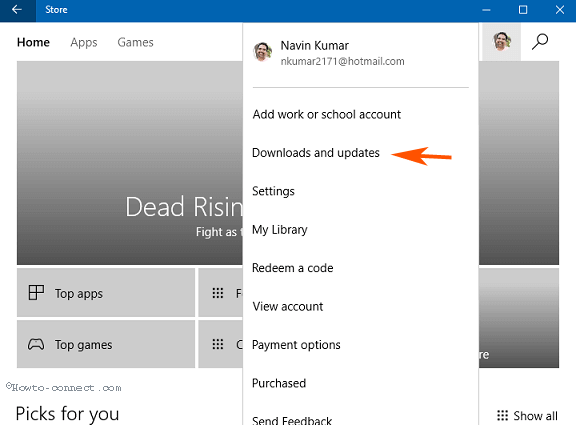 Step 3 – If updates for an application is downloading then click the Pause icon to temporarily stop it.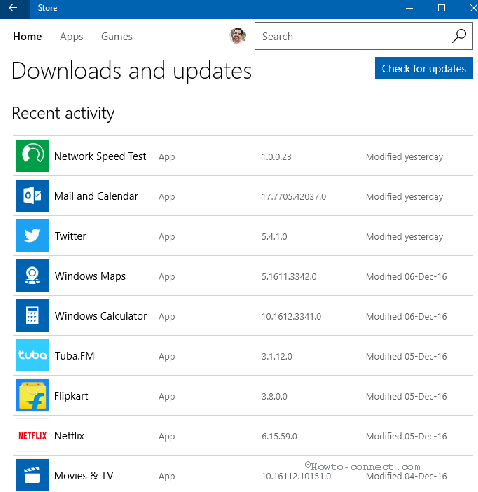 Prefer WiFi over Ethernet to Download the Windows Store apps
Many users report that WiFi better handles the downloading process of Store apps. So if you are running internet through LAN cable then switch to WiFi.
Windows Store Apps Download Speed is horribly slow
The download speed is substantially slower indicates that the Windows store needs to be repaired. Follow the below points in this case.
Disable or Uninstall 3rd PartyAntivirus
Many times third party antiviruses obstruct Windows Store apps download. So suppose you occupy a 3rd party antivirus program and encounter Windows Store App download Speed exceedingly slow on then remove or turn off it.
Reset Windows Store Cache
Reset of Windows Store Cache may be considerably helpful to Increase Store App download Speed in Windows 10. see how
Step 1 – Click Start button located on the extreme left of the taskbar, type WSReset.exe and then press Enter.
Step 2 – Wait for a minute until the Windows Store opens up freshly.
Run Windows Store App Troubleshooter
Still, you need to Increase Store App download Speed in Windows 10 then offer a chance to the troubleshooter. Grab the Windows Store app troubleshooter from this link and complete the process following the onscreen guide.
Clear the Windows update cache
Step 1 – Press Window button on the keyboard, copy the path C:\Windows\SoftwareDistribution\Download from here, paste and hit Enter.
Step 2 – Once the Distribution folder opens up, select the entire items here, and press the Delete button on your keyboard. Reboot your PC and initiate a fresh download in the store.
Run SFC/ SCANNOW
The common tool SFC  /SCANNOW might help you to Increase Store App Download Speed in Windows 10.
Step 1 – Press a couple of shortcut keys Win+X altogether and expand the power user menu. Select the option Command prompt (admin).
Step 2 – As the UAC pop up asks for your confirmation select the option Yes.
Step 3 – Copy SFC /SCANNOW from this line and paste into the elevated command prompt. Pree Enter.
Step 4 – Wait until the scanning is over and once it shows 100%, reboot your system.
Check whether Store App download speed in Windows 10 increases or not.
Conclusion
Therefore the guide and steps to Increase Store App download Speed in Windows 10. We expect the above points will help you to grab the application at a decent speed.