Hello, Windows 11 users! If you've been troubled by the infamous IntcAudioBus.sys Blue Screen issue, don't worry – we've got your back. Microsoft and Intel have discovered a compatibility issue between some Intel Smart Sound Technology (Intel SST) drivers with Windows 11, resulting in those irritating blue displays.
The major reason for this problem has been the Intel Smart Sound Technology Audio Controller which has been producing problems with versions 10.29.0.5152 and earlier, as visible in your Device Manager under System Devices. Microsoft has temporarily blocked Windows 11 updates for certain devices, but don't fret – we've got methods to get you out of this jam. We'll lead you through concrete actions to say goodbye to the IntcAudioBus.sys blue screen and ensure a pleasant and error-free Windows 11 experience. So, let's get started!
IntcAudioBus.sys BSOD Error
Here is how to fix IntcAudioBus.sys BSOD Error in Windows 11:
Run Blue Screen Troubleshooter
This user-friendly tool is designed to diagnose and resolve the compatibility issues between Intel Smart Sound Technology drivers and the latest Windows OS.
With just a few clicks, this troubleshooter scans, identifies, and implements fixes, offering a hassle-free solution to ensure your system runs smoothly without encountering those disruptive blue screens. Here are the steps to follow:
Click on Search and type Get help.
When a "Get help" app opens, type "fix blue screen errors "and select the term from the drop-down result.
You will be asked a few questions; choose the answers and follow suggestions accordingly.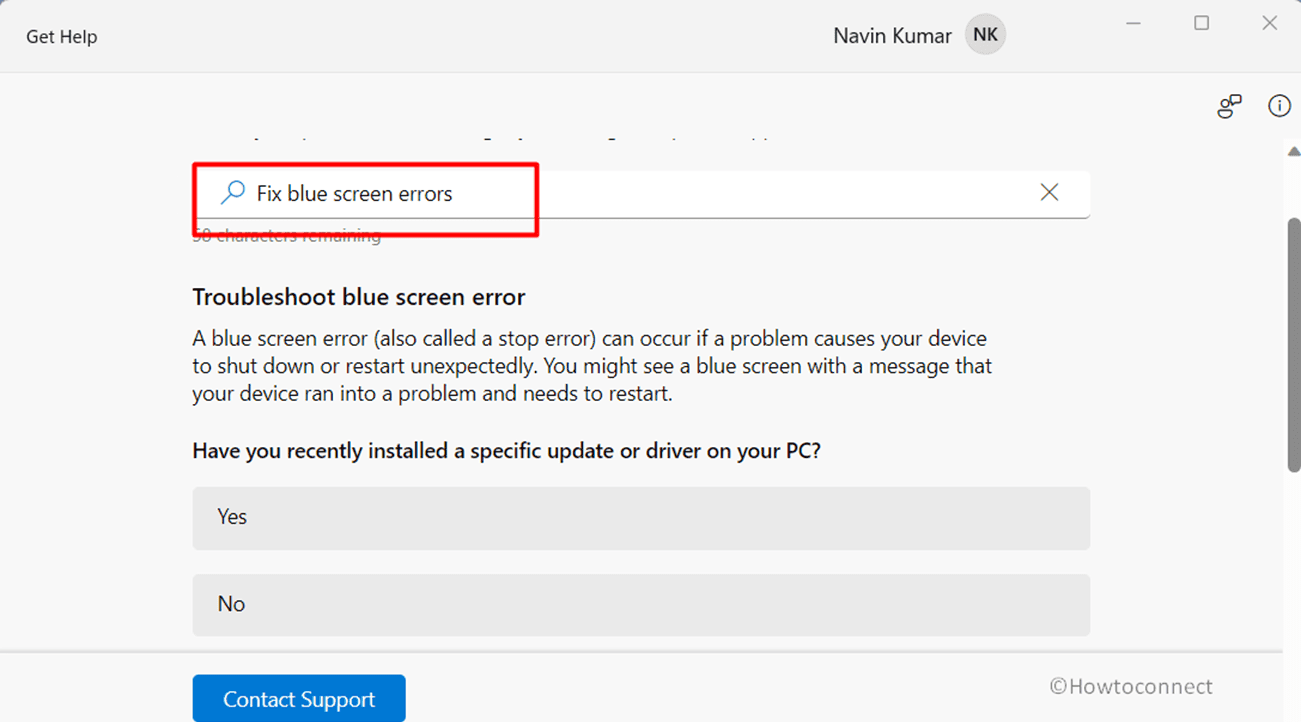 Once done, restart your computer.
See: Fix: Sdbus.sys Error Blue Screen of Death in Windows 10.
Update your Drivers
Updating your drivers involves installing the latest software components that enable communication between your hardware, such as Intel Smart Sound Technology, and the operating system. This virtuoso process ensures optimal functionality, enhancing compatibility and performance.
By engaging in this technological ballet of updating drivers, you'll bid adieu to this IntcAudioBus.sys pesky blue screens, creating a seamless and transformed computing experience:
Right-click on the Start button and select Device Manager.
Find System Devices.
Then, locate the Intel® Smart Sound Technology (Intel® SST) Audio Controller.
Right-click on the audio controller and choose Update driver.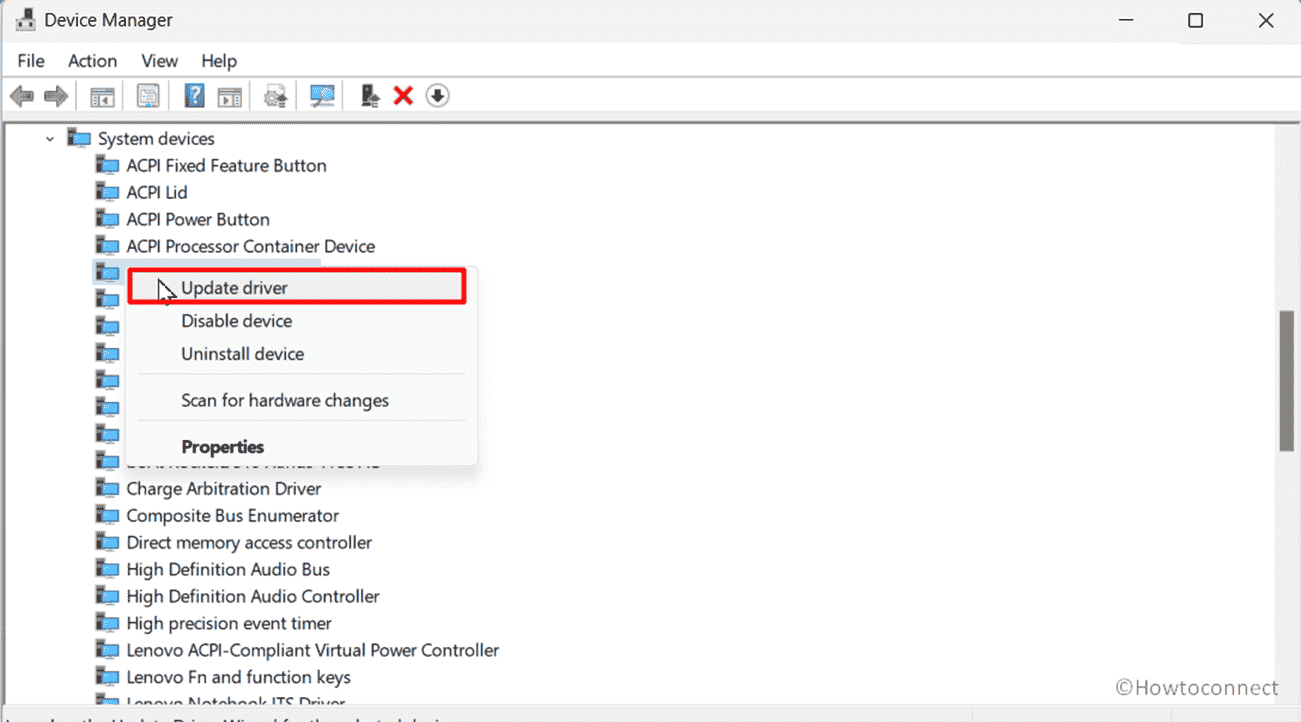 Opt for Search automatically for drivers.
Allow Windows to search and install the latest driver updates.
In the same way, expand Display adapters.
Right click on the graphics card and select "Update driver".
Select "Search automatically for drivers".
After that, restart your computer for changes to take effect.
If still encountering the IntcAudioBus.sys error then go to Intel's official website and manually download the latest drivers for audio controller and graphics card. Run both of them sequentially following on-screen instructions and install them.
In the end, restart your device.
Uninstall recently installed Windows updates
Since IntcAudioBus.sys BSOD error arises due to a known bug as acknowledged by Microsoft and a Windows update causes this issue. Uninstalling this build may help you to get rid of this issue. So uninstall the recently installed build using below guide:
Press Winkey and I.
Select Windows Update from the right panel.
From the right, click on Update history.
Scroll far down on the next page and select Uninstall updates.
Click on Uninstall" and confirm the popup.
Roll Back Windows Version
Downgrading Windows could be the fix for the IntcAudioBus.sys Blue Screen glitch in your system.
By going back to a previous version, you might dodge compatibility issues and restore stability to your PC. The steps to follow are mentioned below:
Open Settings in Windows 11.
Click on System in the Settings menu.
Select Recovery from the right-hand menu.
From the "Advanced startup" section, click on Restart now.
Then click on Go back to the previous build.
Continue with the on-screen prompts to complete the rollback.
Allow the process to finish and restart your computer.
Try System Restore
In Windows 11, System Restore emerges as the effective method in resolving the IntcAudioBus.sys blue screen dilemma. This function grants the user the ability to revert their system to a previous state characterized by seamless operation.
However, potential conflicts that may be causing the blue screen error can be eliminated by reversing recent modifications, thereby restoring the system to a stable state.
Open the Control Panel and navigate to Recovery.
Click on Open System Restore.
Opt for the recommended restore point or choose a specific one.
Click Next and then Finish to start the restoration process.
Confirm your choice and let the system restore.
Restart your computer afterward.
Methods:
Run Blue Screen Troubleshooter
Update your Drivers
Uninstall recently installed Windows updates
Roll Back Windows Version
Try System Restore
That's all!!
Utility tools to solve this BSOD:
Repair any Windows problems such as Blue/Black Screen, DLL, Exe, application, Regisrty error and quickly recover system from issues using
Reimage
.