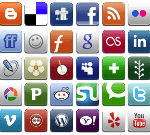 Have you ever imagine, what mechanism Google apply during pushing search result page in front of net user? Answer is crystal clear that much more related keyword, which web page has, got better ranking subsequently pushed above in search ranking.
On this explanation, most of newcomers think that they have lost opportunity to get higher search ranking because big player as well as experienced one has snatched all important keywords. Thus no more scope are left for him to rise. Google has taken these issue and introduce much improved search algorithms. Now, sites containing duplicate contents, presenting wrong information as well used too much used keyword will be penalized. Consequently, ranking of  such websites would be sunk and opportunity will be available for others websites, which provides authentic information and unique contents at the same time.
Above explanation about gaining better page ranking was true till non existence of Social  Networking site. In past, search engine was depended for indexing page on accordance of used related Keywords, but things has been changed drastically after impressive presence of Social Networking websites. According to new studies more and more Facebook shares and Tweets related to particular website  become more potent tools to reach out millions of men all around the world. With more than 800 million active users world wide, Facebook is the best social media networking site. Putting link at Facebook would be resultant as more and more search.