Today Microsoft releases 2 updates KB3191864 and KB4011035 for Office 2016. The patches include few fixes and apply to different versions of the software. The packages on Microsoft Download Center will only work on the .msi-based edition of Office 2016.
The Updates patches are available for both 32 and 64 bit of system and apply to "Office Home and Business 2016", "Home and Student", "Professional", Professional Plus,  and Standard versions. See the details
KB3191864, KB4011035 Updates for Office 2016 Details
Improvements and Fixes
KB4011035 provides an updated Segoe UI Emoji font. KB3191864 fixes an issue on Microsoft Office 2016 where the Room Finder button fails to update the Conference room. Room Finder add-in to change a meeting or conference room doesn't work to match the newly selected room.
Keep in mind that these updates only apply to the Microsoft Installer .msi-based version. They will not work on  Click-to-Run editions, for instance, Microsoft Office 365 Home.
How to confirm whether your Office installation is Click-to-Run or MSI-based
Step-1: Open an Office 2016 application on your system.
Step-2: Click on the File menu, and choose Account from the left column.
For Office 2016 Click-to-Run installations, you will view Update Options.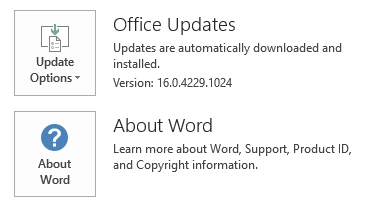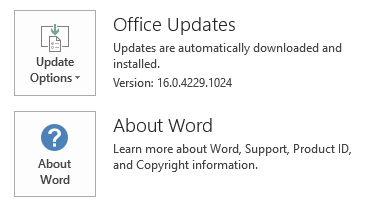 For MSI-based installations, you will notice that Update Options is missing.
How to Download KB3191864, KB4011035 Updates for Office 2016
Way-1: Through Windows update
This is the easiest method to Download KB3191864, KB4011035 Updates for Office 2016 and install. You only need to go to Settings => Update & Security and then click on Check for updates in the right pane.
Way-2: By manual download and install
Ensure whether your processor is 32-bit or 64-bit then download the package from the following links –
If you find any issue you can uninstall the patches using the following method –
Press Start and type View Installed Updates in the Search Windows box. Hit Enter.
You will find a list of multiple updates.
Locate KB4011035 or  KB3191864 which one you want to remove and then select Uninstall.
File sizes of the updates KB4011035 and KB3191864 are 1,788,856kb and 1,078,448kb.
The version of file of KB3191864 is 16.0.4717.1000.
Source – Microsoft Office update release note
That's all