Microsoft delivers a set of MicroCode Updates for different Windows 10 Versions to safeguard the OS from the possible attack of Spectre Variant 2. These are KB4091666, KB4091664, KB4091663, and KB4090007 that took a place on the Microsoft Update catalog site to protect the devices.
Spectre and Meltdown are severe vulnerabilities that made many devices unusable. Microsoft has been pushing patches time and again to fight the threats and secure your CPU.  Recently, in the security advisories, they revealed that an attacker has penetrated Windows 10 device with vulnerable code. That's why these update patches came into existence.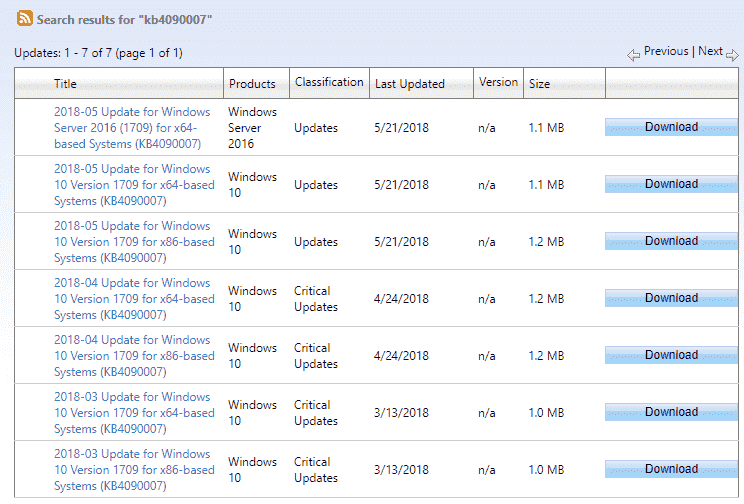 KB4090007, KB4091663, KB4091664, KB4091666 MicroCode Updates Windows 10
Microsoft has not told anything about the patches for Spectre V4 vulnerability whether they have integrated the microcode update.
Earlier in January 2018, they sent the updates for Windows 10 1511 but it seems that they didn't imagine the seriousness of the threat.
KB4090007, KB4091663, KB4091664, and KB4091666 also targeted the same threat and arrived in March 2018. Unfortunately, the patches  (starting versions) did not support all the processors that Intel created microcode updates for.
However, the Microcode updates from Intel protects multiple CPU but Microsoft didn't include them in Windows update (WSUS).
KB4090007, KB4091663, KB4091664, KB4091666 worth welcome to support  4 Windows 10 versions, still several editions are waiting. Precaution is better than cure so they must release the Microcode updates for remaining versions.
Microsoft is sending the patches to fight against Spectre and Meltdown vulnerability one after another so the users who haven't got the updates yet must keep checking. The updates are uploaded to Microsoft Update Catalog, visit the site and protect your processor.
How to download KB4090007, KB4091663, KB4091664, KB4091666 Microcode Updates Windows 10
Click the following link to grab the patches after determining the edition of Windows 10 (How to See System Information in Windows 10).
Download Microcode Updates Windows 10 Version 1709,
Next, Windows 10 Version 1607,
and at last, Windows 10 Version 1507.
Once you downloaded a patch, perform a double-click on the MSI installer and wait for few moments to finish. Reboot your system and stay protected.