Before downloading big games or applications it's a wise decision to Check App Size in Microsoft Store in Windows 10. Sometimes, when you suffer low disk space the huge volume file download may fail. However, Windows 10 Storage settings allow to Change Drive to Save Files but it is possible when your hard disk drive disk has sufficient space to let the game inhibit.
After you Check App Size in Microsoft Store in Windows 10, you can determine to download any app or game easily. But if find running short with space you can try Disk Cleanup moreover Reduce Disk Footprint. Once But first, let's see the way –
Check App Size in Microsoft Store in Windows 10
Here is how to check app size in Microsoft Store in Windows 10 –
Step-1: Make a click on the Store icon from the taskbar. You can also do the same from your Start menu list view or App tiles. In particular version, the Store icon might be missing from the taskbar. In this case, use Start menu to open Microsoft Store.
Step-2: Once the Microsoft Store appears on the display, click on the app you are planning to download. The application will expand and show you the Get or Buy button including Description, Screenshot and features.
Step-3: Scroll down to the bottom and locate Additional information. In this section, you view Developed by, Published by, Release date, Category, and a lot more details of the application. Find Approximate size. This will tell you the exact volume of the application.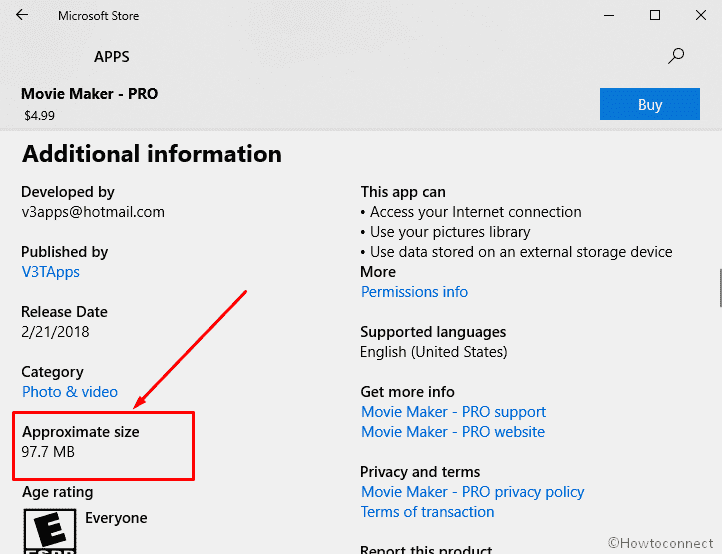 Now you can check How much Hard Disk You have on Windows 10 PC to take decision for downloading the app. Once ensured, click on the Get button if it is free or Buy when premium. While getting the application you can  Increase Store App Download Speed in Windows 10 with the instructions here.
Grab the app and enjoy.