Microsoft rolled out KB4134255 Media Feature Pack for Windows 10 N October 2018 Update v1809. The update includes media-related technologies (Windows Media Player aka WMP) and all the pre-installed media applications, for example, Voice Recorder, Groove, Skype, and Movies & TV. You need to install extra software from Microsoft to enjoy this communication functionality.
KB4134255 Media Feature Pack will allow you to stream music; play or create audio CD, media files, and video DVD; and capture and store pictures. Here, you will find the details and download locations for this update.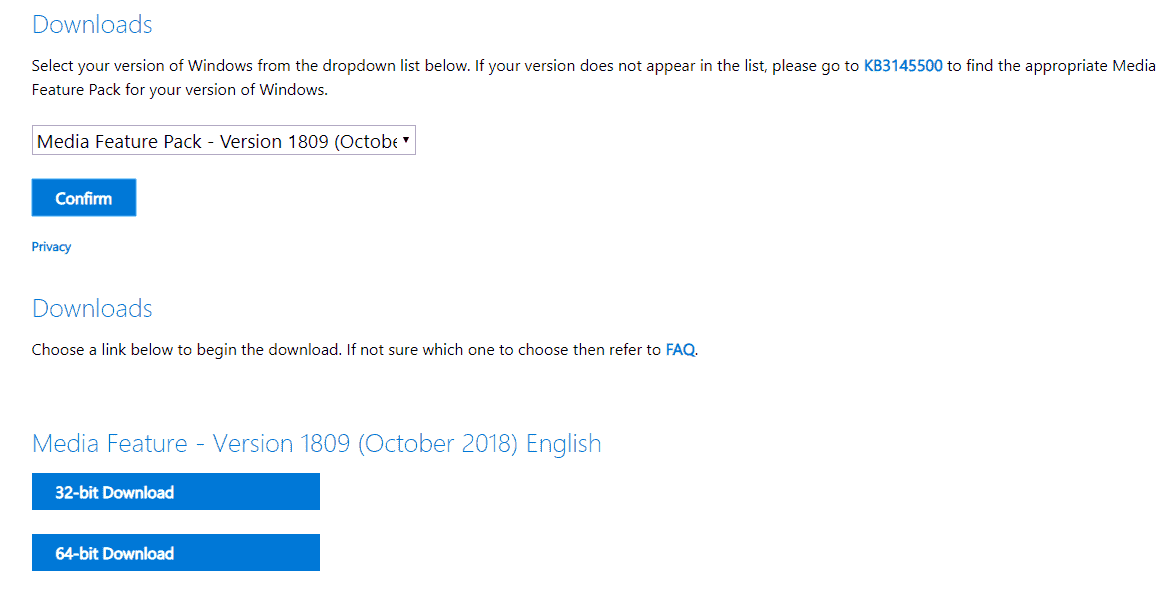 Related – Windows 10 October 2018 Update Changes, Features Details
KB4134255 Media Feature Pack for Windows 10 N October 2018 Update details
Windows 10 N doesn't contain certain fresh features that rely on Windows Media files.These are Mixed Reality, Cortana, Game DVR, Windows Hello, and PDF in Microsoft Edge. Some websites moreover software, such as Microsoft Store applications and MS Office, use Windows the files. Users can make them work properly for the extra features except Mixed Reality by installing KB4134255 Media Feature Pack for Windows 10 N October 2018 Update 1809.
However this Media Feature Pack for N versions of Windows 10 1809 is not compatible with Windows Mixed Reality. Users who want  this will need to install a non-N version.
How to Download KB4134255 Media Feature Pack for Windows 10 N October 2018 Update
To download KB4134255 go to this pages, choose appropriate edition and click on Confirm.
Once the remaining part loads, click on either of 32-bit Download and 64-bit Download and let the file arrive.
Media Feature Pack for N versions of Windows 10 is available for download from the Microsoft Software Download Service.
After you have installed the the pack, a few other apps will be installed from the Store to regain complete Windows 10 functionality. Such apps include (but are not limited to) –
Media codecs for playback of media in apps and in the browser:
You must restart the computer after you apply KB4134255 update.
KB4134255 Media Feature Pack for Windows 10 N October 2018 Update 1809 Excluded features
You might be aware that Windows 10 N has exactly same functionalities as other versions excluding Windows Media Player (WMP) and concerned technologies. The left out technologies include following features –
Windows Media Player user experience – Enables WMP features, for instance, to play media files and audio CD, and manage media in a library. Furthermore, it creates a playlist, an audio CD, gives metadata (plus album art) for media, transfer music to a portable music player, and stream content from a website.
Windows Media Player ActiveX control – Exposes technique and properties to frame up multimedia playback from an application or a web page.
Windows Media Format – This feature gives support for the "basic network streaming capability", "Advanced Systems Format file container", "Windows Media audio and video codecs", , moreover "digital rights management".
Windows Media DRM – Makes secure delivery of protected audio and video files available for playback on a computer, portable, or network device.
Media sharing and Play To – The feature activate sharing music, pictures, and videos on a networked computer with devices on the same network. In addition, powers computers to detect those kinds of files on the network.
Media Foundation – This feature helps content protection, video and audio quality, and interoperability for DRM.
Windows Portable Devices infrastructure – The attribute communicates with linked media and storage devices that comprise devices supporting Media Transfer Protocol.
ALAC, AAC, MPEG, WMA, FLAC, Dolby Digital audio codecs and AMR – The feature enables the playback of digital audio content, for example ALAC audio, FLAC, AC-3 audio, AAC audio, MPEG-2 audio, MP3, and WMA.
VC-1, MPEG-4, and H.264, H.265, and H.263 codecs – you know this as a whole Standards-based codec components. The features activate Windows Media Player (WMP) to support the recording and playback of multimedia files "encoded with standards-based codecs".
Groove Music – A pre-installed app to play digital music.
Movies & TV – A pre-installed app to play digital video.
Voice Recorder – A pre- installed app to record sounds.
Skype – A pre-installed app for messaging and communications.
Effects of update on other features
Microsoft doesn't exclude a few features straight from Windows 10 N, but they are affected by the media technology exclusions. Thesere.
Application Sync – This feature fails to work.
OneDrive and Photos – Cannot play videos.
Xbox – Game DVR, doesn't work.
Webcam – This feature is unable to work.
Windows Portable Devices – doesn't support media sync, image acquisition and file browsing.
Windows 10 camera devices – Picture transfer protocol doesn't work.
Sound Recorder – In this app. Recordings are restricted to WAV format.
Alarms and clock – In this application Alarm and timer sounds don't play.
"Group Policy for removable disks" – Windows 10 Pro N version doesn't include this feature.
Cortana Personal Assistant – Speech interaction doesn't function.
Windows Store Media Content – Microsoft Store content cannot be played. Furthermore, the preview of audio or video content in the Store fails to work.
Wireless Display – Doesn't work.
PDF Viewing in Edge – Doesn't work.
Windows Hello – Doesn't work.
That's all about KB4134255 Media Feature Pack for Windows 10 N October 2018 Update 1809.
Source – Release note