Microsoft delivers another cumulative update KB4464217 for Windows 10 version 1709 Build 16299.666. In this package, the team addresses issues related to VPN as well as Microsoft InTune. The update incorporates only quality improvements and does not introduce any new features.
In case, you have installed the previous updates, then only the new changes that KB4464217 for v1709 contains will be downloaded moreover installed on the device. You can install this package through Windows Update or can also manually grab through Microsoft Update Catalog.
KB4464217 –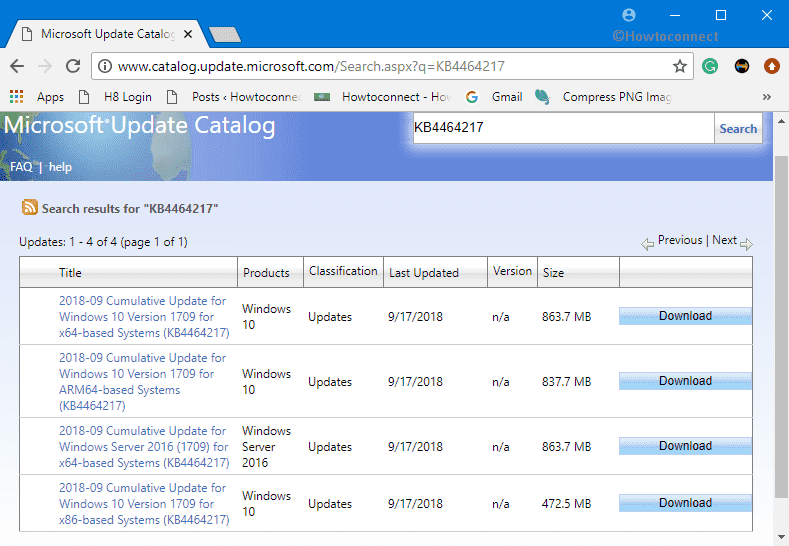 KB4464217 for Windows 10 1709 Build 16299.666 (Download)
The release of cumulative update KB4464217 does not carry out any new features but the significant changes are listed below –
Microsoft focuses on the VPN issue in this KB4464217 update. The team deals with the problem where some users who are using Virtual Private Network with IKEv2 are not being able to establish a connection. When the connection fails, it throws the following error message, "Remote Access Error 809".
KB4464217 resolves the Microsoft Intune problems that appear after installing the updates that are released between 24th July and 11th September 2018. Basically, for authenticating a WiFi or VPN connection, Windows no longer recognizes the Personal Information Exchange (in short PFX). As a result, Microsoft Intune fails to deliver user profiles at the usual time as it fails to recognize that the required certificate is present on the device.
Microsoft did not find any problems with this update.
KB4464217 update is only for Windows 10 April 2018 update. Microsoft is seriously involved in the development of Intune so they couldn't afford a bug on Windows 10 creating an obstruction. Possibly this is the prime cause that this cumulative update arrived within a week of the previous update KB4457142.
Multiple users are curious about when Windows 10 October 2018 update will be released. Microsoft is working to finalize the coding of this version and possibly they would come in the last week of September this year with the edition.
How to Download KB4464217 for Windows 10 1709 Build 16299.666
There are commonly two ways to download KB4464217 for Windows 10 v1709 and install.
Through Windows Settings
Press the Windows logo key and I hotkey altogether and let Windows Settings appear on the PC screen.
Choose the Update & Security category.
Click Check for updates button on the following page and download the package.
Finally, restart Windows 10 PC to install the cumulative update.
Via Microsoft Update Catalog
You can manually download KB4464217 for Windows 10 v1709 moreover install. Just navigate to the Microsoft Update Catalog, and determine the file based on your system architect. Once you locate the file, click the respective Download button.
Now, double-click the MSU file and when you see SmartScreen dialog on the screen, click Run to install the package.
Finally, reboot the system to install the package perfectly.
Source – Release Note