Microsoft releases KB4483530 Update for UUP Dec 2018 Windows 10 1709. A limited number of customers will receive his patch who are participating in a preview of Unified Update Platform. You might have known that a user needs to be enrolled in the UUP preview to get this type of updates.
KB4483530 is for UUP testing only so Microsoft recommends to not install on a device which is not registered. You will get further get more information about this package here.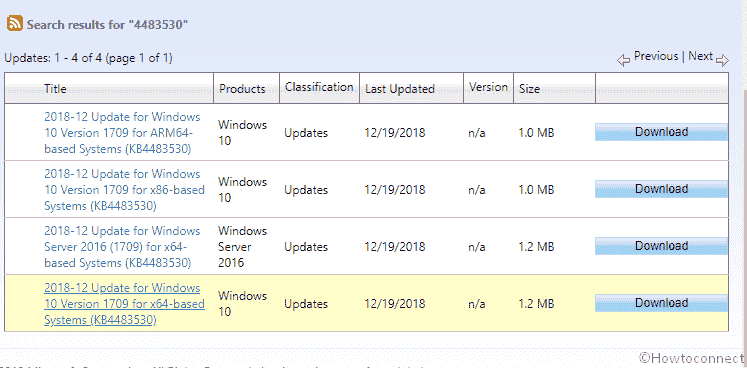 KB4483530 Update for UUP Dec 2018 Windows 10 1709 Details
Microsoft Introduced Unified Update Platform (UUP) in 2016 to make Windows update more seamless and simple. Users always like to have more control over the timing when installing the updates. They'd like updating to require less local processing and thus boost battery life. And that they'd like fewer download sizes. Microsoft has been working on all of these and they added Active hours in the Windows 10 Anniversary update. They are trying to improve the delivery technology for Windows update in next Windows 10 April 2019 update so they are running tests on different versions. So the current patch will examine the same and discover an opportunity. This is the secret behind KB4483530 Update for UUP (Unified Update Platform).
How to get KB4483530 Update for UUP Dec 2018 Windows 10 1709
This KB4483530 update is for UUP preview testing only. Do not install on any device unless and until you are not a part Unified Update Platform testing. But if you are, then you will get the patch automatically on your device. Unless follow Settings => Update & Security => Windows update and click on 'Check for updates'.
To download KB4483530 as a standalone package, go to the Microsoft Update Catalog website.
There are no prerequisites to apply the Unified Update Platform update.
You have to restart the computer after you apply KB4483530.
This patch does not replace a previously released update.
Source – Release note.