KB4489192 cumulative update for .NET Framework 4.7.2 and 3.5 comes up for Windows 10 1809. This patch covers only quality features like Framework and Japanese era. The update, released on 2 April 2019, does not bring any additional operating system feature. In addition, the patch is not having any known issues.
You Are able to download KB4489192 from the Microsoft update catalog as an MSU file format. However, this patch will be automatically downloaded unless you haven't disabled Windows update.
KB4489192 –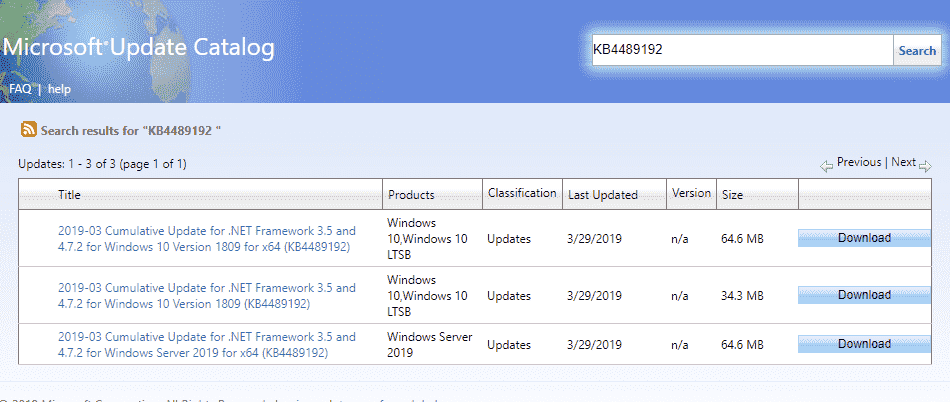 KB4489192 for .NET Framework 4.7.2 and 3.5 Windows 10 1809 Improvements and Fixes details
Here are the Improvements of this patch –
Windows 10 team works on a problem in which the Framework throws an exception. This occurs when the year in the parsed date is either greater than or equal to the start year of the next era. Currently, the framework will not throw an exception like this.
Microsoft expert updates Japanese Era dates in KB4489192. These dates are formatted for which the format pattern uses the "y?" characters. The format of the year together with the symbol "?" is supported rather of using year number 1. Additionally, formatting day numbers that include "?" is supported.
The output of Gannen characters is now approved in the Japanese Era results in the formatting of first-year dates. It occurs regardless of whether the format pattern comprises single quotation marks around the "?" character.
How to get April 2019 .Net Framework update in Windows 10, 1809 and install
To download and install this patch –
Step-1: Press Win+I hotkey and let Windows Settings appear.
Step-2: Once you are on the user interface, click Update & Security category.
Step-3: By default Windows section will come on the screen. Select Check for updates button on the right side. The patch will start downloading; let it complete and wait for Restart button to show. Click it when appears to complete the installation.
In order to download KB4489192 as MSU format from Microsoft update catalog to manually install this cumulative update.
Source – Release note
That's all!!!