The patch Tuesday update for Windows 10 1809 – KB4494441 – is here. It mainly brings security updates and improvements by adding protection against various vulnerabilities. The cumulative update also addresses several issues. You can find the notable changes and improvements in this quality update in the following sections.
The system will automatically receive KB4494441 release using Windows Updates and notify you to restart. Your Windows will receive only the new fixes if you have already all the previous patches. You are able to also download the stand-alone package for the same from the Microsoft Update Catalog site. Make sure you have the latest SSU before you get the latest cumulative updates.
KB4494441 –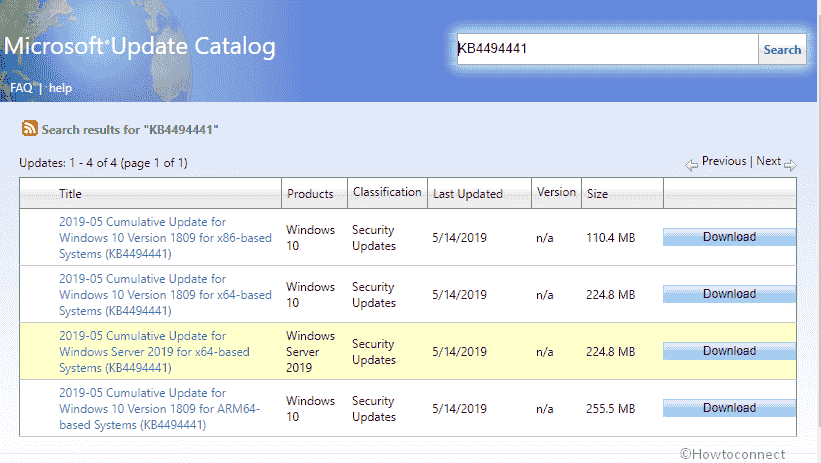 KB4494441 Windows 10 1809 Cumulative Update fixes and improvements
The patch Tuesday cumulative update turns on Retpoline will be by default enabled in case Spectre Variant 2 (CVE-2017-5715) is enabled. Users need to ensure that, as given in the Windows Client and Windows Server articles earlier OS protections against the Spectre Variant 2 vulnerability are enabled via the registry settings. (The settings referred here are, by default, disabled for Windows Server OS editions though they are enabled by default for Windows Client OS editions).
An important improvement with KB4494441 is that it brings added protection against a new vulnerability called Microarchitectural Data Sampling. These are CVE-2018-11091,CVE-2018-12126, CVE-2018-12127, and CVE-2018-12130. The protection is available for 64-Bit (x64) versions of Windows). Set the registry settings as given in the Windows server and Windows Client articles.
For both its browsers – IE and Edge, KB4494441 adds uk.gov into the HTTP Strict Transport Security Top Level Domains (HSTS TLD).
KB4494441 brings improvements in the bug which would cause "Error 1309" as users installed or uninstalled some .msp and .msi files types on a virtual drive.
The update for Windows 10 1809 fixes an issue preventing the initialization of the Microsoft Visual Studio Simulator.
KB4494441 resolves an issue failing of zone transfers between primary and secondary DNS servers over the Transmission Control Protocol (TCP).
The update addresses a problem occurring when using the MS UI Gothic or MS PGothic fonts in MS Excel. The issue would cause the cell size, layout, or text to become wider or narrower than expected.
The patch Tuesday cumulative update released on 14 May offers Security updates to "IE", "Edge browser", MS Scripting Engine, Windows Graphics, Windows Kernel, Windows Virtualization, Windows Storage and Filesystems, Windows App Platform and Frameworks, Windows Cryptography, the Microsoft JET Database Engine, and Windows Server.
Known issues
Issue 1
Users are facing some troubles as they try to start a device using the Preboot Execution Environment (PXE). The issue occurs when you are starting it from a WDS or Windows Deployment Services server configured to use Variable Window Extension. It may end up in prematurely terminating the connection to the WDS server while downloading the image. This problem does not affect clients or devices that are not using the Variable Window Extension. Microsoft is attempting to resolve this issue
Workarounds –
Try and see if any of the below workarounds disable the Variable Window Extension on WDS server and mitigate the mess up.
Workaround 1-
 In the search box, type cmd.exe. Then, right-click on the result from the top and choose the option Run as administrator.
Thereafter, type the following in the command line and hit Enter –
Wdsutil /Set-TransportServer /EnableTftpVariableWindowExtension:No
Workaround 2 –
This method involves using the Windows Deployment Services User interface.
Open Windows Deployment Services from Administrative Tools (Control panel).
Then, in Server, spread options and right-click on a WDS server.
Open properties. Unmark the box for the option Enable Variable Window Extension in the TFTP tab.
Workaround 3 –
In the search box, type regedit.exe and click on the best result.
Browse to the following location and set the registry value to 0 –
HKLM\System\CurrentControlSet\Services\WDSServer\Providers\WDSTFTP\EnableVariableWindowExtension
Restart WDSServer service.
Microsoft is trying to fix it permanently and they will provide a resolution in an upcoming release.
Issue 2
There still are the recently detected issues with folders or files which are on a CSV (Cluster Shared Volume). Renaming or such operations performed on those files and folders often fails. They are mostly accompanied by an error message, 'STATUS_BAD_IMPERSONATION_LEVEL (0xC00000A5)'.
Workaround
Usually, the error occurs as the user tries operating in a CSV-owner node from a process which is not having the administrator privilege. So, as a workaround, for now, try performing the operation from –
A process having an administrator privilege.
A node without a CSV ownership.
Microsoft is engaged in finding permanent resolution and will send an update in an upcoming release.
Issue 3
There is a problem with printing from Edge web browser or other Universal Windows Platform applications. Users attempting to print receive the error, "Your printer has experienced an unexpected configuration problem. 0x80070007e."
Workaround
As the other issues here, Microsoft is trying hard to bring a resolution and will provide an update in an upcoming release. Until then, users can use other reliable browsers.
Issue 4
Ever since the installation of KB4493509, the devices with certain Asian language packs installed tends to receive the error –
"0x800f0982 – PSFX_E_MATCHING_COMPONENT_NOT_FOUND."
Workaround
Users can reinstall the language pack.
Also, go to Settings => Update & security => check for updates
In case, you are still facing the issue even after reinstalling the language pack, users are advised to reset the PC. For this:
Go to Settings => Recovery.  Then, select Get Started under the option Reset this PC. Finally, select Keep my files.
Microsoft is active for a solution and will offer an update in an upcoming release
How to Install KB4494441 May 2019 cumulative update
If you haven't installed KB4494441 till now then navigate to Settings => Update & Security => Windows update => Check for updates.
Moreover, you can download the  Standalone of the patch from the Microsoft update catalog.
Source – Release note.