Cumulative update KB4499147 is unfolded by Microsoft on the 28 May 2019 for Windows 10 1709 version taking the OS to Build 16299.1182. This release contains remarkable fixes associated with event 7600, BranchCache, Microsoft Office, KRB_AP_ERR_MODIFIED, wininet.dll and so on. Furthermore, the build incorporates several quality improvements aiming at enhancing Stability to make the OS more stable holding other features almost the same.
Users running Windows 10 v1709 are able to download KB4499147 as an MSU file format straightway from the Microsoft update catalog site. As a general rule, you'll receive this patch from the Windows update by itself. In addition to this, upgrade your device to the latest version for having a better experience of the user interface and to sustain greater reliability. Furthermore, you can check out all the patches of the entire versions, navigate to Windows 10 Cumulative Updates List.
KB4499147 –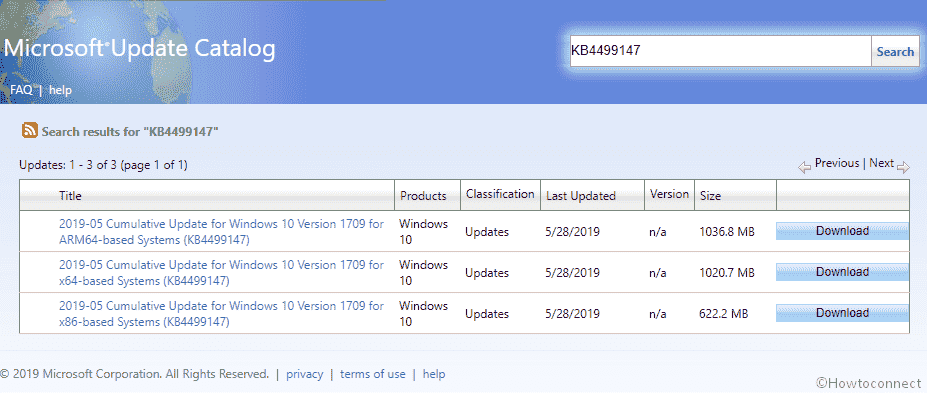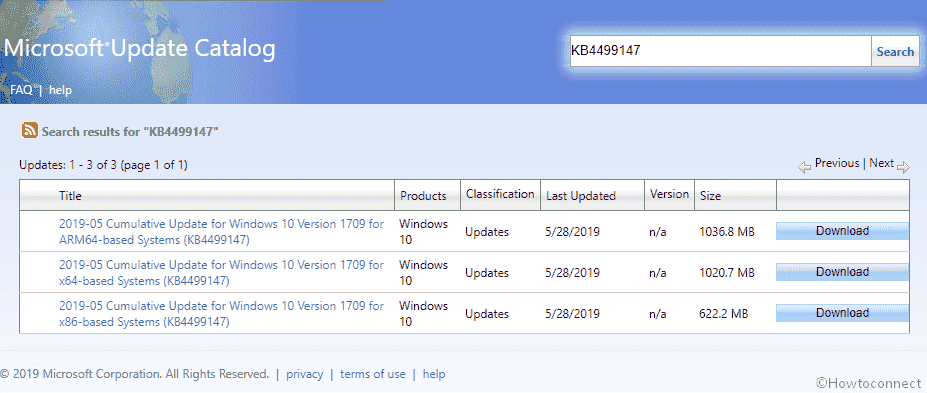 KB4499147 Windows 10 1709 improvements and fixes details
This is a bug fixing and stability enhancement patch provides no new feature to the operating system. It also holds a collection of quality improvements like –
Tech Giant works on an issue with looping redirects between a few specific browsers like – "Microsoft Edge and Internet Explorer 11".
wininet.dll is updated. This will obstruct the re-creation of the File Transfer Protocol control sessions.
The team tries to set the date separator suitably in the Japanese short date format.
Focuses on an issue that hinders the OS from loading new icon files. This happens when it confronts an icon file that has a bad format.
The time zone information for Morocco is updated in this patch.
Another time zone for the Palestinian Authority is also upgraded in this Build 16299.1182.
Microsoft specialist works on Windows attempts to renew Azure Active Directory token certificates when there is no internet connectivity. This issue befalls during AAD authentication and reduces the performance of applications.
The company works on causing Microsoft Office and other applications to prompt for a password. It occurs when you change a user account password. Besides, this issue arises in the hybrid Azure Active Directory joined systems.
With KB4499147 Build 16299.1182, now no breakdown of KRB_AP_ERR_MODIFIED Kerberos sign-in befalls in applications and services configured to use a Group Managed Service Account. This issue arises subsequent to the automatic update of the service account password.
According to the company, now no sign-in issue with error – "Incorrect Username or password" will appear. Software giant states that this failure issue used to occur because of using an empty or null password where Windows Defender Credential Guard was enabled.
The company approaches an issue with BranchCache (bandwidth-optimization) when it is in distributed cache mode. This technology designed to cache central data may use somewhat more disk space than assigned for the republication cache. To thoroughly approach the issue, machines that have exceeded the "disk space assignments" should empty BranchCache using the netsh Branchcache flush command.
Technician team tries to fix the Stop D1 error. It generally appears when you increase the random-access memory capacity of a CPU on a virtual machine.
Event 7600 will not occur now in the Domain Name System server event log. Typically, when it appears, cause an issue generating unreadable server name.
With the patch KB4499147, no error page will occur in the Edge browser. It used to happen when you go to a page that was previously posted.
Works on an issue with scrollLeft in Internet Explorer.
Approaches an issue that causes rendering to stop working for <svg> elements.
Known issues in this update
Symptom
Workaround
An error- STATUS_BAD_IMPERSONATION_LEVEL (0xC00000A5)

might arrive on your monitor screen when you do certain activities like – rename on files that are on a Cluster Shared Volume. Typically, this issue increases by carrying out an operation on a CSV owner node from a process that doesn't have administrator privilege.

Do one of the following:

This would be resolved if you execute the task from a process that has administrator privilege.
Another method is to complete the task from a node that doesn't have CSV ownership.

Over and above, the company is working on a resolution. It will provide an update in the forthcoming release.
Ways to install KB4499147 for Windows 10, 1709 and install
Prior to receiving the current cumulative updates KB4499147, it would better to install the latest SSU. This will enhance the stability performance and mitigate potential issues which help to stay out of possible troubles while installing. Here is How to download through the following steps –
Step-1: First of all, press Win+I to open Windows Settings app. Thereafter,
Step-2: Click on Update & Security option.
Step-3: This will take you to the Windows Update in the left pane, from here go alongside right.
Step-4: Click on the Check for updates option, and then wait for a while.
Step-5: When the searching process completes, click on the Download option available under the found update. Subsequently, install the update using the on-screen instructions.
You are able to Download KB4499147 from Microsoft Update Catalog.
Source – Release note.