Microsoft rolls out KB4499162 for Windows 10 version 1703 15063.1839. This cumulative update addresses a number of issues and also improvises certain features as well. Installing the patch will enhance the reliability and users will receive the latest feature updates based on their device compatibility. Basically, it contains effective fixes for wininet.dll, Stop D1 error, sign-in issues and more. In addition to the solutions, the patch also updates the time zone information for Morocco and the Palestinian Authority.
If you have already installed the earlier updates, then only the new solutions that this package holds will be downloaded and installed. By default, you will get this update through the Settings application. However, if you prefer to carry out the task manually, then visit Microsoft Update Catalog to grab the package. See all the patches on one place – Windows 10 Cumulative Updates List.
KB4499162 –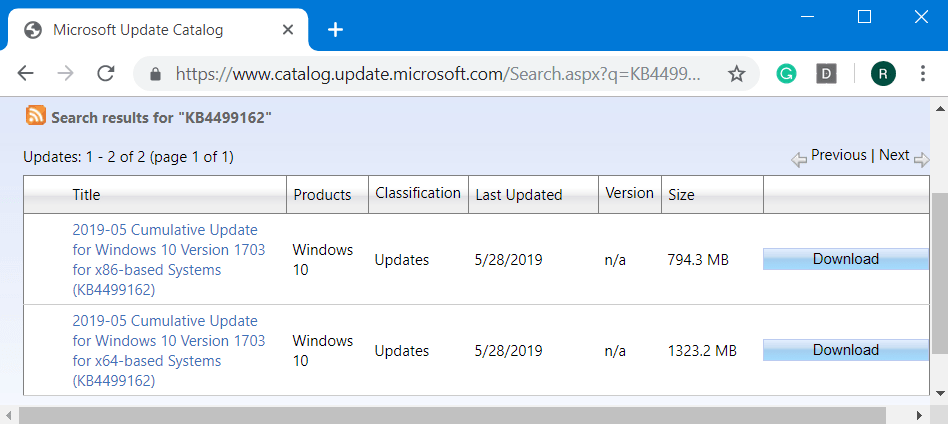 KB4499162 Windows 10 1703 15063.1839 Cumulative Update 28 May 2019
Following are the key changes that this specific patch includes –
The release of this cumulative update focuses on the problem with looping redirects between Internet Explorer 11 and Microsoft Edge.
An update is out for wininet.dll file which will eventually avoid the re-creation of File Transfer Protocol (aka FTP) control sessions.
Moving ahead, the update also addresses the issue to set the date separator properly. It is applicable in the Japanese short date format.
Time zone information for Morocco is updated in this patch.
Moreover, it also includes updates time zone information for the Palestinian Authority.
In the Universal C Runtime, there is an improvement in the performance related to case-insensitive string comparison functions like _stricmp().
Microsoft further deals with an issue in which the operating system makes an attempt to renew "Azure Active Directory" (in short AAD) token certificates when there is no internet connection. Now, this problem happens to occur during the authentication of AAD which eventually slows down the performance of applications.
KB4499162 also addresses a problem that may lead a temporary KRB_AP_ERR_MODIFIED Kerberos sign-in failure in applications. It also happens to services configured to use a Group Managed Service Account (GMSA). This specific issue occurs after the automatic update of the service account password.
This cumulative update undertakes an issue where the sign in fails with an error "Incorrect Username or password". It occurs while using an empty or null password. Moreover, it also happens when Windows Defender Credential Guard is turned on.
You will notice an improvement in the situation that causes Microsoft Office and other applications to prompt for a password. It happens after you modify a user account password and occurs on hybrid Azure Active Directory (AD) joined systems.
The team addresses a problem with BranchCache when it is in distributed cache mode. It may use more disk space than assigned for the republication cache. So, to completely deal with the issue, the devices that have exceeded the disk space assignments should empty BranchCache. They can do this using the netsh branchcache flush command.
While dealing with the issues, KB4499162 focuses on the problem that may cause a Stop D1 error. It happens when you increase the random-access memory (RAM) capacity of a CPU ("hot add") on a virtual machine.
It also addresses the problem in Internet Explorer with scrollLeft.
Lastly, it addresses an issue that causes rendering to stop functioning for <svg> elements.
Known Issues in KB4499162 Windows 10 1703 15063.1839 Cumulative Update
Symptom
Workaround
You may experience an error "STATUS_BAD_IMPERSONATION_LEVEL (0xC00000A5)" while trying to accomplish certain tasks such as the renaming of files or folders that are on a Cluster Shared Volume (CSV). It occurs when you execute an operation on a CSV owner node from a process that fails to have admin rights.

Do any of the following:

Carry out the task from a process holds admin authorities.
As an alternative, try to execute the operation from a node that doesn't have CSV ownership.

Microsoft is working on its best workaround and will release the same in the upcoming release.
How to Get this Update
You need to install the latest servicing stack update (SSU) prior to installing this cumulative patch. This is necessary to carry out as SSU enhances the reliability of the update process. Moreover, it also helps to mitigate potential problems while you make an attempt to install KB4499162.
So, you can navigate to Windows Settings, the built-in app and head to Update & Security category. From here, click on Check for updates button to download the latest cumulative update (LCU).
To manually grab the patch, visit Microsoft Update Catalog and download the one that suits your device's architecture.
That's all!!!