Microsoft released the cumulative update for KB4505064 for Windows 10 version 1803 build 17134.766 yesterday. The patch specifically refers to resolve HSTS Issue in gov.uk Websites. You might know that after the partchday (14 May 2019) update a number of customers have been unable to access gov.uk Websites in UK and outside UK.
The cumulative update includes some known issues in WDS server renaming file or folder on CSV. Dissimilar to the previous patches you will need to install this one manually if you are outside UK. See – Windows 10 Cumulative Updates List.
KB4505064 –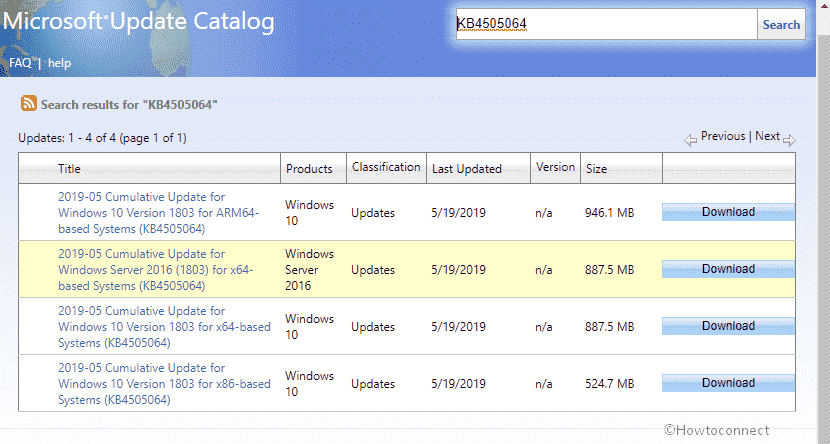 KB4505064 Windows 10 1803 17134.766 Cumulative Update changelog and known issues
Changelog KB4505064 
This patch includes the following quality improvements –
The cumulative update includes an improvement in some gov.uk websites that don't support HTTP Strict Transport Security (HSTS) when with browser Edge or (IE11) Internet Explorer 11.
KB4505064 Known issues in this update
Symptom
Workaround
You may encounter a problem when using the "Preboot Execution Environment (PXE)" to start a device using a WDS server that is configured to use Variable Window Extension subsequent to receiving this patch. This may lead the connection to the WDS server to close prematurely while downloading the Image. This mess does not affect devices or clients that are not using the Variable Window Extension.
To mitigate the issue, disable the Variable Window Extension on WDS server using one of the following options:

Option 1:

Open an Administrator Command

prompt and type the following:

Wdsutil /Set-TransportServer /EnableTftpVariableWindowExtension:No

Option 2:

Use the Windows Deployment

Services UI.

Open Windows Deployment Services from Windows Administrative Tools.
Expand Servers and right-click a WDS server.
Open its properties and clear the Enable Variable Window Extension box on the TFTP tab.

Option 3:
Set the following registry value to 0:

"HKLM\System\CurrentControlSet\

Services\WDSServer\Providers\

WDSTFTP\EnableVariableWindowExtension"

Restart the WDS Server service subsequent to turning off the Variable Window Extension. Microsoft is active on a resolution process and will send an update in a future release.

Some operations, for example, rename, that you execute on files or folders that are on a CSV may fail with the message – STATUS_BAD_I

MPERSONATION_

LEVEL (0xC00000A5).

This issue takes place when you do the operation on a CSV owner node from a process that does not have administrative authority.

Do one of the following –

Complete the work from a process that has administrator privilege.
Do the execution from a node that does not have CSV ownership.

Microsoft is trying to fix the issue and will offer an update in a future release.
Way to get KB4505064 Windows 10 1803 17134.766 Cumulative Update
Before installing this update
You are strongly recommended to install SSU before getting KB4505064.
Install this update
This update will be installed automatically to resolve problems for the customers from UK. All you may need to do is restart your device again. If you are affected by HSTS issue, rush to Check for updates to apply the update immediately.
This update will not be installed automatically for the customers residing outside UK. They need to navigate Windows Update to apply manually and then restart the device.
To download and install KB4505064, go to Settings => Update & Security => Windows Update and click on Check for updates.
To get the standalone package in MSU file format for this update, go to the Microsoft Update Catalog website.
Source – Release note.