Windows 10 receives another cumulative update KB4505056 on May 19, 2019. This patch arrives here as a quality improvement for version 1809 in order to take the Operating System to Build 17763.504. In this update, along with several known issues, Microsoft deals with gov.uk websites.
You will get the update automatically moreover you are able to grab KB4505056 from Microsoft catalog site. Your system will get the new fixes only if you have already installed all the earlier updates. The company strongly recommends upgrading your machine to the current versions to have an experience of better user interface and to sustain greater reliability. You may check the list of all Windows 10 Cumulative Updates List.
KB4505056 –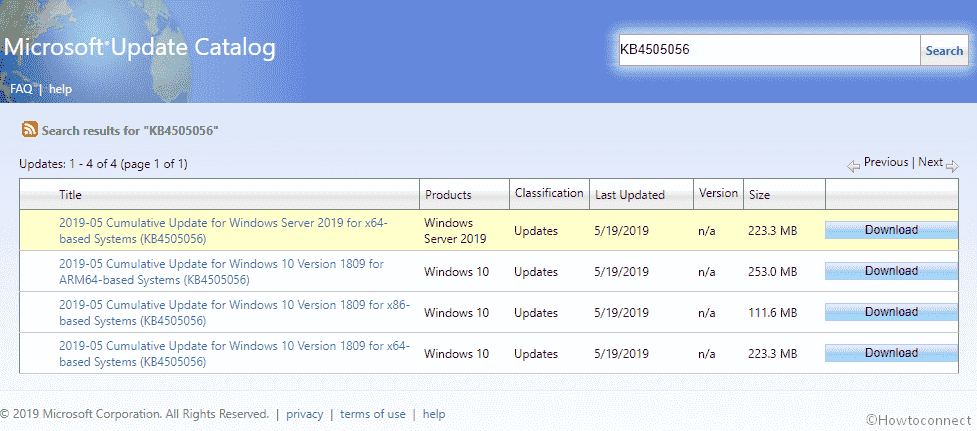 KB4505056 Windows 10 1809 changelog and known issue
Changelog
The tech Giant fixes an issue that may hinder access to some gov.uk sites that don't support HTTP Strict Transport Security. This issue generally occurs while using Internet Explorer 11 or Microsoft Edge.
KB4505056 Windows 10 1809 Known issues
Symptom
Workaround
On installing KB4505056,

there are the possibilities of appearing issues using

the Preboot Execution

Environment for commencing

a device from a Windows Deployment Services

Server. This might be the

reason for losing the server connection while downloading

the image. Furthermore,

it does not have an impact

on clients that are not

working on the Variable

Window Extension.

You're able to disable the "Variable Window Extension" on "WDS server". It is to detract the issue using one of the following options –

Option 1 –
Launch an Administrator Command prompt and type the following –

Wdsutil /Set-TransportServer /
EnableTftpVariableWindow

Extension

:No

Option 2 –
Use the Windows Deployment Services UI.

Start the Windows Deployment Services from Windows Administrative Tools.
Extend the Servers and subsequently do a right-click on the WDS server.
Finally, browse its properties. Thereafter remove the Enable Variable Window Extension available on the TFTP tab.

Option 3:
Set the following registry value to 0 –

HKLM\System\CurrentControlSet

\Services\WDSServer\

Providers\WDSTFTP
\EnableVariableWindowExtension".

On disabling the "Variable Windows Extension", restart the "WDSServer service".
The company is working on a resolution. It will present an update in an upcoming release.

A bug –

STATUS_BAD_

IMPERSONATION

_LEVEL
(0xC00000A5)

might arrive on your computer screen when you endeavor to perform some specific activities like – rename on files that are on a Cluster Shared Volume. Commonly, this issue increases by carrying out an operation on a CSV owner node from a process that doesn't have administrator privilege.

Do one of the following –

This would be fixed if you perform the task from a process that has administrator privilege.
Another method is to complete the task from a node that doesn't have CSV ownership.

Over and above, the company is working on a resolution. It will provide an update on the forthcoming release.

When attempting to print from Microsoft Edge or other Universal Windows Platform applications, you may receive the error, "Your printer has experienced an unexpected configuration problem. 0x80070007e."

A bug –

Your printer has experienced an unexpected configuration problem. 0x80070007e

might be experienced by you while endeavoring to print from the Edge browser or any other Windows platform application.

You're able to use another browser, such as Internet Explorer to print your documents. The company is working on a resolution. It will present an update in an upcoming release.
After installing KB4505056, devices with some Asian language packs installed may undergo the error,

0x800f0982 – PSFX_E_MATCHING_
COMPONENT_NOT_FOUND

Uninstall and reinstall any newly added language packs.
Select Check for Updates and install the April 2019 Cumulative Update.

Note – If reinstalling the language pack does not decrease the issue, reset your PC as follows –

Go to the Settings app => Recovery.
Select Get Started under the Reset this PC recovery option.
Select Keep my Files.

Over and above, the company is working on a resolution. It will provide an update in the forthcoming release.
Ways to get KB4505056 for Windows 10, 1809 and install
Before getting the current cumulative updates KB4505056, we suggest you, install the latest SSU. This will enhance the performance of the update process in order to alleviate potential issues. It also helps to stay out of possible troubles while installing. To get KB4505056 through Windows update –
Step-1: Press Win+I to launch the Windows Settings page.
Step-2: Hit Update & Security category on the following Application windows.
Step-3: This will let you bring to the Windows Update in the left pane, from here go alongside right.
Step-4: Click on the Check for updates option, and then wait for a while.
Step-5: When the searching ends, click on the Download option available under the found update. Once you finish the downloading process, Install the update using the on-screen instructions.
You are able to Download KB4497936 from Microsoft Update Catalog.
Source – Release note
That's all!!!