Yet another set of patch Tuesday updates are here and includes KB4507435. It is applicable on Windows 10 version 1803 and word take the operating system build to 17134.885. The patch essentially contains some major fixes and security improvements, thereby making it important. So, don't delay installing this one at all. In the further sections, you can read more about the inclusions, quality upgrades and the known issues with KB4507435.
In this context, we'd like to remind all the users on Windows10 version 1803 that March 12 and April 9 were the last two Delta updates for them. Anyway, the security and quality patches will be made available to all these systems through full or express cumulative packages. Also, the April 2018 update will be reaching its end of service by 12th of November this year. This is for Home and Pro editions. See – Windows 10 Cumulative Updates List.
KB4507435 –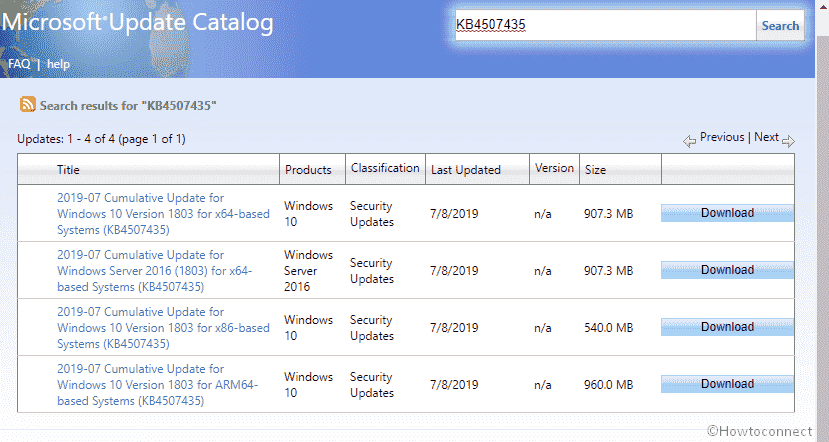 KB4507435 Improvements and Fixes
Highlights of the patchday update
KB4507435 addresses an issue that existed with BitLocker encryption recovery mode.
The patch brings improved security in the course of using various browsers including IE, Edge, wireless technologies, etc.
Further, the security updates are also available through KB4507435 for Microsoft Graphics Component, Windows Kernel, Microsoft Scripting Engine, Storage and Filesystems, Windows Input and Composition, Windows App Platform and Frameworks, Windows Cryptography, Windows Virtualization and also Windows Fundamentals.
KB4507435 Known Issues
Following are the known issues which this new cumulative update has –
Issue 1:
The problem previously detected with folders or files on a CSV (Cluster Shared Volume) still exists. A permanent fix isn't up yet. Renaming or such operations on those files and folders may fail. Further, users might see an error message following the failure- 'STATUS_BAD_IMPERSONATION_LEVEL (0xC00000A5)'.
Workaround:
As you probably noticed, only the users who try operating in a CSV-owner node from a process without the administrator privilege are facing this issue. While the developer's team is working on a permanent fix for this situation, you can try something else. As a temporary workaround, try:
Operating from a process that has administrator privilege.
Operating from a node without a CSV ownership.
Issue 2:
A few users did report that starting up the device the first time after update installation leads to a black screen. Microsoft is still investigating the issue and reports.
Workaround:
As mentioned above, the developers are working on the investigation of the problem. You can expect an update in one of the upcoming releases. As a temporary workaround, you can press Ctrl+Alt+Delete. Thereafter, you can select the Power button on the screen's lower right corner and select Restart. After this, your device might be able to restart normally.
Issue 3:
Post the installation of this update, users are confronting issues in opening or using the Window-Eyes screen reader app and its features. At times, it may even result in an error.
Workaround:
Microsoft is still working on the issue. Meanwhile, you can work with other screen reader applications.
How to get KB4507435?
All the Windows 10 monthly patches are mostly installed automatically by the operating system once they receive it through Windows update services or WSUS. However, in some cases, there may be some issues which may end up delaying the listing of new patches for your system. In case you think your system is experiencing such a delay, then you can also check and get the updates manually.  You can even download the entire standalone package of the patch from the Microsoft update catalog.
In order to install this update manually, you can go to the Settings application on your Windows and navigate to Update & Security section.
There you need to click on Check for updates link in case any new updates are not already available there.
Once you click on the "Check for updates", Windows will scan for any newly available patches and display them. Simply click on the download button afterward. Let your PC install them for you.
Restart the system when prompted.
In case your OS has all the previous relevant updates, then your OS will only download the new fixes available with KB4507435. In the course of installing various updates, Microsoft recommends downloading the latest SSU beforehand. You don't need to worry much about it though. With windows 10, SSU's are automatically available with the relevant updates.
Source – Release note.