On 09 July 2019, Patch Tuesday, another cumulative update KB4507450 comes out for Windows 10 1703. This package introduces a few fixes and improvements taking the Operating System to the build 15063.1928. In this update, the company mainly focuses on the issues in – BitLocker encryption, wireless technologies, Microsoft Office products, and more. Along with the improvements, the company also addresses a few known issue with this patch.
You are able to grab KB4507450 as an MSI file format from the Microsoft update catalog site. A manual installation is an alternative option if you fail to get the patch. To continue receiving the updates, you must upgrade your machine to the latest versions of Windows 10 for having a better user experience and to sustain security updates. Additionally, if you need the patches of the entire version, follow Windows 10 Cumulative Updates List and check out all the version on a single platform.
KB4507450 –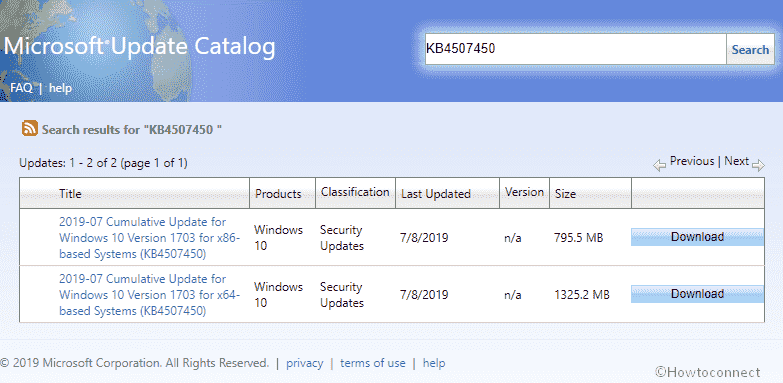 KB4507450 Windows 10 1703 Cumulative Update Improvements and Fixes Details
This patch having Build 15063.1928 is actually a bug fixing update carries no new feature to the OS. It includes a quality improvement which is as follows –
Windows 10 team works on the BitLocker issue that may go into the recovery mode. It happens if BitLocker is functioning and at the same time while updates are being installed.
The company deals with the error, "0xC0210000". This happens when some machine accesses the BitLocker recovery mode and causes Hyper-V enabled.
With build 15063.1928, tech giant enhances the security updates to various Microsoft products and components.
Known issues
Symptom
Workaround
A few particular functioning, for instance – rename files or folders that are on a Cluster Shared Volume may not get completed and display the bug when you install the patch KB4507450 -STATUS_BAD_IMPERSONATION_LEVEL (0xC00000A5). The issue predominantly develops while performing the same work on a CSV owner node from a method that does not contain an administrative right.

Do one of the following –

Use administrator privilege perform.
Perform the operation from a node that doesn't hold CSV ownership.

Microsoft is also working to fix this bug and will offer an update in a future release.

When you install this patch KB4507450, you will experience an error using the Window-Eyes screen reader app. In addition to this, a few features may not function as expected.

Note – Those who have relocated from Window-Eyes to Freedom Scientific's other screen reader, JAWS, should not be affected by this issue.

The upcoming release will bring the resolution as the team is currently working on it.
How to Install KB4507450 Windows 10 1703
Microsoft strongly suggests installing the SSU before receiving KB4507450.
Now, navigate to the following path – Settings => Update & Security => Windows update and choose "Check for updates".
To get the standalone package for this update, go to Microsoft update catalog. Subsequently, click on the download option.
Source – Release note.
That's all!!!