KB4507465 is another cumulative patch that Microsoft rolls out for Windows 10 on 16 July 2019. This update is for version 1709, Build 16299.1296. It does not introduce any new features but definitely includes certain quality improvements. Moreover, it also addresses some of the common problems that users were confronted with. The patch further enhances the compatibility feature of the Window-Eyes screen-reader app.
There are two ways using which you can install KB4507465 in Windows 10. You can either manually download the MSI file format of the patch and install it manually. Or can let the procedure happen automatically through Windows Update. You can also go through the Windows 10 Cumulative Updates List to explore all the patches at one place.
KB4507465 –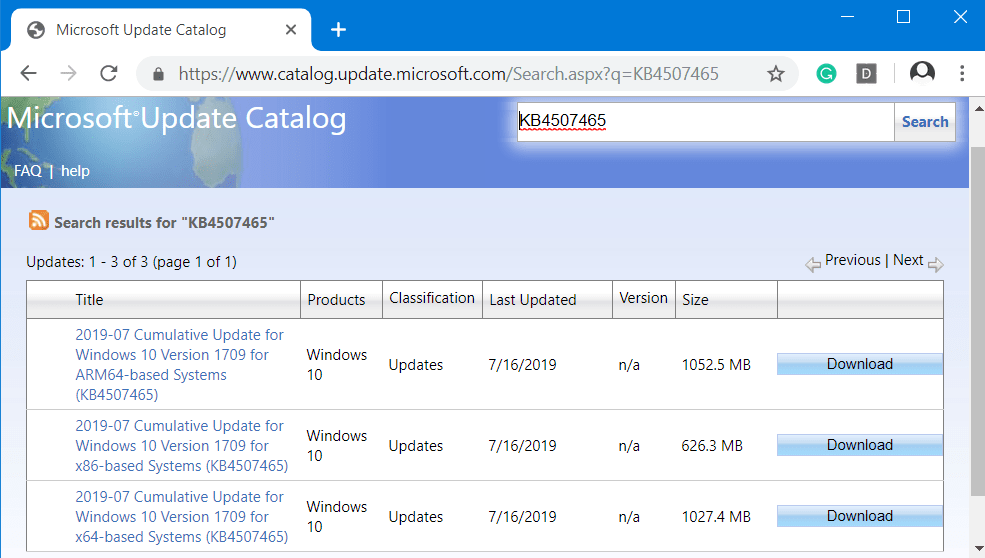 KB4507465 Windows 10 1709 16299.1296 Improvements and Fixes
Here is a list of modifications that KB4507465 carries –
Certain websites that use WebAssembly will not face performance problems after installing this patch.
The release of KB4507465 updates time zone information for Brazil.
It also deals with the issue that will prevent the PIN (personal identification number) prompt from continuously showing up when authenticating in Internet Explorer.
The team even focuses on the problem of Netlogon service. The issue will not stop the service from establishing a secure channel. Furthermore, users will not receive the error "0xC000007A – ERROR_PROC_NOT_FOUND".
With this patch, Microsoft reinforces the Certificate Revocation List (viz. CRL). It happens on Internet Key Exchange version 2 (in short IKEv2) machines for certificate-based virtual private network (VPN) connections. For example – Device Tunnel, in an Always On VPN deployment.
While addressing the issues, the team also went ahead in resolving an error in the New Technology File System (NTFS).
There was a problem that causes apps that use windows.storage.dll to stop functioning. Also when the process closes, it displays ExceptionCode c0000005 (Access violation). However, this will not occur anymore as Microsoft fixes this as well.
The release of KB4507465 for Windows 10 build 16299.1296 deals with the trouble that prevents

Microsoft Application Virtualization (App-V) scripting from functioning. It happens if you run it when you are not connected to a domain controller (DC). Moreover, App-V scripting also fails when you run it in an environment that only contains "Microsoft Azure Active Directory".

It also fixes the problem with opening or using the "Window-Eyes screen reader" application. It used to result in an error and stop some features from operating as expected.
Last but not least, this cumulative update also resolves an issue that may cause a cluster node to lose membership in a cluster. It eventually causes all its workloads to failover. This specific problem occurs when a cluster node creates a Live Dump.
Known Issues
Symptom
Workaround
Installing this cumulative patch will welcome some problems. Few operations such as rename, that you try to execute on files or folders on a Cluster Shared Volume (CSV) may fail with an error. It may show "STATUS_BAD_IMPERSONATION_LEVEL (0xC00000A5)". This especially happens when you perform the operation on a CSV owner node from a process that doesn't have admin authorities.

As a temporary solution, you can do one of the following:

Execute the operation from a process that has administrator rights.
Carry out the operation from a node that fails to have a CSV ownership.

Microsoft is working on a workaround and will eventually provide an update in an upcoming release.

The post-installation of this patch  on a WDS server causes devices that start-up using Preboot Execution Environment (aka PXE) images from Windows Deployment Services (viz WDS) or System Center Configuration Manager (in short SCCM) may fail to start by displaying an error "Status: 0xc0000001, Info: A required device isn't connected or can't be accessed".
The team will provide the resolution in the next release as they are still working on it.
How to Get KB4507465 Windows 10 1709 16299.1296
First of all, ensure to install the latest SSU before you proceed towards installing this patch. By doing so, it will mitigate the potential problems and will, therefore, enhance the performance of the update procedure.
You can easily get KB4507465 for your Windows 10 device through the Settings app.
Step-1: Open Windows Settings using the combination of "Win logo + I" hotkeys. 4
Step-2: Click Update & security category from the app interface.
Step-3: Make a click on Check for updates button on the right pane of the subsequent page.
Additionally, you can also download the MSI format of the patch through Microsoft Update Catalog.
That's all!!!
Source – Release Note