KB4507466 is a new cumulative update rolled out by Microsoft for Windows 10 on July 16, 2019. The patch arrives for version 1803 as quality improvement in order to take the Operating System to Build 17134.915. The issues on which Microsoft mainly focuses is the Window-Eyes screen reader application, windows.storage.dll, and more.
You're able to receive KB4507466 as an MSI file format from the Microsoft update catalog site. Though, the manual installation is an alternative and also an easier option when you fail to get the patch. To check out all the patches of the entire version on a single platform, click on this link Windows 10 Cumulative Updates List.
KB4507466 –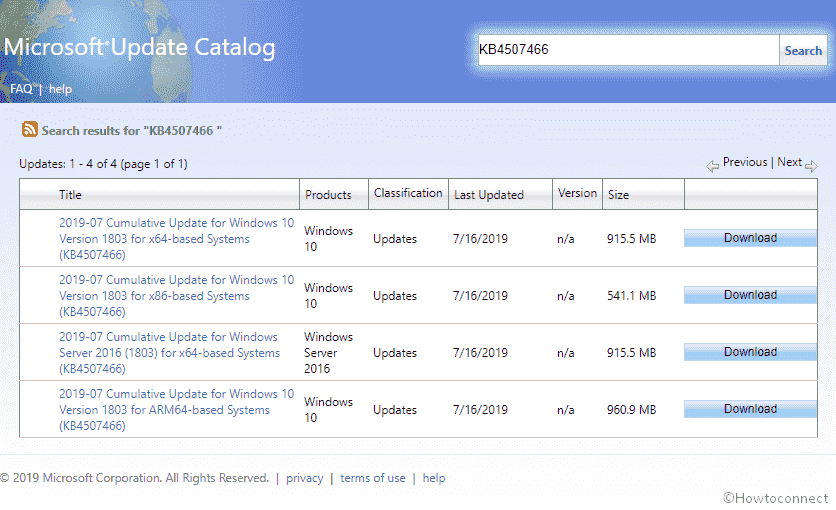 KB4507466 Windows 10 1803 details of improvements and fixes
This patch having Build 17134.915 is a bug-fixing update brings no new feature to the OS. Along with some known issues, it includes a quality improvement carries a bunch of general fixes which are as follows –
The team works on a performance issue. It may occur on some websites that use WebAssembly.
They try to fix an issue that may prevent the personal identification number. It prompts from appearing when authenticating in Internet Explorer.
Addresses an issue that hampers a system from recognizing a Microsoft account or Azure Active Directory account until the user signs out and signs in again.
Now, the time zone information for Brazil is updated.
Windows 10 team focuses on an issue that fails to bypass Autologin. It happens when you press and hold the Shift key during startup.
Addresses an issue that hinders the Windows Event Log service from processing notifications that the log is full. This causes issues with some Event Log actions. For instance – archiving the log when it reaches a maximum file size and you've configured the "Archive the log when full, do not overwrite events" setting. Likewise, the Local Security Authority is not able to manage the CrashOnAuditFail scenarios when the Security Log is full, and events cannot be written.
KB4507466 works on an issue that may hamper the Netlogon service from establishing a secure channel and reports the error, "0xC000007A – ERROR_PROC_NOT_FOUND."
With this patch, the PIN policy will not fail to update for Windows Hello Business. This problem commonly occurs if a PIN already exists on the device.
Tech giant works on an issue that may sometimes cause systems that have Trusted Platform Module devices to stop working.
Now, when you use Windows Hello for Business on a server running Windows Server 2016 with the Server Core option installed, you will not confront the authentication to lose.
Microsoft specialist works on a device that stops working because of a race condition between stream tear down and sync root disconnect.
The company works on another issue which prevents to work a device. You may confront this issue because of a race situation within stream tear down and syncs root disconnect.
The cumulative update KB4507466 tries to fix an issue which obstructs to work the device because of a race condition between stream tear down and sync root disconnect.
Moreover, the release of this patch attempts to fix an issue that causes applications using windows.storage.dll to discontinue working. Also, it demonstrates ExceptionCode c0000005 when the process closes.
Strengthens the Certificate Revocation List on Internet Key Exchange version 2 (IKEv2) machines for certificate-based virtual private network connections. For instance – Device Tunnel, in an Always On VPN deployment.
Enhances performance for Server Message Block clients that have directories which comprise more than 500,000 files.
Addresses an issue that restricts Microsoft Application Virtualization (App-V) scripting from working. It happens if you run it when you're not connected to a domain controller (DC). Moreover, App-V scripting also crashes when you run it in an environment that only holds the Microsoft Azure Active Directory.
Tech giants work on an issue with opening or using the Window-Eyes screen reader application that may result in an error and prevent some features from functioning as expected.
They attempt to fix another issue may fail to keep App permissions settings. It happens when you select Keep my files after selecting Reset this PC.
Microsoft expert works on an issue that may cause a cluster node to lose membership in a cluster and cause all its workloads to failover. This issue may occur when a cluster node creates a Live Dump.
KB4507466 Windows 10 1803 Known issues
Symptom
Workaround
There is the possibility of prompting an error- STATUS_BAD_IMPERSONATION_LEVEL (0xC00000A5) on your screen. It happens when you do some specific activities such as – rename on files that are on a Cluster Shared Volume. Moreover, this issue elongates by carrying out an operation on a CSV owner node from a process that doesn't have administrator privilege.

Do one of the following:

Make the operation from a process that has administrator privilege.
Perform the operation from a node that doesn't have CSV ownership.

The team is working on a solution and will soon provide the same in the upcoming release.

We are investigating reports that a small number of devices may startup to a black screen during the first logon after installing updates.

Several users claimed that the first time of starting up the device after update installation leads to a black screen. Microsoft is still investigating the issue and reports.

As mentioned above, the developers are working on the investigation of the problem. You can expect an update in one of the upcoming releases. As a temporary workaround, you can press Ctrl+Alt+Delete. Thereafter, you can select the Power button on the screen's lower right corner and select Restart. After this, your device might be able to restart normally.

Devices that start-up using PXE images from WDS) or SCCM encounter an issue. They may not start and throw error Status – 0xc0000001, Info: A required device isn't connected or can't be accessed – after installing this update on a WDS server.
The team is working on a solution and will soon provide the same in the upcoming release
How to get this patch
Prior to getting the latest cumulative updates KB4507466, we recommend you to install the latest SSU. Doing this, it would enhance the performance of the update process in order to mitigate the potential issues. To get KB4507466 through Windows update –
Step-1: Press Win+I hotkey and let appear the Windows Settings.
Step-2: Then, hit Update & Security Section.
Step-3: On the following screen, select Check for updates button.
Besides, you are able to download KB4507466 from Microsoft Update Catalog.
Source – Release note.