Microsoft has thrown out a new cumulative update KB4511555 for .NET Framework 4.8 and 3.5 for Windows 10 1903. This is basically a quality patch that covers only 'quality improvement' and doesn't bring any additional OS features. KB4511555, released on August 30, 2019, addresses some issues and reliability improvements. So far about the known issues with the update, there are none.
You are able to install KB4511555 SSU from the Microsoft update catalog as an MSU file format. Although, this patch will be downloaded automatically unless you haven't disabled Windows update. To check the collection of the entire patches on a single location visit – Windows 10 Cumulative Updates List.
KB4511555 –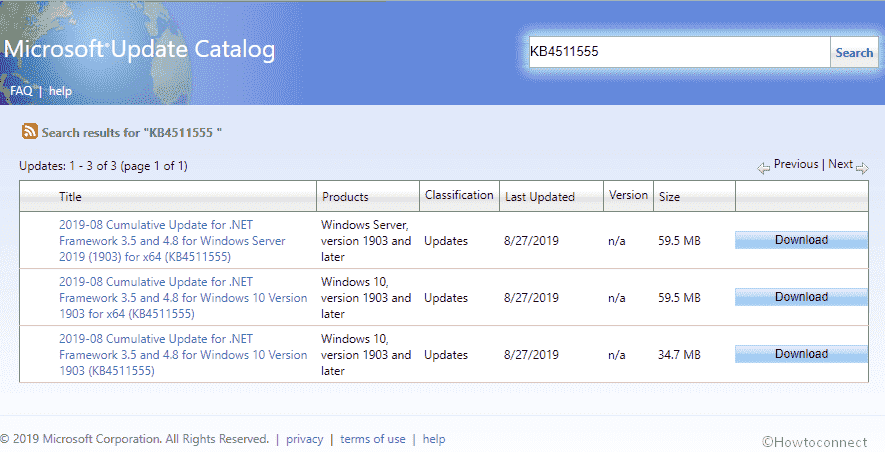 KB4511555 for .NET Framework 4.8, 3.5 Windows 10, 1903 details
Changelog –
BCL1
The developers work on a crash that appears after enumerating event logs.
WPF 2

The Redmondians focuses on a regression caused by the fix for the issue involving bindings with DataContext explicitly on the binding path.
Addresses a handle leak during the creation of a Window in WPF applications that are exhibited for Per Monitor DPI V2 Awareness. This leak may lead to extranious GC. Collect calls that can impact functions in Window creation scenarios.
Microsoft expert focuses on a crash caused by ArgumentNullException when loading a DataGrid containing a ComboBox while automation is active.  For instance – When someone navigates Visual Studio to the Text "Editor\C#\Code Style > Naming page" in Tools> Options.

Windows Forms

Microsoft developers grant you the ability to pick ComboBox edit field text by using mouse down+move.
Focuses on an issue which comprises interaction between WPF user control and hosting a WinForms app when processing keyboard input.
The company deals with an issue that impacts the Narrator/NVDA. It proclaims PropertyGrid ComboBox extending and collapsing action.
KB4511555 includes an improvement in rendering ellipses (…) button of PropertyGrid control in HC mode. This works for drawing button background and dots as contrasted.

ASP.NET

The team works on

System.Web.Caching initialization issue when using ASP.NET cache on computers without IIS.
How to download KB4511555 for .NET Framework 4.8, 3.5
As usual, your device will grab KB4511555 and install the preview update from Windows Update. If your system experiences a delay in receiving this patch or if you manually update the system try this –
Step-1: Press Win+I altogether to invoke the Windows Settings.
Step-2: Go to Update & security and then click on Check for updates
You can also download this update's the stand-alone package from the Microsoft Update Catalog Site.
Source – Release note.
That's all!!!