Windows 10 1709 receives another cumulative update KB4516071 on Sept 24, 2019, having numerous bug fixes. The patch is here arrives for v1709 as quality improvement in order to take the Operating System to Build 16299.1420. The major issues on which Microsoft considers in this context are – excessive CPU usage, Windows Hello, and lots more.
Users are able to get KB4516071 as an MSI file format directly from the Microsoft update catalog site. They can receive the patch usually via the Windows update by itself. However, if we talk about the manual installation, it is definitely a good alternative when you fail to get the patch automatically. To see all the patches of the entire versions, go to Windows 10 Cumulative Updates List.
KB4516071 –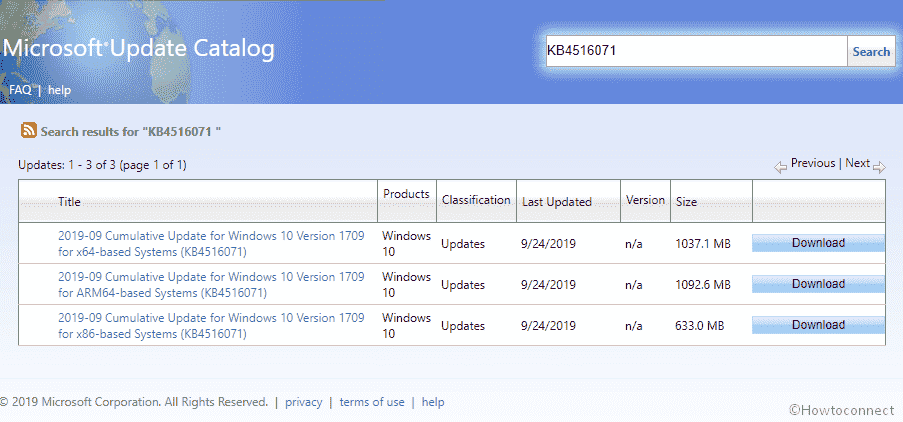 KB4516071 Windows 10 1709 Cumulative patch Changelog
This patch having Build 16299.1420 is actually a bug fixing update carries no new feature to the OS. It includes a quality improvement which is as follows –
Microsoft deals with an issue that causes inordinate CPU usage when users switch applications or hover over the Taskbar.
You will no longer experience the network failure error anymore and as a result, you can easily open the App-V application. This issue error generally occurs because of the low amount of the system's battery or due to an unexpected power failure.
Windows 10 team focuses on an issue that interrupts a web browser from connecting securely to Windows Server. Using a client authentication certificate is the main reason behind this bug. For instance – SHA512-based certificate, the web browser. It does not support a signature algorithm that matches the certificate.
The tech giant actively works on Windows Hello for Business user two certificates for authentication while certificate renewal rather than one problem.
Another issue is being tried to fix by the Windows 10 maker which mainly occurs when Microsoft Defender Advanced Threat Protection accesses case-sensitive Server Message Block shares.
Furthermore, they have changed the default setting for BitLocker when encrypting a self-encrypting hard drive. Therefore, for newly encrypted drives, they have to use software encryption. However, for existing drives, the type of encryption will not change.
KB4516071 tries to settle a rare issue that emerges when the mssecflt.sys driver a huge amount of additional space on the kernel stack. The error was STOP 0x7F: UNEXPECTED_KERNEL_MODE_TRAP. Besides, Parameter 1 is set to "EXCEPTION_DOUBLE_FAULT."
With this build 16299.1420, they are concerned and tries to fix the error associated with the excessive usage of memory in Microsoft Defender Advanced Threat Protection.
Now, you will not experience the issue related to the Local Security Authority Subsystem Service. It generates an error code 0xc0000005 which cause stop working.
Microsoft expert tries to fix an issue that causes the lsass.exe service to stop working, which causes the system to shut down. In most cases, it generates when migrating Data Protection API (DPAPI) credentials using dpapimig.exe with the –domain option.
The developers' team improves the detection accuracy of Microsoft Defender ATP Threat & Vulnerability Management.
They work on the stop error "0xc000021a". It usually emerges on installing a Windows update and initializes a system restoration from a restore point.
In this context, build 16299.1420 works on an issue with the Origin request header performance in Internet Explorer. Besides, these problems commonly occur when you perform cross-origin resource sharing requests that use redirected resources in internal subnets.
The company deals with virtual desktop infrastructure (VDI) environments problem that displays black, flashing rectangles on the screen when running Microsoft Office and Outlook.
Known Issue
Symptom
Workaround
Microsoft team brings certain actions on a daily basis like renaming the folders or files which are normally on Cluster Shared Volume (aka CVS) files that may fail. It happens because of the error "STATUS_BAD_IMPERSONATION_LEVEL (0xC00000A5)". It occurs since the operation does not have an administrator authorization and operation performed is on CVS owner node.
In order to mitigate the problem, you can try out any one of the given workaround –

Execute the operation using a process that holds admin authorities.
Use a node that does not have CSV ownership and then perform the task.

The company is still working on a resolution and will soon provide it in the forthcoming release.

Some other another irritating issue in KB4516071 is that a few Input Method Editor (IME) may become unresponsive or have extreme CPU usage. Affected IMEs are – "Chinese Traditional (ChtIME.EXE) "with Changjie/Quick keyboard, Chinese Simplified (ChsIME.EXE).
In this build 16299.1420, they include security-concerned updates, so that the situation may appear when the "

Touch Keyboard and Handwriting Panel Service" is not set to its default startup type, means Manual. To resolve this issue, do the following – 

Type "Services" in the taskbar search bar.
Open the Services app and find out Touch Keyboard and Handwriting Panel Service.
Now, double-click on Touch Keyboard and Handwriting Panel Service. Thereafter, select Properties.
Get Startup type: and switch it to Manual.
Select OK.

The TabletInputService service is now in the default configuration and IME should work as expected.
How to Install KB4516071 Windows 10 1709
Microsoft strongly advises installing the SSU before receiving KB4516071.
Now, navigate to the following path – Settings => Update & Security => Windows update and choose "Check for updates".
To get the standalone package for this update, go to Microsoft update catalog. Subsequently, click on the download option.
Source – Release note
That's all!!!