Windows 10 1803 has just now received a new cumulative update KB4519978 on 15 October 2019, highlights plenty of improvements, fixes, and changes. The patch is here arrives as quality improvement in order to take the Operating System to Build 17134.1099. This update introduces a list of bug fixes and stability improvements to make the OS more reliable. The major points on which Microsoft has considered or focused are – black screen at startup, Bluetooth when using certain audio profiles, and more.
You will get KB4519978 by itself through the Windows update service. In case, till now you have not installed, go through "Settings > Update & Security > Windows update". Now, click on Check for updates button. To see all the patches of the entire versions, go to Windows 10 Cumulative Updates List.
KB4519978 –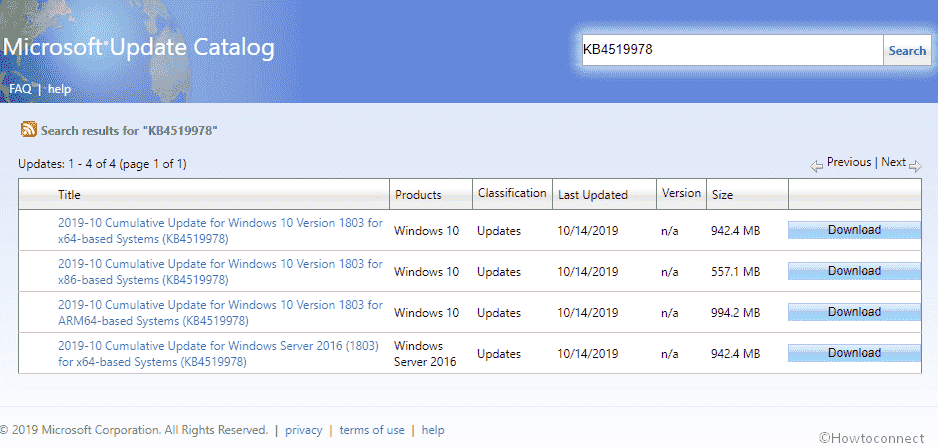 KB4519978 Windows 10 1803 improvements and changes
This patch having Build 17134.1099 is actually a bug-fixing update that carries no new feature to the OS. It includes a quality improvement which is as follows –
Windows 10 maker has worked on an issue that causes a device to repeatedly go into the Windows Out Of Box Experience (OOBE) restart loop in certain situations.
The team updated time zone information for Norfolk Island, Australia.
Another time zone information is updated for the Fiji Islands.
The company tries to fix an issue that may hamper a scroll bar from being selected when an ActiveX control implements the CScrollView class. Basically, this issue occurs if you move the Internet Explorer window, which then moves the scroll bar to the left.
The company worked on MSCTF.dll. Now, the application will not stop working.
Microsoft team enhances an access control list (ACL) check for Known Folders to hinder a black screen that appears the first time a user signs in after installing a feature or quality update.
Now, the Bluetooth will work smoothly while using audio profiles for extended periods.
The tech giant tries to fix an issue that fails to include the full file hash as part of the Event Log entry during auditing events for Windows Defender Application Control (WDAC).
Microsoft focuses on an issue in which Microsoft AppLocker may hamper an application from running or log a false positive error instead of running the application.
The developer team tries to resolve an issue that causes a system to stop working during the Windows upgrade process. The Stop error is "SYSTEM_THREAD_EXCEPTION_NOT_HANDLED (7e)". It appears in the Transmission Control Protocol/Internet Protocol (TCPIP).
The company works on an issue that causes the WDAC policy to become too prohibitive when you enable the WDAC Group Policy setting for Script Enforcement or Constrained Language Mode.
They focus on an issue that hinders netdom.exe from displaying the new ticket-granting ticket (TGT) delegation bit for the display or query mode.
Microsoft expert tries to fix an issue that may cause high CPU usage when many windows are open and Background Application Manager runs a periodic background scan. Now, the desktop will work smoothly and in a responsive way. To turn off this scan, set the following registry key –
HKEY_CURRENT_USER\SOFTWARE\Microsoft\Windows\CurrentVersion\Explorer\BamThrottling
Name: DisableWindowHinting
Type: REG_DWORD
Value: 1
Microsoft specialist tries to fix an issue that causes printing from 32-bit applications to fail with an "Access is denied" error when you select Run as a different user for the application.
With KB4519978, the Resilient File System (ReFS) will not stop working.
Build 17134.1099 works on estimating the compatibility status of the Windows ecosystem. As per the team, it happens to help ensure application and machine compatibility for all updates to Windows.
The software giant focuses on an issue with a race condition between the volume mount process (within fileinfo.sys) and the deregistration of filter notifications that cause the operating system to stop working on certain virtual machines. The error code is "0x7E."
KB4519978 Known issues
Symptom
Workaround
With build 17134.1099, this issue has been running for previous patches and when occurs Certain operations, like rename, that you do on files or folders that are on a Cluster Shared Volume (CSV) may fail. The problem may display an error note STATUS_BAD_IMPERSONATION_LEVEL (0xC00000A5). It mainly befalls while executing the operation on a CSV owner node from a process that doesn't have administrator privilege.

Follow anyone –

Do the operation from a process that has administrator rights.
Do the execution from a node that does not have CSV ownership.

The company is trying to resolve the issue and working on a resolution. Also, they will send an update in a future release.

Subsequent to installing this patch KB4519978, Windows Mixed Reality Portal users may intermittently confront a 15-5 error code. Sometimes, the Mixed Reality Portal may indicate that the headset is sleeping and pressing Wake up may appear to produce no action.
To mitigate the problem, pursue the following steps –

 First of all, terminate the Windows Mixed Reality Portal, if it is running.
Under the Processes 

tab, perform a right-click

Explorer.exe

 and select 

Restart

.

Again Open the Mixed Reality

Portal.

The team is actively working on a resolution and will send a patch.
How to Install the update Windows 10 1803
Microsoft strongly advises installing the SSU before receiving KB4519978.
Now, navigate to the following path – Settings => Update & Security => Windows update and choose "Check for updates".
To get the standalone package for the build 17134.1099, visit the link – Microsoft update catalog. After that, click on the download option.
Source – Release note.
That's all!!!