Windows 10 1809 has just now received cumulative update KB4520062. The patch takes OS version to 17763.832. The non-security update includes a huge list of issues that Microsoft has addressed.
You will get KB4520062 automatically if you have already enabled (default configuration) Windows update. In case, you want to install the patch manually you can navigate to Microsoft update catalog using the link at the bottom and download the file MSU format.
KB4520062 –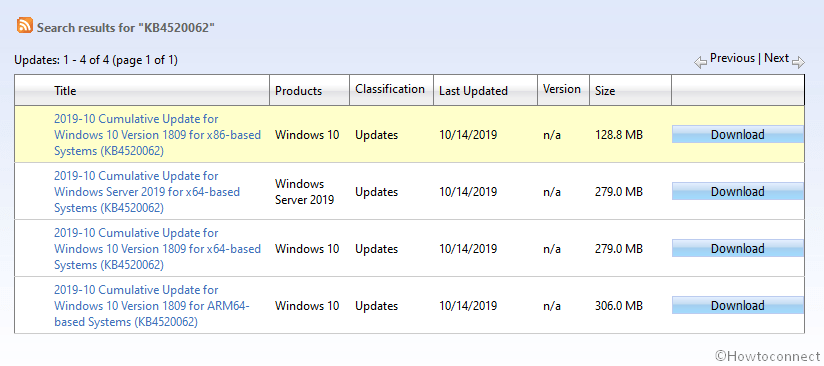 KB4520062 Windows 10 1809 17763.832 Cumulative update facts
Highlights of the non-security update –
The patch prevents Start menu from showing empty tiles when you upgrade to Windows 10 1809 from any previous version.  In case, if you have already upgraded installing this cumulative update will not remove available blank tiles.
Microsoft team for Windows 10 updates high power consumption problem for a device Connected in Standby mode.
They also update black screen showing at startup during the first sign in after installing an update.
This cumulative patch updates Bluetooth problem happening when running certain audio profiles for extended periods.
The developers' team update users fail to open the print dialog in Internet Explorer (IE) to print a webpage.
They update the Settings app that stops working when changing a Theme.
The patch updates an issue scrollbar might not be selected in (IE) Internet Explorer.
KB4520062 Improvements and fixes
This non-security Patch includes the following quality improvements –
They fix the Start menu showing blank tiles after upgrade to Windows 10 v1809. These tiles have names such as ms-resource:appDisplayName or ms-resource:AppName. Although, if you have already upgraded installing this patch will not remove the blank tiles.
The cumulative update addresses high power consumption for a device Connected in Standby mode.
It addresses users cannot reconnect or sign in to Windows Virtual Desktops due to orphaned database handles from a previous user session.
KB4520062 Patch Updates time zone information for Norfolk Island, Australia.
It also updates time zone information for the Fiji Islands.
Furthermore, the update addresses Microsoft Outlook items are not indexed properly, which leads to incomplete results in the search query on Windows Virtual Desktops.
Cumulative update works on Windows Machine Learning aka WinML that throws an unhandled exception when a graphics driver times out.
Patch addresses scroll bar can't be selected when an ActiveX control implements the CScrollView class. This problem takes place when moving the Internet Explorer (IE) window, which then moves the scroll bar to the left.
In KB4520062, Microsoft developers' team improve an access control list (ACL) check for Known Folders to prevent a black screen. The problem appears at first sign in after installing a quality or feature update.
Besides it addresses Microsoft SharePoint file names that appears incorrectly in the Quick access and Recent items folders.
The patch works on a Bluetooth problem taking place when using a definite audio profile for extended periods.
The developers' team works on the query request of the Win32_LogonSession class for the StartTime that displays the value of the epoch. Rather it should show the actual logon time.
They address diagnostic data processing problem particularly when a device has the Diagnostic data setting enabled and set to Basic.
Cumulative patch addresses the compatibility status of the Windows ecosystem evaluation. This method helps to ensure application and device compatibility for every update to Windows.
The update tries to fix netdom.exe fails to show new ticket-granting ticket delegation bit for the display or query mode.
Windows 10 developers try to solve Microsoft AppLocker that might prevent an application from running or log a false positive error rather than running the application.
They address the Windows Defender Application Control policy that goes too restrictive. The issue occurs when you enable the WDAC Group Policy setting for either Constrained Language Mode or Script Enforcement.
The patch addresses fails to include the full file hash as part of the Event Log entry during auditing events for WDAC.
Cumulative update works on high CPU usage problem when several windows are open on the desktop and "Background Application Manager" starts a periodic background scan. Moreover, the desktop may also become unresponsive. To stop this scan, set the underneath registry key:
HKEY_CURRENT_USER\SOFTWARE\Microsoft\Windows\CurrentVersion\Explorer\BamThrottling
Name – DisableWindowHinting
Type – REG_DWORD
Value – 1
Tries to settle kernel mode memory leak of input and output (I/O) Request Packet (IRP) objects in applications that utilize change notifications on named pipes.
Addresses Internet Explorer that is unable to open the print dialog when printing a web page.
The patch adds support to permit assigned access restrictions and removable drives.
KB4520062 addresses a printing bug from 32-bit applications that leads to failing with an Access is denied error. This occurs when you select Run as different user for the application.
The patch tries to solve error 0x1E, 0xA, or 0x50 which appears during a block cloning operation on a Resilient File System (ReFS) volume due to a race condition.
The cumulative update addresses Offline Files Shell graphical user interface (GUI) bug about online and offline indicators.
Windows 10 developers address the Settings app that stops working when you change a Theme.
Furthermore, they address a reliability problem in Windows Server 2019 Hyper-V Host Clusters. These are managed using System Center Virtual Machine Manager (SCVMM).
The team addresses Lightweight Directory Access Protocol (LDAP) queries that include a memberof expression in the filter. The queries fail showing the error message, 000020E6: SvcErr: DSID-0314072D, problem 5012 (DIR_ERROR), data 8996.
Addresses all Transmission Control Protocol aka TCP dynamic ports are consumed. Consequently, network communications will not work for any protocol or operation using dynamic ports.
Microsoft team for Windows 10 tries to solve applications and scripts that call WinNT provider equivalent or NetQueryDisplayInformation API. They may not return results after the first page of data, often 100 or 50 entries. When you request extra pages, you may get – 1359: an internal error occurred – message.
KB4520062 cumulative patch addresses Computer objects cannot be added to local groups using the Group Policy Preference  – Local Users and Groups. The Group Policy Editor throws the error – The object selected does not match the type of destination source. Select again.
Windows 10 team tries to solve race condition between deregistration of filter notifications and volume mount process (within fileinfo.sys). The problem causes the operating system to stop working on certain virtual machines. The error code is 0x7E.
The non-security update addresses Active Directory Federation Services (AD FS) certificate that is renewed and published by default each year. Although, the client doesn't use them, which results in an authentication error.
The update works on the files that are stored in a Cluster Shared Volume (CSV) having an alternate data stream are still present despite you try to delete them. Here, you may again receive- access is denied – error on the when subsequently trying to access or delete the files.
Cumulative update addresses error 0x50 which occurs when a backup operation is being done.
Known issues
Symptom
Workaround
This is a recurring issue for the users performing certain operations, such as rename on files or folders that are on a Cluster Shared Volume (CSV). This may fail with the error message – STATUS_BAD_IMPERSONATION_LEVEL (0xC00000A5).This problem happens when you work on a CSV owner node from a process that does not possess administrator authority.
Follow the method –

Complete the operation from a process that has administrator rights.
Do the same operation from a node that does not assign CSV ownership.

Microsoft is active with a resolution process in this concern. You may receive an update in an upcoming release.

After receiving KB4493509, devices having Asian language packs may confront with – 0x800f0982 – PSFX_E_MATCHING_COMPONENT_NOT_FOUND.

As a workaround, at first, Uninstall and then re-install any lately installed language packs. For instructions, jump over to the article – How to Configure Display and Input Language Settings on Windows 10.
Click on Check for Updates and install the KB4493509.

Important – the above guideline doesn't work –

Go to the Settings app => Recovery.
Click on Get Started beneath Reset this PC recovery option.
Choose Keep my Files.

Microsoft is trying to bring a resolution for this issue and will come up with an update.

Once received this update, Windows Mixed Reality Portal users may intermittently encounter a 15-5 error code. In certain cases, the Portal may tell that the headset is sleeping and hitting Wake up may show up to produce no action.
To mitigate the issue, use the following method –

Shut the Windows Mixed Reality Portal, if it is open.
Under the Processes tab, right-click Windows Explorer and choose Restart.
Launch the Windows Mixed Reality Portal again.

Microsoft is hardworking to get resolution and will offer an update in a future release.
How to get this update
Before installing this update
Microsoft firmly advises to install Servicing Stack Update for Windows 10 – 08 October 2019 before receiving this LCU.
To get KB4520062 go to Settings => Update & Security => Windows update and click on Check for updates.
To manually install this non-security update go to Microsoft update catalog and download the MSU file.
Source – Knowledgebase.