Beta Channel of Windows Insider received an update with some dececive changes regarding rolling out the builds. KB5014959 is the release that increases the OS version to  Windows 11Build 22622.290 and 22621.290. You might wonder why 2 builds are released simultaneously then Microsoft has clarified. Now there will be 2 groups of Insiders in the Beta channel. First group will receive OS Builds 22622.abc and Insider in this channel will get new features by default whereas the second group will obtain 22622.abc and the new feature will be turned off for this group. The first group includes the insider who used enablement package to get the feature update 22H2.
Full name of the build is Windows 11 Insider Preview 10.022622.290 ni_release. This change in this build will allow Microsoft to perform comparative study of a feature on both groups of Insiders. Later if the feature is successful the company will roll out that to all users. This was the highlight of the Beta channel release today. In addition, the update has introduced several features, bug fixes, and improvements These are about OneDrive storage alert and subscription management in Settings, Suggested Actions, and some more. You can see the detail in the Description part of this video. Also, follow the link there to know everything about the build. This will minimize the extent of bugs on Insider versions of Windows 11.
KB5014959 Windows 11 Insider Build 22622.290 and 22621 Changes
The majority of Insiders in the Beta Channel will automatically get the update (Build 22622.abc). It is important to note that not all features will be immediately turned on with this update as we plan to roll them out and monitor feedback and see how they land before pushing them out to more Insiders.
We realize that Insiders in the Beta Channel will want to choose which update they get. Insiders who land in the group with new features turned off by default (Build 22621.abcd) can check for updates and choose to install the update that will have features rolling out (Build 22622.abc).
Since the builds are reshuffled some insiders who used enablement package may not see new features. If you also experience this problem, please install the enablement package again and they should return shortly.
You will see this approach in only Beta Channel only and this is not indicative of any changes or plans for final feature rollouts.
This rollout contains 2 builds –
Windows 11 Build 22622.290 and Build 22621.290.
In Build 22622.290, new features are rolling out.
In Build 22621.290, new features are off by default.
What's new in Build 22622.290
Suggested Actions
This Windows 11 Insider Preview 10.0.22621.290 (ni_release) introduced a new feature for making everyday tasks faster via inline suggested actions. When copying a date, time, or phone number, Windows will prompt actions relevant to your requirement, for example, make phone calls with your favorite apps or create calendar events. Suggested actions feature is currently not available outside of Mexico, Canada, and, the US.
On copying a phone number, Windows will pop up an inline light dismissible UI that suggests ways to call the phone number using Teams or other installed apps that offer click-to-dial call functions.
When you try to copy a future time/and or time, Windows will throw an inline light dismissible UI. This will suggest you create the event using the supported calendar application. In case you select, the app is opened with its corresponding calendar event creation page with automatic filled date and/or time.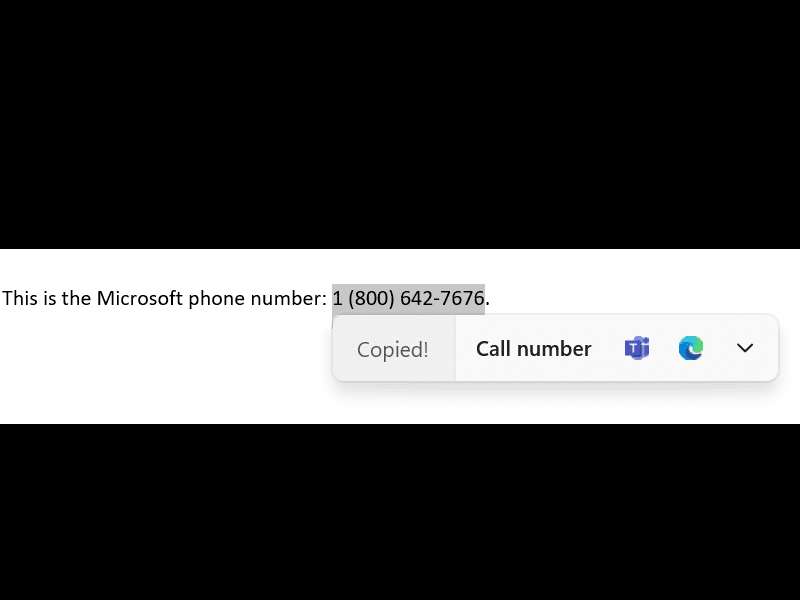 The build introduces OneDrive storage alert and subscription management in Settings
In this year's month of March, the company enhanced the Microsoft 365 subscription management experience within the Settings app. Since then you are able to add the ability to see your payment method on your Microsoft 365 subscription in the Accounts page within Settings.
You can view "OneDrive Standalone 100GB subscription management experience" live on the Accounts page in Settings.
From here you will have the ability to view your payment method, recurring billing, and OneDrive storage usage. Furthermore, if you are nearby or have crossed your OneDrive storage limit, you will see information on the same page.
Windows 11 Build 22622.290 bug fixes
File Explorer
On Windows 11 Build 22622.290 (release_ni), middle-clicking a folder in the body of File Explorer will now launch it in a new tab.
In KB5015669, the row of tabs should now be comprised in the keyboard focus cycle when hitting F6 or Tab. Once focus comes in the tab row, you are able to use left or right arrow keys to go through them.
The current build makes some corrections for when "Display the full path in title bar" is enabled. This will ensure that the folder name is always apparent.
KB5015669 fixed a scaling problem which could end up with the tabs being unexpectedly large.
Context menu should dismiss more reliably on clicking somewhere after right-clicking a tab.
Build 22621.290 and Build 22622.290 bug fixes
A new improvement is that the company added Server Message Block aka SMB redirector (RDR) specific public File System Control (FSCTL) code FSCTL_LMR_QUERY_INFO.
Again a new improvement; Redomondians added support for Transport Layer Security aka TLS 1.3 in Windows client and server Lightweight Directory Access Protocol (LDAP) implementations.
They updated the Remove-Itemcmdlet to appropriately interact with OneDrive folders.
KB5015669 enabled the InternetExplorerModeEnableSavePageAsGroup Policy. To know the details, view Microsoft Edge Browser Policy Documentation.
The rollout fixed missing Take Photo in camera that occurs when using a common file dialog to open the app.
Build 22621.290 as well as 290 fixed devices don't receive an offer from Windows Update for the same extension driver when that extension driver was already installed without the base driver.
Both the updates fixed the error, 2101 JET_errCallbackFailed that occurs after install from media or IFM creation for Active Directory fails.
The builds fixed Active Directory Lightweight Directory Service aka LDS resets the password for userProxy objects problem. This fails with an error message, for example, 00000005: SvcErr: DSID-03380C23, problem 5003 (WILL_NOT_PERFORM), data 0.
KB5015669 enabled the "InternetExplorerModeEnableSavePageAs" Group Policy. To see more go to Microsoft Edge Browser Policy Documentation.
Windows 11 build 22622.290 and 22621.290 fixed an issue that occurs when the Active Directory Lightweight Directory Service aka AD LDS resets the password for userProxy objects. The process of reset fails when you try to reset someone else's password and you are authenticated using a simple bind. The error you confront is such as – 00000005: SvcErr: DSID-03380C23, problem 5003 (WILL_NOT_PERFORM), data 0.
Last but not least, the experts fixed "Microsoft Edge that was not available in Windows Sandbox".
Known issues
General
The experts in the team working on the fix for cyclical crashes in Windows UI components (such as explorer.exe), making it appear that the screen is flashing. This occurs for a small number of insiders. Run the below cmdlet in PowerShell to fix it – Add-AppxPackage -Register -Path C:\Windows\SystemApps\Microsoft.UI.Xaml.CBS_8wekyb3d8bbwe\AppxManifest.xml -DisableDevelopmentMode -ForceApplicationShutdown
File Explorer
In this release, the up arrow is not aligned in File Explorer tabs.
That's all!!