Beta channel of Windows 11 insider has obtained a cumulative update today with a bunch of new features and changes. KB5015890 is the update that is accompanied by 2 versions in which one will get new features by default. And in the second build, the new features will be turned off. These are Windows 11 Build 22622.440 and 22621.440 that are having Task overflow and Dynamic Widgets features,
Full names of the releases are Cumulative Update for Windows 11 Insider Preview 10.0.22622.440 (KB5015890) and Cumulative Update for Windows 11 Insider Preview 10.0.22621.440 (KB5015890). As a member of Beta channel insider, go to the Window update and check for updates. See the full detail –
Windows 11 Build 22622.440, 22621.440 KB5015890
Here is the changelog –
Windows 11 Build 22622.440
Taskbar Overflow
The company is reintroducing taskbar overflow, through Build 22622.440 with a modern designed. The experts in the team have purposefully created the experience targeting to make switching on taskbar productive and launching experience when space is constrained better. You will nothing to do with taskbar because it will automatically transition into this new overflow state when it has reached its maximum extent. In this situation, you will notice a point of entry on taskbar to an overflow menu that lets you see all the overflowed apps in one space.

Menu of this feature will include several of the present taskbar behaviors, for example, it is supporting extended User Interface, pinned apps, and jump list. After invoking overflow, the menu will quietly dismiss once you click outside of it or navigate to an application.
Windows 11 Build 22621.440 & Build 22622.440
Dynamic Widgets content on the taskbar
The company is working more efficiently to show dynamic Widgets content on the taskbar. The aim is to bring breaking news alerts, sports, moreover, live updates from the sports and finance widgets.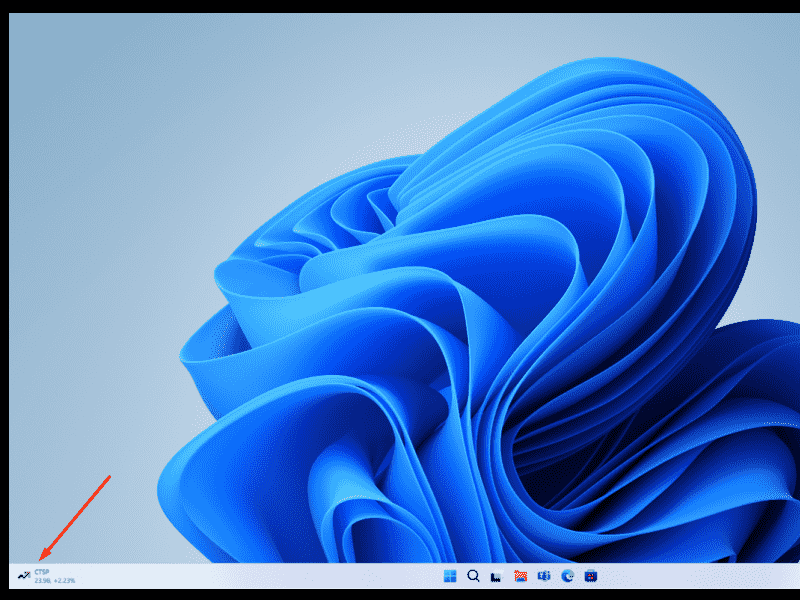 Once these features are added you will feel more convenient when trying to know related to the widgets and find information related to breaking news automatically.
Changes and Improvements in Build 22622.440
General
The company started delivering updated Open with dialog box once more to align with the design principles of Windows 11. The updated dialog box respects dark and light themes. KB5015890 has also removed the complexities by making it possible to update your default app with just one click.
Input
The rollout has modified the US English handwriting model to be speedier and more accurate.
Settings
After this LCU, Settings will support managing apps that were earlier only supported from Control Panel. The interface comprises removal of applications that have inter-dependencies (for instance, Steam and gaming applications running on Steam), modification, and repair of Win32 apps.
Bug Fixes in Build 22622.440
General
The experts in the team solved an issue in his update leading to some Windows Insiders experiencing explorer.exe crashes when undocking and docking monitors in the previous build.
File Explorer
They did some work to fix a memory leak that occurs when using tabs with File Explorer.
Windows 11 Build 22622.440 KB5015890 LCU fixed an issue where the Narrator was not reading out the titles of tabs as the focus moved through them.
The rollout fixed "Task View", "ALT+Tab", and "preview thumbnail for File Explorer" in the taskbar might display the title of an adjacent tab and not the currently selected one.
In this Beta channel rollout, the add new tab button should not overlap with the minimize button in the title bar. This was occurring when using text scaling with multiple tabs open anymore.
Suggested Actions
KB5015890 cumulative update Fixed an issue that was leading to certain apps freezing after a copy action if Suggested Actions were enabled.
The new version fixed a high-hitting crash affecting Suggested Actions reliability.
Known issues
General
Photos app crash occurred in previous few builds. You will soon get an update through the Store for Photos app.
SQL Server Management Studio is failing to launch. This issue occurs for some Insiders.
File Explorer
This is again a new known issue, When you use mouse or touch to drag the left-half of the File Explorer title bar this may not be possible.
Experts' team in the company is working on a fix launching File Explorer in certain ways when using dark mode (for example, from the command) is showing the body of File Explorer unexpectedly in light mode.
Finally, the up arrow is not aligned in the File Explorer tabs.
Download KB5015890 Windows 11 Build 22622.440 and 22621.440 – Official website.
Source – Windows insider blog.
That's all!!