Newser is a free app of windows 8 which is used to know about various live unread stories. This app filters out the most important news going on all over the world and puts down in this app. This app is totally based on true events going on. Each news item is shown as a title with a little description. If it interests you, just click on its title and it will be opened before you in a full screen mode.
The interface of this app is designed in a very beautiful way. Most of the users who are curious about what is happening outside find it very friendly while using this app. You can search for this app in the windows 8 store or you could just go to the link provided at the last of this article. A screenshot of its interface is shown below:
How to use this App
After installing this app in your windows machine, the above window as Home Page will pop-up once you run this app. It is a hub consisting of all the latest and popular news. Moving to the right of this window will show you a hub of Breaking and superlative stories. It depends on you which story you want to know about.
Clicking on any section will open a stream of articles for you. Opt the article about which you want to know the details. Once you click on any story, it will open a story page which shows the headline, deck, byline, main image and story text. After reading on any article you could rate the article read by you which can be used for various purposes. You can also see the source page, tags and image thumbnails of any page you desire to know. There is also a section of related story here in this app using which you can know about any story in greater details or different story similar to it or related to it.
If you want to search for a specific topic here in this app, you can go for it on the Search option provided in this app. If the same story or any related story is there it will be shown else No pages found will be displayed. The best thing about this app is the searching any thing based on the category. You just have to click on the category and there you can look or search for different stories.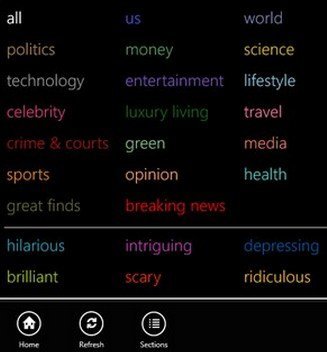 The above screenshot shows the different categories which are there in Newser App. You can directly go to the Home from this page shown at the leftmost-bottom of this page.  There are some other options in this app like Refresh, sections which can be used for known reasons.
Salient Features of this App
It gives you quick and complete information on current headlines. 

A completely free and very simple to use.
You can search for the news yourself just by categorizing them on the basis of popularity, date, section etc.
You can see the live details of many recent stories.
Using this app, you can share different unread stories via social sites, email and text messages.
Media galleries.
You can use vote on various stories too. The options there are hilarious, intriguing, depressing, ridiculous, scary etc.
There is a search option also there covering stories archive from years.
Conclusion
Newser is a really nice app to keep yourself updated about all the new events which are occurring all around the world. This app is of total worth and you will surely like this You can have the access to this app by clicking on the link provided below:
Downloading Link: Newser