Where's My Mickey is the new face of previous other Disney Games Where's My Water? Where's My Perry? And Where's My Summer that is based on the physics and common laws to solve the brainstorming puzzles to help Mickey get going by collecting water. Like the previous versions it is a great time pass and has new characters introduced in the game storyline. With an added extra mix of mechanics and puzzles this is a challenging game for adults but not to mention accessible to children. It was initially a paid app but now it's free of cost.
The game interface is filled with animations that are mediocre in style. It's easy to comprehend what has to be done step-wise and easy to play along. This game has also been launched for Android,  iOs and Windows Phone 8.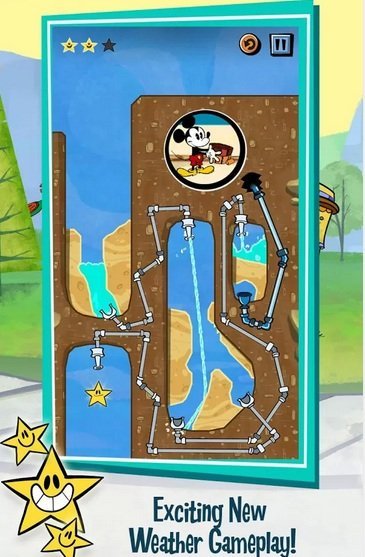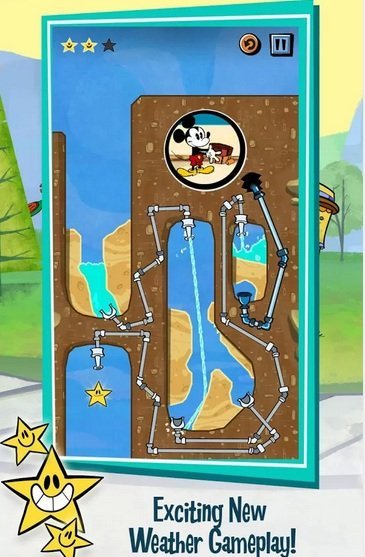 How to play this game
The gameplay is constructed in a bit advanced manner taking the previous two as the basis. The objective of each level is to transport water from a point A to the point B via collecting some items displayed on the screen by swapping to create a path in sand. The advancement in the game is the introduction of clouds in the interface and they carry water on them. The amount of water that they are holding is shown by their color and you can use them to store water as a sponge or to collect water in case the Mickey needs it.
The movement of clouds is out of manual control and here comes the role of mechanics introduced in the form of wind which can be used to mediate them around the desired point. Also you can direct wind in some levels the same way as you do to direct water in the sand by making a path for it. Plants can also be grown on the path to prevent the clouds from floating away or entering into the water zone. But for that water will be required. The necessity of more water comes into act this time to create an obstruction for your benefit.
The main challenge in the game is to apply physics to prevent red water from entering into your water body, hitting a cloud or the plant that you have grown because all of them will get destroyed by this red water. So you have to carefully deal with it and preventing it from the main pipeline also in which case the level will be over. There are a total of four levels consisting of 20 sublevels each and you have to play along to unlock the hidden powers. Also there are two Goofy packs with interesting puzzles with three levels in each unlocked where the role of water and red water are reversed to bring some fun into the game and you will have to pay for the locked ones.
Pros
A free Fun-based game with its awesome gameplay.
It has innovative and New Weather Mechanics.
There are some Bonus and Collecting levels throughout this game.
Featuring Goofy and other Disney Mickey characters.
Unique Episodes with surprising elements.
Cons
It costs you Rs 121.79 to use its some of the best features.

It crashes sometimes while starting on your smartphones.
Conclusion
Where's My Mickey is a very nice game which run smoothly on your smartphones. There are some cases where it crashes whenever it is started. Overall, this is a fun game and you will love playing this game. The downloading link is provided below from where you can have the access to this game.
Get Where's My Mickey here