KK Launcher is a very exciting and loving app for all. It has so many settings configured in itself that you will find almost all types of settings packed with this launcher. It lets you use its common, drawer, dock, desktop, sidebar and many other things. The interface of this app is very smooth and once you use this app, you wish to keep in touch with it. You can use KK Launcher Android App to Enhance Look, Tools on your Android Device Free of cost.
Related Articles
You can have this app from the link provided at the last of this article.
How to use KK Launcher
Once you have installed this launcher on your smartphone, press upside your finger and a setting panel will open up in front of you. It looks like the screenshot shown below: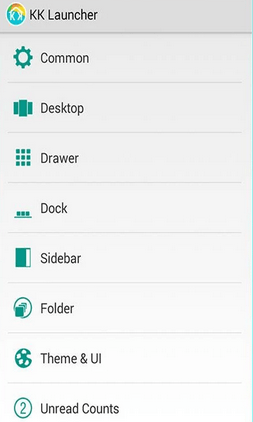 Here, in this settings you can change all sorts of changes which you want to make but could not because your smartphone doesn't provide so flexibility and ease. What we generally find in the smartphone is that the dock is fixed. You can add four icons at one place by minimizing them, but it looks absolute bad. However, this launcher helps you in adjusting more than 1 Dock so that you could rotate the dock too like you move the desktop on smartphone.
Similar is the case for drawer and sidebar. It also lets you divide the whole screen into small grids. Grids can be made extreme small or large. You will understand all this once you started this launcher. This launcher also provides thousands of themes, whether it be naive, android, belly and others.
This launcher also provides you a handy sidebar. It lets you use all the tools and settings at one glance without going anywhere. You can also look for the recent apps, favorite apps, how much ram is used and etc. A screenshot is shown below: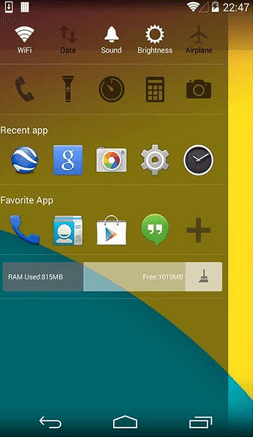 This launcher also provides you a concept of super folder where you can make a folder and put some of your apps here so that they could be kept at a fixed place and it would also help you in remembering where all your apps are.
Conclusion
KK Launcher is a must try app as it provides lots of features and that too only for you. It has been developed keeping in mind the problems being faced by individuals. Everyone wants a new look to their smartphone and this is why KK Launcher has been developed.