Google Glass provides an app OkDoor you to open doors automatically from the same place where you are staying. This facility is special for those who face the arrival of people time and again and get frustrated to go to the door often to open it.
OkDoor app has been developed by the Tech company Brivo Labs which allows you to open doors remotely tapping on the side of Google Glass. It also allows to access the physical spaces and inform a person that someone is waiting outside to get your permission to come in. Now we are explaining the working process of Google Glass OkDoor app to open door automatically.
Recommended: Google Glass – Setup and use With Android, iPhone, or PC
How to Know Who is on Doors, Open using Google Glass App OkDoor
OkDoor provides notification to a person who is inside the room or building when someone is knocking at the door and wants to let in the building. Firstly, the camera which is located at the door clicks a snapshot of that person and send to the Glass wearer to recognize them. Now Glass wearer has ability to allow or deny the entry of that person. If he wants to allow then the OkDoor will unlock door remotely to be inside that person. This Google Glass app can also be helpful in providing security.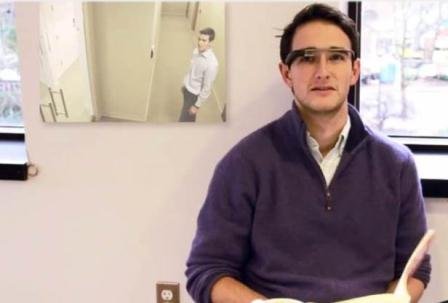 You can also watch the Video here as the demo that "how does this app work" with the embedded video:
OkDoor has to highlight many capabilities of the company's SAM API,  a platform of Social Access Management. SAM authenticates visitors and associates with several forms of secure quality to access physical devices.
Although if you are getting trouble to access OKDoor app in Google Glass then you may visit to get more information by clicking on Brivio Labs.