LICMobile App is an android application to perform various tasks related to your Account. You can calculate, compare and pay premium, apply for policy to LIC using this app. This app is dedicated to the customers and marketing personnel of LIC. It provides all information regarding with different insurance policies of LIC. Customers who travel to LIC Offices and agents may now get updates and policy details
about LIC Policies on their android phones and tabs with LICMobile APP. They can calculate their premium and pay using this app. It is an official app from LIC.
Recommended: How to Recover Forgotten LIC User ID and Password
Interface of this app is very simple.. At homepage of this app you could find different options like below: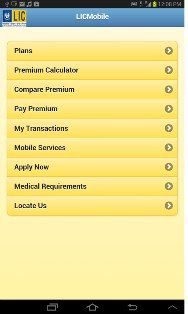 How to use LIC Mobile Android App
At first install this app by clicking the link provided at the bottom of this page. After completion of installation you could see Plans, Premium Calculator, Compare premium, Pay Premium, My Transaction, Mobile Services, Apply Now and Locate Us. Every option is for different uses. If you press Plan you find various categories of LIC insurance plans as Endowment Plans, Money Back Plans, Children Plans. When you opt for your needed category press that category. Now you get the plans come under the category. Here you could check advantageous plan for you. After hitting the plans one by one details of every plan is given. Ultimately you would select the plan as you have need.
The second option is Premium Calculator. Premium calculator page comprises a plans drop down menu, age and sum assured boxes. Select the plan, write your age and sum of the insurance policy and get the amount of installment you will have to pay.
In the third option you will have Compare Premium which avails a platform at which you could compare between premiums of two policies.
Pay Premium is an option on which you could pay installment premium of your LIC Policies. Here write the detail of your policies and finally click on submit button.
My Transaction gives you details of the transactions made in your insurance policy.
You can login in LIC Account through My Services button at the homepage of the android app. Here two buttons are found. One is customer login and other is agent login. Pressing these buttons both can login in their accounts successively.
Apply now gives you a room to apply for different LIC policies you want to get.
You can search the branches of LIC offices situated in different cities and towns spread in all over India. Write the branch code and get the location.
Key Features of LICMobile Apps for Android
A free and simple app.
Homepage comprises only 9 buttons which make it very easy and simple to use.
Pay your LIC Insurance policy premium quite easily.
Compare between two policies.
Estimate premium in terms of age.
LIC Official app..
See transaction details of a policy.
Apply for policy.
Login for Customer and agent.
Locate the branch of LIC.
Final Note:
LICMobile is a useful and nice android application. Since LIC is the largest Insurance company in India, so this app was awaited. Now customers as well as Agents of LIC may perform financial activities on Android devices. It is a simple app. At homepage it has only few buttons so people will not get confused in working with it. All over it is a nice app.