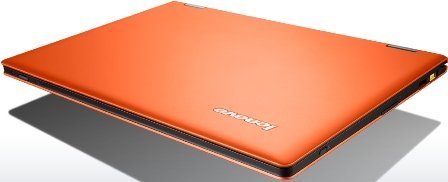 Lenovo introduces Microsoft Windows 8 featured hardware named as Lenovo Ideapad Yoga 13. Lenovo has released a laptop that simultaneously acts as an Ultrabook, desktop PC, Tablet PC, and as a display screen, by just keeping your screen at different angles. Lenovo Ideapad Yoga 13 has basically made a multi-tasking touch screen device in accordance to the Touch Screen User Interface, as showed by the Windows 8.
I know all of you have been eagerly waiting for these kind of devices, through which we can use the new and advanced features of windows 8 at a higher level. It was first released in USA with great response and the release issue followed to India finally prized at $999.
If you plan to invest your earnest money into this device, you should know the specifications of this device. It can be rightly said an expensive yet worthy Laptop. Some of its features that might magnetize you are
Lenovo Ideapad Yoga 13 is a complete Hybrid Laptop, with all the hardware and software compatibility and enhancement for trouble-free use.
A 360 Degree of Independence for your Laptop Screen so that it can be multi-used, as required.
An excellent User Interface, with the advent of Windows 8
Best in Class Ultrabook, sleek design and dynamically fast
A 13 inch bright, 1600*900 LED Multi-Touch display
Integrated 720p Webcam gives vivid image, also with the Lenovo motion Sensing technology, we can use the webcam as input device just with the gestures of our fingers.
Long battery life and Better Stand-By time with 4 cell Lithium Polymer battery
Hi-speed 3.0 USB slot, 2.0 USB slot, 3.5" Audio jack
Bluetooth 4.0 enabled, Memory Card Reader slot
20 Second Boot Time and 1 sec Wakeup Resume from Sleep
Integrated HD Graphics with HDMI port for connecting TVs and Projectors
Chicklets Keyboard and glass Track pad
Lenovo Cloud Storage Access and One Key rescue System pre-installed
Light weight and strong Aluminum body
Lenovo Ideapad Yoga 13 is Obsessed with the World Class Lenovo Costumer after sales services with –
Accidental Damage protection
Warranty Upgrades – In home and On site also
Warranty extensions from 1 to 3 years On demand
Yet the price of Lenovo Ideapad Yoga 13 is set near to $1000 by the company, but we get a different class of laptop by spending in it. The entire motto remains simple that, we can't expect much without paying much.