The Latest List of Magnifier Keyboard Shortcuts Windows 10. – Magnifier is a tool of Windows 10 that most of our friends use for presentations or for zooming. Also, this is a very useful tool for all the low vision users of this latest OS. Well, to improve users experience on this specific tool, certain important keyboard shortcuts are embedded to its Settings page. Also, learn more Keyboard Shortcuts of Microsoft Edge Browser Complete List.
So, in this guide, you will get know the Magnifier Keyboard Shortcuts Windows 10 along with their functionalities. With the advent of Build 16188, few extra Magnifier keyboard Shortcuts are included in the Settings page. Read Windows 10 – How to Access and Use Magnifier.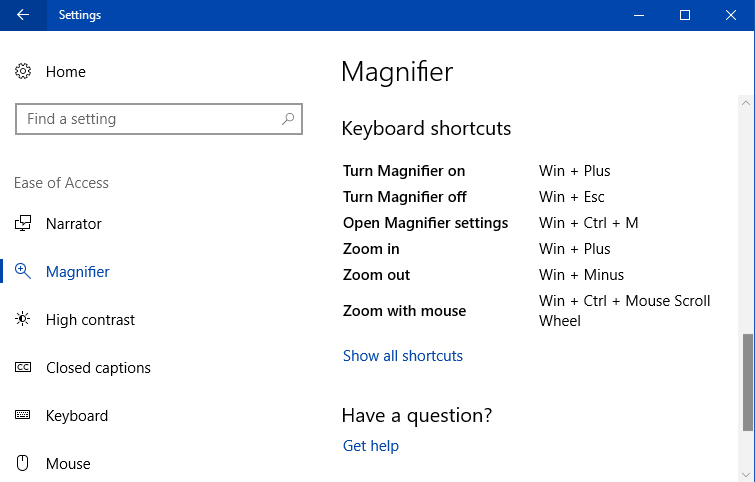 You all know that Settings application provides various settings for Magnifier. When you open Magnifier Settings page, you will find Tracking options, Magnifier mode and much more.
See How to Disable and Enable Magnifier's Tracking Options in Windows 10 to know more.
Well, let us now take a look at the list of the shortcuts of Magnifier.
Magnifier Keyboard Shortcuts Windows 10 (Updated)
For your quick reference, Microsoft included a list of Magnifier Keyboard Shortcuts Windows 10 into the Settings page.
1. Windows + Plus – Press these two keys and let the Magnifier turn ON.
2. Windows + Esc – To quickly turn OFF Magnifier, jointly press these two keys.
3. Windows + Ctrl + M – These three keys will immediately launch Magnifier Settings page on the PC screen.
4. Windows + Plus – After turning on the Magnifier, press this combination to zoom in the feature.
5. Windows + Minus – Press these keys altogether to zoom out Magnifier.
6. Windows + Ctrl + Mouse Scroll Wheel – Zoom with mouse
Now, let us also see the steps where you will notice these shortcuts in the Settings program.
Step 1 – Open Settings application by pressing Windows&I keys altogether. The homepage of Settings shows various tabs, select Ease of Access.
Step 2 – Moving ahead, click Magnifier on the left column of options.
Step 3 – On the right pane, scroll down and you will find Magnifier Keyboard Shortcuts Windows 10 listed out. Moreover, this page also displays a few new features such as tracking options, Magnifier mode, Zoom level increments and so on.
Conclusion
Hence, use Magnifier Keyboard Shortcuts Windows 10 if you have build 16188 or higher running on your computer. Well, the shortcuts are very helpful for those who often use Magnifier for various purposes. Also, this is a great initiative for users with low vision as they will be easily able to manage Magnifier features using shortcuts.