Way to Turn on Photon UI in Nightly in Firefox with Steps. – Firefox has always been regular in updating new and catchy user interface. At present, Mozilla is active in developing a new user interface called Photon for Firefox.
This UI is more likely to come with Firefox 57 and is already a reason for curiosity for Nightly users. This version is more likely to put the focus on WebExtensions and eliminating the need of running those classic add-ons. This UI is, however, similar to the previous Firefox interface but still, a lot of Nightly users are already looking for solutions to enable on Photon UI in Nightly.
Follow a very important guide – How to Backup and Restore Bookmarks as HTML in Firefox.
It is not at all difficult to Turn on Photon UI in Nightly on Firefox. You need to follow just a handful of steps to enable it on your PC. These steps are as follows:
Read a very valuable article How to Add Favorite Google Services Shortcuts To Firefox Toolbars.
Note: You must be running Firefox 57 to turn on Photon UI on Nightly for Firefox. This interface is only compatible with this version and all others about to come. So check the version please before proceeding further. If you don't have this version, simply download it and install it on your Windows. Launch it and follow the steps given below:
Turn on Photon UI in Nightly on Firefox
Step 1 – Open your Firefox 57 and type about:config in the address bar. Hit Enter.
Step 2 – A warning screen saying "This might void your warranty" will appear. Click "I accept this risk" to enter into your browser's configuration catalog.
Step 3 – Now find the entry named: browser.photon.structure.enabled and change its value to true, to enable this user interface on your browser.
Step 4 – Restart the Nightly to implement the changes.
You can also disable this to go back to Australis UI simply by setting the value of same entry (as done in Step3) to false.
See a fix for well-known problem How to Get Rid of Warning Unresponsive Script in Firefox.
New Modifications Inculcated
The homepage is different from the previous UI. The address bar and the tab shape (rectangular) are however similar to Australis. The icons, however, have been modified a bit and some new icons like for Sync function, extensions, etc. have also been added.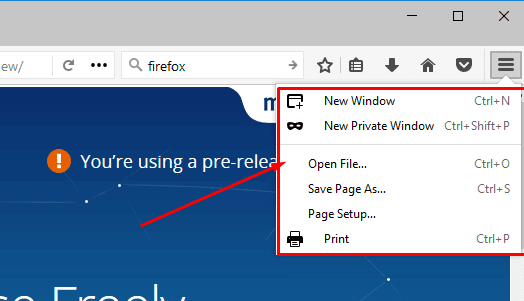 The Change you will experience with the Photon UI
You'll miss the Firefox Open menu and options, still, you can use Alt key for the menu bar to appear. Once you Enable the menu bar, you become able to open Add-ons manager (Tools => Addons (Ctrl+Shift+A), newly organized Firefox preferences page (Tools => options) and help menu (Help => About Nightly) for installing Nightly updates. Or, turn off the Photon UI and return back to the Australis UI by toggling above value ( browser.photon.structure.enabled).
So this was all about How to Turn on Photon UI in Nightly on Firefox. I hope this information helped you in achieving whatever you were looking for.