When we discuss desktop based email apps, Outlook and Thunderbird are considered as admired apps till now. Outlook is popular between enterprise users and a home user does not get the advantage of all of its features. Now, we have selected a fine-looking and desirable new email app named MailBird for Windows version. I think you will like it also.
Presently MailBird is available in beta version, and its final built is yet to come, but it will be available very soon. It has presented two versions. One is the freeware version that adds a small signature with all sent emails, and the second is the paid version that will delete the signature. Please note that Mailbird supports only Gmail at this time.  We hope that it will support for Yahoo Mail, Hotmail, and more email services shortly.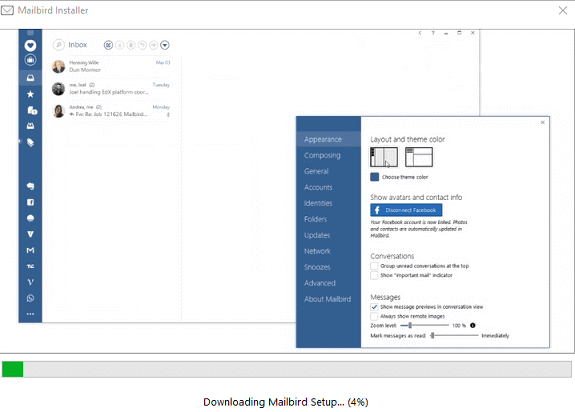 Features of Mailbird Email app
Mailbird app presents a fresh user interface including with easy to use keyboard shortcuts and action buttons.
It removes clutter environment from your inbox and presents all emails on a single platform.
Mailbird app has provided an option to connect with Facebook account. You may add Facebook profile picture in the inbox if you have received emails from your Facebook friends.
The compose interface of Mailbird app is attractive. It contains almost all basic formatting buttons along with the facility to attach multiple files. It automatically obtains the emails from your address book.
An update setting interface of Mailbird app has been designated under options. It facilitates you to connect with Facebook account. You can also configure Gmail shortcuts to enable it within Mailbird app.
The great feature of Mailbird app is its app section. These app sections are used as extensions to work with popular services within the inbox. For example –  Google Drive, Dropbox etc. This means you can use your Google Drive or Dropbox files directly inside the Mailbird app when you configured them.