App Lock is a great app for android devices used to lock important files and keep them secure. It works with very ease on your phone. App Lock allows you to first set a Master Password which could be used to unlock any app which is locked with the help of this app. It works flawlessly on your Android devices. Not only it locks third party apps but it also lets you lock the system apps which came installed before you. No one can use your phone without your permission. You can maintain privacy of your handset using App Lock. Besides these, it encrypts the apps present in your phone.
This app could also be used to protect texts from someone you don't want to reveal it. This app provides you the facility of locking entire phone as well any particular app present on your phone. This is a very good thing as you won't have to worry even if you have given your phone to someone to use your call, you would be sure that he won't be able to use any other features of your device.
The interface of App Lock app is very neat and clean. Designers have developed this app to safeguard the personal documents of users efficiently and effectively. A screenshot of the home page of this app is shown below: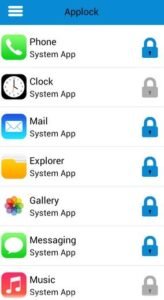 You can possess this player app by clicking on the link provided at the last of this article.
How to use App Lock to lock private files on Android
App Lock is a recently launched app for Android lovers. The features provided on this app are extremely stable and works flawlessly. Installing this app and running this app for the first time, it will ask for a pattern to be fixed which could be used for locking or unlocking apps for further purposes. You have to draw the pattern for two times so that you could be sure that what you draw first was really true and thus making you confirmed what have you drew for the pattern. Once the pattern is fixed, its home screen will appear in front of you.
Here, all you have to do is to lock down any app by just clicking on the lock in front of any app which you want to be locked from other hands. Basically, you can lock any file present on your device. Once you have locked any app on your Android devices, when you go for opening this app again this will ask for the pattern to be drawn before it could open this app in front of you. This is all which you have to do in this app to protect your device from unwanted hands. You can also look for this app in Google Play Store.
Key Feature of App Lock App
Nice and clean Interface.
Freely Available.
Provides pattern security for locking down third party as well as system apps.
Promotion of ads.
Ads could be removed by upgrading it by spending a little money.
My Note:
App Lock is a great app for android devices which protects your various applications from being misused. This app also allows you to lock all those apps which come preloaded on your Android devices. This facility is not available in most of the other lockers. It is truly a versatile app allowing you to do all the good stuffs related to securing your files safely.