Just 6 Weeks Lite is an Android app. This app helps you in making your body strong and fit in mere a span of 2 months. You can find reminders here on this app along with normal instructions on how to do exercises. These reminders are there for informing of your time limits as well as repetition limit. Just 6 Weeks Lite android app contains a proper combination of 5 exercises which helps you in getting a perfect body. There is one thing which you should notice and this is that you must continue it for 6 weeks continuously.
The interface of this app has been designed in a very impressive manner. A screenshot of which is shown below: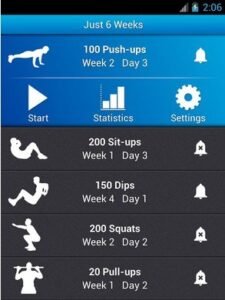 Just 6 Weeks Lite is a very easy to use app. All you have to do is to perform those 5 exercises which you are supposed to perform on a regular basis. You can do these exercises in an alternate way i.e. in a week, you can do it for one day and leave it for other day and again continue for 3rd day and so on.
Note: You can download the Just 6 Weeks Lite android app using the link given below at the last of this article. You can also scan the QR Code using a Barcode Scanner from your Android phone to get it directly on the device.
How to use this Just 6 Weeks Lite App
Once you have installed Just 6 Weeks Lite app on your android device, run this app. Running this app will open up a new screen which consists of the following five exercises on the main page of the workout app:
100 push-ups
200 sit-ups
150 dips
200 squats
20 pull-ups
Just 6 Weeks Lite app provides you a unique opportunity to get into shape, learn how to do 100 push-ups or sit-ups, as well as to shape a beautiful muscle profile in only six weeks. Doing this app, you will forget complicated systems and exhausting, hours-long workouts! All you need to perform this exercise right now is 10 minutes three times a week, a comfortable spot, and your smartphone.
When you are ready just tap the name of the exercise which you want to do and access demo, statistics, and settings from there. Just performing these exercises thrice a week on an alternative basis is good for the beginners. Just take a break of 10 minutes to perform this app from your busy schedule and you will find it really useful. This provides you a proper way of increasing your stamina along with improving your health. Build up the right muscles using this App.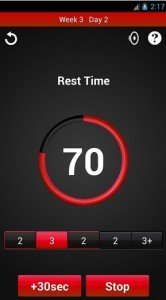 Just 6 Weeks Lite is indeed a wonderful as well as adorable app that not only helps you get in shape in only 6 weeks, but also allows you to set reminders. Just tap on settings and open Reminders tab. You can set reminder for any three days of the week. You can select the days of your choice and according to your convenience, but remember that they should be alternate days. For example, Tuesday, Thursday, Saturday. Timing could also be selected based on your available time slots.
Caution: You might feel sometimes that you are not doing it right and become lazy and start giving excuses for not doing it which is simply a bad thing. Just do it right and see the changes in yourself.
Key Features of Just 6 Weeks Lite App
Free of Cost Application.
Very simple and easy to use Interface.
Good Graphics.
Provides 5 exercises for proper workout.
Reminders are there in this App.
Rest Time Timer for taking rest.
A proper statistics of your workouts is also available.
Supports exporting and importing of data.
Easily accessible settings with very simple functions.
My Note
Just 6 Weeks Lite is a very simple workout app made for android users. This app allows you to do different workout exercises by setting reminders. A set of 5 different exercises are provided in this app makes you strong and fit. The exercises provided here are difficult to perform for the beginners, however as time proceeds it becomes very easy to do. Doing this on a regular basis will make your body really fit and healthy.