How to Activate WiFi Networking, Bluetooth and Set Patterns in Samsung Galaxy Core GT- 18262
If you have Samsung Galaxy Core of series GT- 18262 and want to activate WiFi Networking, Bluetooth to share media files, images, docs it is a good approach. But on few occasions these functions trouble us and we are so trapped in switching on and off that we feel ourselves helpless. To set a Pattern is an essential task for privacy and protection of date in our devices. Few simple steps lead us in setting pattern in our Galaxy Core Device. For activation of these functions we are describing here step by step guide which could be helpful for you.
How to Activate WiFi in Galaxy Core GT- 18262
WiFi is used to share media files or any type of information through Internet with the other devices. It provides wireless networking to your device. To activate this WiFi in Samsung Galaxy Core follow the steps underneath.
1. You should confirm that whether WiFi is on or off in your device. If it is off then tap on WiFi icons at the home screen.
2. Now add your WiFi network by hitting on Setting and then press the WiFi in the setting, drag it to the right or left.
3. Select a network from the network list and enter a password if it is requisite and tap on Connect then device is automatically added.
4. To add WiFi networks, tap on Add WiFi network which is at the bottom of network list.
5. Enter the network name in the Network SSID and select the security type and then press Save.
6. If you have forgotten WiFi networks which have been recently used in your device, and you want to get again then select a network name from the list and tap on Forget. Now you can transfer your files to another device.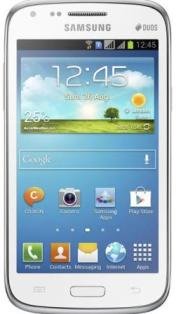 How to Activate Bluetooth Feature in Galaxy Core GT- 18262
Bluetooth is wireless networking which works under a limited area from 10 to 20 meter. This feature is used to transfer any files like music, images, videos and so on from one device to another. To activate it please follow the below mentioned instructions.
Tap on Settings option at the home screen and choose the Bluetooth to turn on or off.
Now pair your devices to another device, by hitting on Search which will consume few seconds.
Select a device from the list of pairing devices and enter the auto generated passkey on both devices to confirm.
Now you can send data via Bluetooth to another device by selecting the files like music, videos, photo etc.
How to Set a Pattern in Galaxy Core GT- 18262
Pattern is used in the device to Lock it in the specific way which secure your device from using by others. You can set any type of pattern using dots on the screen of your device.
1. Tap on Settings option on the application icon at home screen.
2. Go to Lock Screen and choose Screen Lock.
3. Press on Pattern option in that menu. Now you can choose a pattern by connecting the dots four times or more. If you have forgotten the pattern which you have set before then set a backup unlock PIN to unlock the screen.