Athentech company has newly launched an android application named 'Perfectly clear'. This android application is used for photography activities. Perfectly Clear app has various features which enhance the performance of your smartphone camera. It makes your camera powerful as you will have seen only in any professional camera. It enhances the capabilities of your Smartphone camera. You will be surprised to see the differences between your Smartphone camera picture without Perfectly Clear and with Perfectly clear. This application has powerful features. Its capture technology is very powerful. Perfectly Clear has combined capture ability like HDR, Panorama, Burst and Portrait. This android application has such a lot of feature that you really want to take it in your smartphone.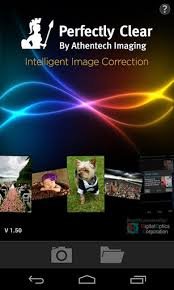 NOTE: For this application you have to pay 162.25 INR/ $2.99.
Special Feature of Perfectly Clear
You can get artistic & realistic version of each pictures with the HDR.
Panorama allows to take picture in any direction and add image together.
Unique de-ghosting gives exact picture while the object is moving.
Images taken by other app is also compatible for perfectly clear to edit it.
Enhance the beauty of images with skin tone, whitening teeth and other.Get 10 patented photo correction in one click.
Easy share option.
Very simple and attractive User Interface.
Fixes 
Its different fix tools fix dark images, poor lighting and bright background. It has a best tool "Beautify" which enhances the skin color, teeth whitening, eye brightness that make the picture real and many other features and tools.
Specialty
Perfectly Clear has ten patented correction process that make your images awesome. The entire corrections are automatic.
Exposure: Controls automatic the exposure and clipping
Depth / Contrast: Color depth increases the ratio of color and makes picture beautiful.
Sharpening: Allow you to adjust right sharpening.
Color Vibrancy: Fill color where the color is faint by sun or light.
Tint Removal: No problem if it is more light it adjusts the light.
Skin Tone: Terminate infrared and make the picture real.
Eye Enlarge: For good looking and clear appearance enlarge the size of eyes.
Whitening: Gives more whitening teeth.
Eyes Enhance: Makes eyes beautiful and bright.
Perfectly Smooth: Skin correction which renders the flawless skin.
You can download and install this application in your android device by Google play or if you want to download it in your PC then click on given link.